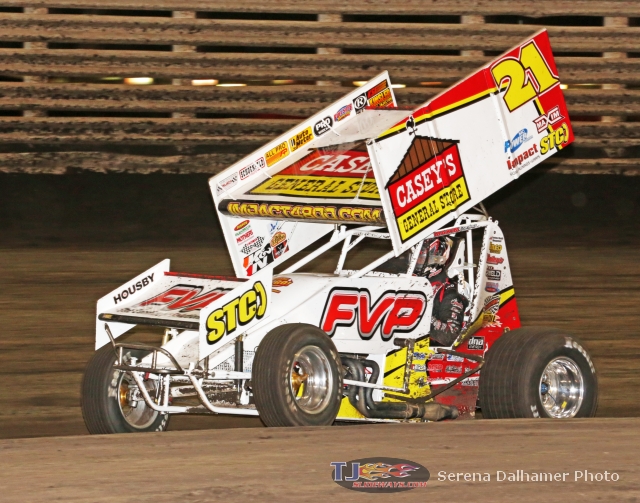 By Bill W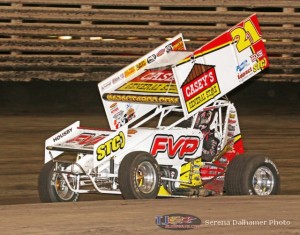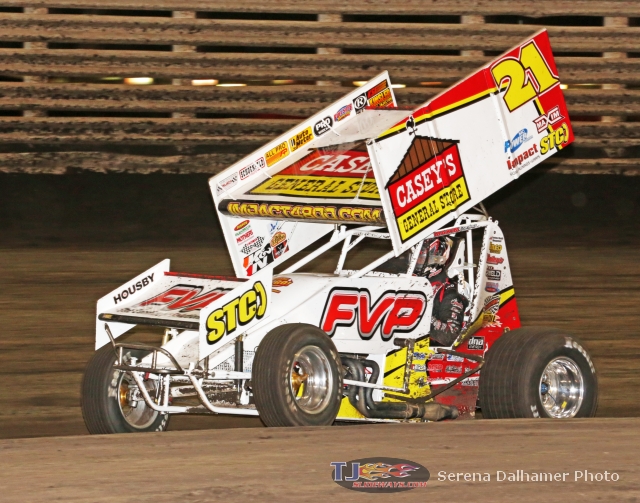 July 8, 2014 – It was quite a week for Brian Brown and the Casey's General Stores/FVP #21 race team.  After fourth, sixth and ninth place finishes with the World of Outlaws, the Grain Valley, Missouri driver nailed down the $10,000 to win Jackson Spring Sprint Nationals in Minnesota.  This weekend, the team heads to Eldora Speedway near Rossburg, Ohio for the King's Royal.
Things started for you a week ago Friday with the WoO at 34 Raceway near West Burlington, Iowa.  You were sixth quick.
It's a good qualifying effort, but with the Outlaws, sixth quick is "no-man's land".  You need to be in the top four, or ninth on back so you start in front of the heat.
You were able to make it through the heat, even though you had an issue.
The heat wasn't bad, but we got into the fence in turn four and broke the shock tower off.  We finished the last half of the heat without that, so we were lucky to make it through there.
You started ninth in the feature, but went backwards.  Then it seemed the guys that had some experience there, were moving forward, including yourself.
We weren't that great early.  I believe we were back to fourteenth or fifteenth.  Once the fuel load burned off, the car came back to us a bit.  We were able to charge back through there to third.  At one point, I thought we had a shot to win it, but with a couple to go, Bill Balog got by us and we finished fourth.
That surely gave you some momentum heading into the rest of the week.
It was a good night for us.  It's what we needed to get started on the right foot.  It was a good showing for our locals.  Terry (McCarl) was second, Balog was third and we were fourth.  The Midwest had three of the top five so that was a good showing.
You timed in 11th quick a week ago Sunday at Cedar Lake Speedway near Richmond, Wisconsin.
We qualified in the right spot.  That put us in the front of the heat and we were able to win that.  It was big with FVP there with their customers and employees.  Anytime you can do that with them there…it's good for morale.
You ended up finishing seventh in the Dash and that put you in good position for the feature.
We had a pretty good car there.  We were racing for Sammy (Swindell) for fifth, and kind of got into the fence a bit.  He came across the track and kind of put me into the infield.  That messed up my entry into the corner and we ended up seventh.
You would checker sixth in the feature.
I felt without that incident with Sammy, we could have been fourth or fifth.  Our confidence is getting better with the Outlaws, and once you get that going, you're accustomed to running up front.  If you can see the leaders at the checkers, you feel good about things.
Last Tuesday found you at Huset's Speedway near Brandon, South Dakota with the Outlaws.  You timed in 15th quick that night.
We were able to win the heat.  We started in the back of the Dash and ran seventh.  I was just kind of maintaining there in the feature.  We were good enough for a solid top ten.  The last double-file restart, the inside row didn't go as I'd hoped, and I got shuffled back to ninth.  It could have been worse though.  Joey Saldana was in front of us, and got shuffled back to fifteenth.  I guess we got lucky to keep what we had.
Thursday, the Jackson Spring Sprint Nationals had a pretty stout field assembled.
That race has turned into a great event.  With the Folkens Brothers, Jon McCorkell and Brian Posthuma…all those guys do a great job with that race.  To be able to win it three times in a row now, and especially this time, when it was $10,000 to win is special.
You won your heat after starting sixth.  That had to get your momentum going.
Obviously, I felt good about where we were at that point.  We drew seven for the Dash, and I was a little bit worried that we might not get up to where we needed to be.  Fortunately, we were able to get up to fourth.  I knew once we got to fourth, we would be in the hunt for the feature.
You were definitely in the hunt, taking the lead right away and leading the distance.
The green flag dropped and we were able to get the lead before we completed a lap.  There were quite a few yellows, and when you have Jason Johnson and Danny (Lasoski) behind you, you better be on your game and hit your marks.  Otherwise, those guys will eat you alive.  It was a great effort by our whole team.  You don't win races like that by yourself.  Chad Morgan, Zach Thomas and Sean Michael, who was in from Pennsylvania, were all helping out.  That's what we needed heading into the month of money.
This weekend, you head to the King's Royal.
I'm really looking forward to it.  It's second to the Knoxville Nationals as far as prestige.  We've been very good there in the past, and we've been mediocre at times.  We've got a pretty good package, and we're going there to contend for a win.
I know you were thinking about sticking around and going for the title at Knoxville.
We'd like to win it obviously, and I think we had a shot to do that even missing a week, but it wasn't really our goal heading into the year.  Anytime we can go race for $50,000, we're going to do it.
What's it going to take to have that crown placed atop your head on Saturday night?
The format on Saturday is way different than an Outlaw format.  You have to have a little bit of luck, and hopefully, we have that.  We'd like to go out there and knock it off and make the Midwest proud of us.
Follow Brian on the Web, Twitter and Facebook!
Follow Brian at his website located at www.BrianBrownRacing.com!
Also keep up with FVP, Casey's and Brian on Facebook and Twitter at the following links…
Twitter Links – @BrianBrown21, @FVPRacing, @CaseysGenStores
Facebook Links
Brian Brown Racing – www.facebook.com/pages/Brian-Brown-Racing/200630163294222
Casey's General Stores – www.facebook.com/pages/Caseys-General-Stores/112073528804354
FVP Racing –  http://www.facebook.com/FVPRacing?ref=ts&fref=ts
Other Web site info
Casey's: www.caseys.com
FVP: www.fvpparts.com
Brown's Bits
Brian took four trips to Eldora in 2013.  In a two-night spring WoO event, he finished fifth and second.  He was eighth in the "Knight Before the King's Royal" and 17th in the King's Royal.
15% off of Enco Tools Purchase!
Receive 15% off of your order with Enco Tools!  Just go to www.UseEnco.com and use the coupon code "BBR21"!
About Casey's General Stores
Casey's General Stores is a Fortune-500 company (NASDAQ CASY) operating nearly 1700 convenience stores in 11 states through the Midwest. Known for its "Homemade-To-Go" pizza, sandwiches, donuts and bakery items, Casey's strives to consistently deliver quality gas, fresh kitchen-prepared food, clean environments and friendly service at every retail location.  Casey's is currently the 12th largest c-store chain and sixth largest pizza chain in the United States.
About FVP
We are very excited to introduce our new line of automotive chemicals, oils and fluids to our product offering.  These new products will be available at many retailers across the country.  We continue to offer a full line of high quality oil, air, cabin air and fuel filters, plus a complete line of high quality batteries for multiple applications including cars, trucks, SUV's, commercial and other specialty vehicles.  All products are made to OE manufacturer fitment specifications.  FVP products are engineered to provide our customers with quality products that are equal or superior in performance to the major national brands at a competitive price.  To learn more about our FVP products or to find out where you can have FVP products installed in your vehicle, visit us at www.FVPparts.com!  FVP…The Confident Solution
Marketing Partner of the Week – Ditzfeld Transfer
Brian says – "Ditzfeld Transfer is a family deal.  Ronnie and his sons were our very first sponsor.  They haul our motors, and if I would need anything hauled across the country, I would call them first."
Ditzfeld Transfer has been with Brian since the start of his racing career, and was his first sponsor.  The Sedalia based family owned trucking business has been in operation for over 45 years, and has a commitment to maintaining the highest level of service.  Currently, Ditzfeld Transfer utilizes more than 50 power units and 160 trailers.  To learn more about Ditzfeld Transfer, visit www.DitzfeldTransfer.com!
Associate Marketing Partner of the Week – Penray
Brian says – "We're using all their brake cleaning materials.  Mark and all the guys there are great to work with.  We're looking for a long relationship between them and Brian Brown Racing."
Incorporated in 1950, The Penray Companies continue to grow strong after 50 years of service in the heavy-duty and automotive chemical industry. There are two main plants for the manufacture of both liquids and aerosol products. They are in Elk Grove Village and Wheeling, Illinois. Penray is comprised of four separate business units: heavy-duty, automotive, export, and custom manufacturing.  Visit Penray today at www.Penray.com!
Brian Brown Racing would like to thank Casey's General Stores, FVP, Searsboro Telephone Company, MC Power, Impact Signs Awnings Wraps / impact4800.com, Champion Brands, DNA Energy, Ditzfeld Transfer, Maxim Racing, Smiley's Racing Products, Enco Tools, Weld Wheels, Housby Trucks, www.RateWin.com, Arctic Cat, K&N, www.hostiowa.net, FSR Race Products, TI64, Fuel-Safe Tanks, Wolfe Eye Clinic, Bell Helmets, Hinchman, CP Pistons, Carrillo Rods, Vortex Wings, Penray, All Pro Cylinder Heads, Butler Built Seats, AkzoNobel, Kenny's Components,  www.AllDayParts.com, Tru Square, Jack Links, Deli Express, Snap-On Tools, Rod End Supply, KSE Racing Products, Winters Performance, Cometic Gaskets, Shell Shock, Donovan, ISC Racers Tape, Kinsler Fuel Injection, Racing Optics, Mothers Wax, Hoosier Tires, Klein RV, XYZ Machining, Brown and Miller Racing Solutions, Red Devil Brakes, Schoenfeld Headers, 6B Apparel, Bosch, Garrett Racing Engines, MSD, Moyle Racing Engines, Fortress Wealth Management, Legacy, Flexzilla and WSIB Insurance for all their support!