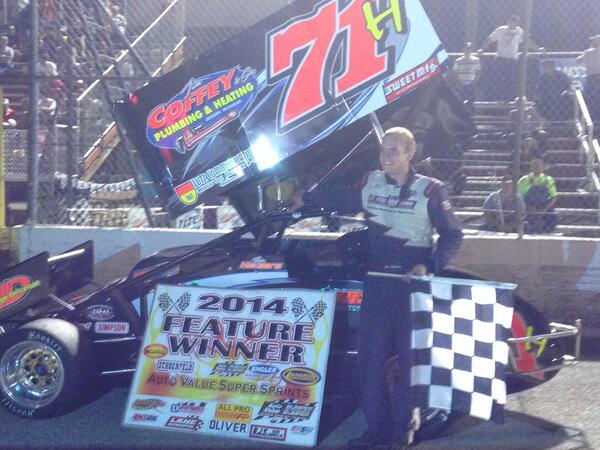 From AVSS
Jones, MI — (July 19, 2014) — Continuing his stellar performance in the last two months, California's Jo Jo Helberg won the Auto Value Bumper to Bumper Super Sprints feature at M-40 Speedway in Jones, Mich., on Saturday, July 19.
Helberg powered around Jason Fuller on the eighth circuit and then dominated the remainder of the 30-lap event. Troy DeCaire advanced from the fifth starting position to finish in second with Fuller rounding out the podium. Jason Blonde and fast timer Aaron Pierce completed the top five.
"I thought I was going to charge earlier, but Jason (Fuller) really took off at the start. I had to catch him and take care of the tires. I didn't want to abuse them in the early stages. Once I cleared Jason could get back on the bottom and control the race. I'm happy to win here at M-40 with Steve Smith. He has done an amazing job preparing the 71 car this year," said race winner Jo Jo Helberg.
The 30-lap feature began with Fuller getting the jump on Jerry Caryer as Helberg settled into third position. Just a couple laps into the race Helberg got around Caryer for the second and began closing the gap on Fuller, who constructed a sizeable advantage in the early stages.
On the eighth circuit Helberg drove to the outside lane and passed Fuller to take the point and began building a nice advantage as DeCaire was moving up the leaderboard. He was up to third position just past the 10-lap mark and Blonde was also on the move passing Caryer for fourth.
Helberg worked through the traffic flawlessly as a great battle was taking place for second between Fuller and DeCaire. With just a few laps remaining, DeCaire completing the pass for second as Blonde also looked to get by Fuller.
At the checkered flag, Helberg finished 4.084 seconds ahead of DeCaire with Fuller edging Blonde at the line. Pierce rounded out the top-five finishers.
Heat race victories went to Joe Swanson, Helberg and Chris Neuenschwander while Aaron Pierce was the Hamilton Trucking Fast Qualifier with a lap of 10.764 seconds at 125.418 mph.
The Auto Value Bumper to Bumper Super Sprints returns to action on Friday, August 1 at Dixie (MI) Motor Speedway and Saturday, August 2 at Illiana (IN) Motor Speedway.
For more series information on the Auto Value Bumper to Bumper Super Sprints, visit www.SuperSprints.com.
Feature:
1. Jo Jo Helberg
2. Troy DeCaire
3. Jason Fuller
4. Jason Blonde
5. Aaron Pierce
6. Davey Hamilton Jr.
7. Jerry Caryer
8. Mike Astraukas
9. Kevin Feeney
10. Joe Swanson
11. Ike Beasley
12. Chris Neuenschwander
13. Teddy Alberts
14. Ron Koehler
15. Kyle Mooner
16. Tom Geren
17. Jeff Bloom
18. Tim Ross