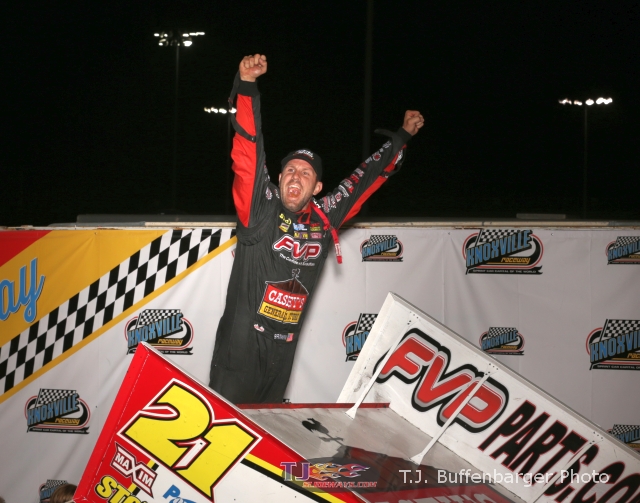 By Bill W
August 11, 2014 –Putting together the best week and a half of racing of his career, Brian Brown and the Casey's General Stores/FVP #21 team were awarded the prestigious "Jesse Hockett Mr. Sprintcar" title for 2014.  In addition to wins in the 360 Nationals and the Front Row Challenge, the Grain Valley, Missouri driver also won his qualifying night feature at the 54th Annual FVP Knoxville Nationals presented by Casey's General Stores, and finished second in the finale for the third year in a row.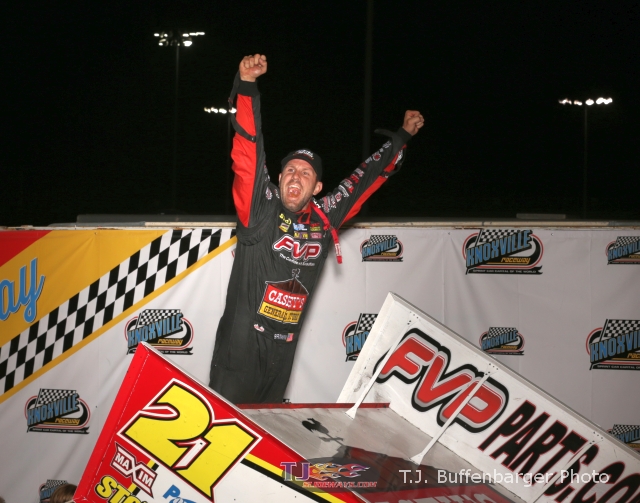 After last Wednesday night's event was cancelled due to showers, it rained some Thursday.  How were you feeling heading into your qualifying on Thursday night?
Going into Thursday…you work all year long preparing for the Nationals.  One thing we didn't prepare for is three straight days of rain and what we thought would be no passing.  It scared me.  I figured we would qualify pretty well, but I didn't know how the heats would turn out.
Your qualifying did go well, with fourth quick.
It's a credit to (engine builder) Charlie Garrett.  We crashed the engine we were going to run at the 410 Nationals a week earlier.  This was a motor he had fresh at his place and he worked two straight days on it to give us the best possible chance for success at the Knoxville Nationals.
Fortunately, the track was wide enough to pass in the heat and you moved from eighth to fourth to make the feature.
I knew we had to get going.  There wasn't going to be a whole lot of passing once we got going.  The guy in front of us tried to go high to get around the guy in front of him, and that kind of left the middle open.  We were able to get a good start there, and get to fourth.  At that point, unless you have a really good run, you're already in good spot.
You started fifth in the feature.  What were your thoughts beforehand?
Going in, we would be happy with a third place finish.  That would put us in the first couple rows on Saturday night.  At the start, I dropped back and Terry (McCarl) got by me.  I was able to sneak back by him, and that was a really critical spot.  Terry had a good shot to win it, and I needed to be in front of him if I could.
You were able to get to third before the race was slowed for an open red.
The track was still pretty narrow, and then we got to traffic.  You could slide into someone or crash pretty easily.  That would take a pretty good night and put you in a bad spot.  I was a little tentative until I had a good run, and we were able to get by (Bryan) Clauson there.  Then we were able to get by Jeff Swindell and we had the red.
You lined up second behind Sam Hafertepe Jr. with six laps to go.  Were there any changes to the car?
My biggest worry was, there was six laps left and I only had three tear-offs.  On the restart, Sam did a good job of bringing us on a slow pace.  He went high, and I went into turn one and two and stuck the bottom pretty good.  I was able to get beside him, and the whole Ian Madsen deal came back to me when we had crashed on the chop move heading into three.  I got out of the gas and followed him in.  We got a good run coming out of four, and we were able to stick the bottom the next time by.  At that point, we were able to check out.
That's the second year in a row that you've been able to win your qualifying night.
It's pretty special.  When FVP and Casey's General Stores are the presenting sponsors of the Nationals…that was huge for our team.  It put us in position to win the biggest race of the year.
I noticed you stayed visible again during the Nationals.
Hanging out with the fans is something I really enjoy.  I like to be accessible and sign every autograph and take every picture I can.  That's very important to us and our program.  FVP brought around 700 employees and customers on Saturday and we had a big barbeque around 5:00.  I want to thank Tony Bokhoven for emceeing the question and answer piece.  That was nice of him to do and he did a great job.  It was fun to interact with the crowd there and thank them for their business.  Without them, there wouldn't be an FVP Nationals or the partnership on our team.  I changed my mindset a little bit coming in.  I didn't stay out all day…I kind of picked and chose when I did.  I think it paid dividends.
You've been on the front row, but this year you started outside row two.  What were your thoughts on your starting spot?
I was very confident going in starting fourth.  If you had asked me where I prefer to start, I would say the second row.  That way, you can watch and see what's going on.  Going into the race, if you asked me who the guys were to beat, it would be the six guys starting in the first three rows.
How did you approach the first half of the race?
I knew I kind of had to ride the first 25 laps.  I knew the quicker I could get into third, and then second, I was going to take the opportunity.  The track was not quite as wide, and I knew with a late yellow, I needed to be in position to make a move.  We kind of rode there in second, and I was able to feel the car out.  We were able to get through traffic and that's where we were at the break.
Did you make any changes to the car at the stop?
We made a few small changes, nothing major.  We freed the car up a little bit.  I felt tight in traffic.
What was your strategy in running down Donny Schatz?
I had watched Shane (Stewart) early in the race competing with Schatz.  He had to go from the top and get back in line on the bottom.  That was my mindset.  I went to the top and somewhat stayed with him the first two or three laps.  Then it was time to get back down and get in line.
Did you have confidence that you could catch him?
With 15 to go, with 10 to go, I thought I was going to run second.  I didn't think I had enough to contend with him unless traffic held him up.  He was as good as he's been there as far as being maneuverable.
With ten laps to go, you were back on his bumper when the yellow flew.
When the caution came, I moved my wing around a little bit to balance the car.  I thought that would help me.  I took a deep breath, and told myself I needed to find something to beat this guy.  I think he was a little better, but we took off and I felt the next four laps I ran were as good a laps as I possibly could run.
You pulled alongside a couple of times and then took the lead on lap 44.
Once I finally cleared him off of two, I went to the bottom to take his line.  I was hoping to take his air off on the bottom of three and four.  I went to the top of one and two, and it was decision time as we headed to turn three.
What were you thinking heading into turn three on that lap?
Hindsight is always 20/20.  My thinking was, 'I was able to pass him on the top, let's just stick to my guns and run my race.'  He was able to drive by me there and that was all she wrote.  I probably should have gone to the bottom, but there was a big hole down there and I had hooked that a couple of times.  I didn't want to do that and let him by either.  No matter what way you look at it, you're going to play it back a million times in your mind before next year.  I felt we had a shot at it.  I think when we got by him, it woke him up and he really got up in the chair.
How do you look at Donny and his accomplishments at Knoxville?
My hat is off to Donny and the whole Tony Stewart Racing team.  What they are accomplishing in winning eight out of nine is unreal.  To finish second to them three straight years…I'm not excited about it, but with the team they have, to be on the same straightaway or mentioned in the same sentence with Donny and their team is an honor for me and our team.  He should be proud.  He's a champion.  Someday he will be beat, and I'm hoping it's us that does it.
You really had an amazing ten days.
To go there and be that consistent…I'm just proud of our team.  It's what we work for all year long is the Knoxville Nationals.  Chad Morgan, Zac Thomas, Greg King, Mark Clemons, Glen Wignall and George Lasoski…those guys worked their tail off all week long.  Even though we couldn't quite get the Nationals won, it doesn't make me any less proud of what we accomplished.
What would you say to your partners?
We came up a bit short…not because of lack of effort. It was the best week and a half of my racing career.Thanks for always believing in me and our team. Without you we wouldn't have the opportunity to compete on the biggest stage.
How about your fans?
Thank you for giving me the most special nationals yet.  Your support of me is the most wonderful feeling in the world.
Finally, I know it gives you great pride to win the "Jesse Hockett Mr. Sprintcar" title.
Ever since they came out with that award, I thought it was one of the coolest in sprint car racing.  I always wanted to win that thing.  I've always watched those points and kept track of them.  Bruce and Debi Cox were a huge instrumental part of my career when I started.  They were silent partners in getting me going with trailers and engines and a lot of things.  I'll always be in debt to them for how they helped me.
I know any award bearing "The Rocket's" name is special.
When Jesse passed, and it became the "Jesse Hockett Mr. Sprintcar Award", I wanted to win it even more.  Anything with his name on it as an award…it's going to mean a lot to me.  We were fierce competitors.  We weren't always the best of friends at the track, but we always had respect for each other.  To have Jesse's family and Bruce Cox there to present the award…it's probably the most special award I've ever won.  It's a huge accomplishment with the caliber of drivers that are there for ten straight days.
Follow Brian on the Web, Twitter and Facebook!
Follow Brian at his website located at www.BrianBrownRacing.com!
Also keep up with FVP, Casey's and Brian on Facebook and Twitter at the following links…
Twitter Links – @BrianBrown21, @FVPRacing, @CaseysGenStores
Facebook Links
Brian Brown Racing – www.facebook.com/pages/Brian-Brown-Racing/200630163294222
Casey's General Stores – www.facebook.com/pages/Caseys-General-Stores/112073528804354
FVP Racing –  http://www.facebook.com/FVPRacing?ref=ts&fref=ts
Other Web site info
Casey's: www.caseys.com
FVP: www.fvpparts.com
Brown's Bits
Brian has participated in seven Front Row Challenge events.  In addition to his two wins, he has registered three top fives and four top tens.
15% off of Enco Tools Purchase!
Receive 15% off of your order with Enco Tools!  Just go to www.UseEnco.com and use the coupon code "BBR21"!
About Casey's General Stores
Casey's General Stores is a Fortune-500 company (NASDAQ CASY) operating nearly 1700 convenience stores in 11 states through the Midwest. Known for its "Homemade-To-Go" pizza, sandwiches, donuts and bakery items, Casey's strives to consistently deliver quality gas, fresh kitchen-prepared food, clean environments and friendly service at every retail location.  Casey's is currently the 12th largest c-store chain and sixth largest pizza chain in the United States.
About FVP
We are very excited to introduce our new line of automotive chemicals, oils and fluids to our product offering.  These new products will be available at many retailers across the country.  We continue to offer a full line of high quality oil, air, cabin air and fuel filters, plus a complete line of high quality batteries for multiple applications including cars, trucks, SUV's, commercial and other specialty vehicles.  All products are made to OE manufacturer fitment specifications.  FVP products are engineered to provide our customers with quality products that are equal or superior in performance to the major national brands at a competitive price.  To learn more about our FVP products or to find out where you can have FVP products installed in your vehicle, visit us at www.FVPparts.com!  FVP…The Confident Solution
Marketing Partner of the Week – Champion Racing Lubricants (Champion Racing 20W50 Motor Oil)
Visit Champion's new web page at www.ChampionsUseChampion.com!  Champion Racing 20W50 Motor Oil is the one that started it all by beating the competition in providing more horsepower, torque, and anti-wear additives than many of the more well known brands of racing oil. Champion Racing 20W50's premium ZDDP anti-wear protection is among the highest in the industry. Champion's exclusive shear stabilizer delivers better film strength and piston ring seal at peak temperatures. Champion Racing 20W50 also delivers more foot-pounds of torque with higher compression than any competitor's brands.
Benefits include:
• Provides exceptional low coefficient of friction
• Offers film strength and viscosity stability of thicker mono-grades at higher temperatures
• Provides upper cylinder anti-wear protection
• Increases high-temp oil pressure and compression
• Formulated for flat tappet, roll over cams and bearings in turbo and super-charged racing engines
• Lowers engine temperature
• Compatible with petroleum and other synthetics
Associate Marketing Partner of the Week – Tru-Square
Just attach TRU-SQUARE to the rear-end and the chassis.  The rear-end is moved into position by adjusting the length of the TRU-SQUARE tools.  Once the rear-end is in position, TRU-SQUARE holds it in place while you time the birdcages and hook up the rod and torsion arms.  Not only will TRU-SQUARE save you time aligning your rear-end, but with the rear-end firmly secured in position, you can also work on other parts of the car at the same time, without fear of knocking the rear-end out of square.  TRU-SQUARE's centering tool allows you to install a rear-end in a chassis without being hooked up to a motor plate.  This is helpful when setting up an extra chassis before heading to the track.  Visit them online at www.Tru-Square.com!
Brian Brown Racing would like to thank Casey's General Stores, FVP, Searsboro Telephone Company, MC Power, Impact Signs Awnings Wraps / impact4800.com, Champion Brands, DNA Energy, Ditzfeld Transfer, Maxim Racing, Smiley's Racing Products, Enco Tools, Weld Wheels, Housby Trucks, www.RateWin.com, Arctic Cat, K&N, www.hostiowa.net, FSR Race Products, TI64, Fuel-Safe Tanks, Wolfe Eye Clinic, Bell Helmets, Hinchman, CP Pistons, Carrillo Rods, Vortex Wings, Penray, All Pro Cylinder Heads, Butler Built Seats, AkzoNobel, Kenny's Components,  www.AllDayParts.com, Tru Square, Jack Links, Deli Express, Snap-On Tools, Rod End Supply, KSE Racing Products, Winters Performance, Cometic Gaskets, Shell Shock, Donovan, ISC Racers Tape, Kinsler Fuel Injection, Racing Optics, Mothers Wax, Hoosier Tires, Klein RV, XYZ Machining, Brown and Miller Racing Solutions, Red Devil Brakes, Schoenfeld Headers, 6B Apparel, Bosch, Garrett Racing Engines, MSD, Moyle Racing Engines, Fortress Wealth Management, Legacy, Flexzilla and WSIB Insurance for all their support!