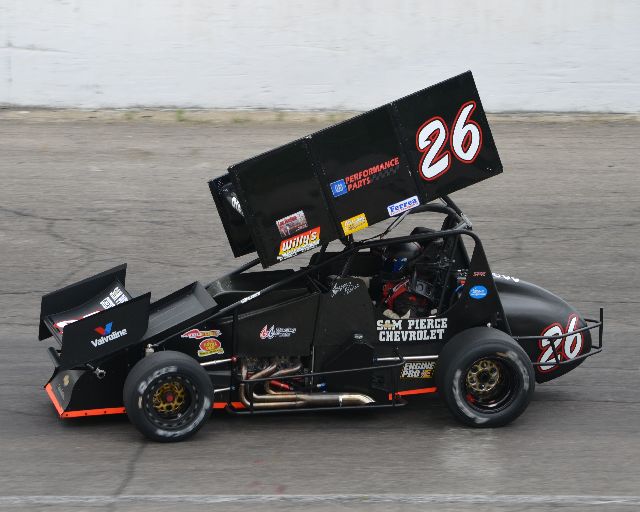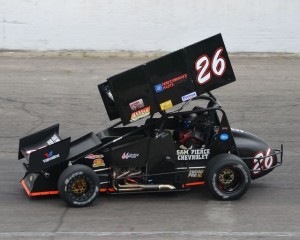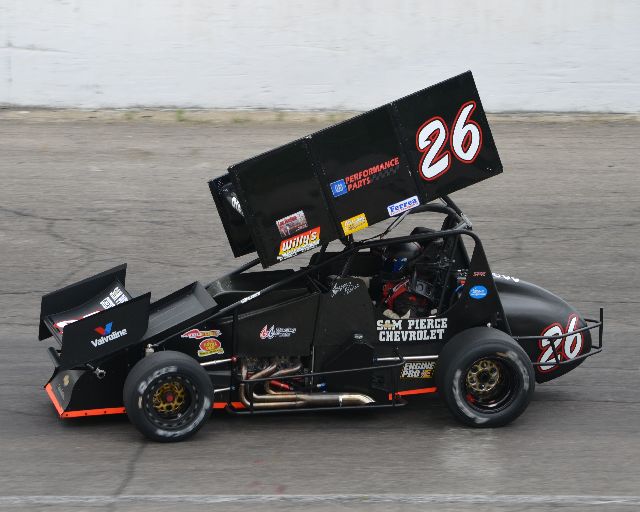 From David Sink
Anderson, IN – (August 16, 2014) – Aaron Pierce charged into the lead at the drop of the green and never looked back en-route to capturing the Must See Racing Xtreme Sprint Series (MSRXSS) event at Anderson Speedway. The win was bittersweet for Pierce as it came at his home track.
"The car was a rocket ship tonight" explained Pierce in victory lane. "It would go anywhere. You can't tell if somebody's behind you here so I was just running as hard as I could to get through the traffic as fast as possible. As many laps as I have here, I knew it was gonna take DJ (Hamilton) a lot longer to get through than me. We got through the traffic better, and we had the best car, and it was good because we were overdue" concluded Pierce.
The win was the second MSRXSS victory of the season for Pierce, as he had captured the season opener at 5 Flags Speedway in Pensacola, FL April 11.
Pierce was chased the majority of the 50-lap feature event by Davey Hamilton Jr. who had a career MSRXSS second place finish. Hamilton looked impressive throughout the feature event. Finishing third was Jimmy McCune who has yet to finish worse than third in 2014 MSRXSS competition. Following McCune was Jo Jo Helberg and Brian Gerster rounding out the top five.
Gerster was the night's fast qualifier with a lap of 10.430 seconds. Heat race wins went to Tim Cox and Dave Baumgartner.
The MSRXSS will now prepare for a visit to Berlin Raceway in Marne, MI next Saturday night. The event will be the first visit to Berlin Raceway in 2014 and the final event of the "Must See Seven".
For more info on the MSRXSS please log onto to www.mustseeracing.com for exclusive live updates of all MSRXSS events as well as the latest news on the series.
MUST SEE RACING 50 RESULTS
1. Aaron Pierce (26p)
2. Davey Hamilton (60)
3. Jimmy McCune (88)
4. Jo Jo Helberg (71h)
5. Brian Gerster (50m)
6. Ryan Gillenwater (45)
7. Cody Gallogly (27)
8. Chris Neunschwander (8)
9. Troy DeCaire (22a)
10. Ryan Litt (07L)
11. Tim Cox (40)
12. Kevin Blue (6)
13. Joe Speakman (72s)
14. Dave Baumgartner (81)
15. Ron Koehler (10)
DNS Tony Neunschwander (0)