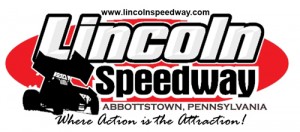 From Lincoln Speedway
Abbottstown, PA — (August 23, 2014) — Persistent drizzle and rain late into the afternoon forced Lincoln Speedway promoters Don & Bob Leiby, and Alan Kreitzer, to cancel Saturday evening's, August 23rd racing program of 410 Sprints, 358 Sprints, and All American Outlaws.
With the forecast of rain moving out of the Pigeon Hill's area early afternoon, the usually determined Lincoln Speedway promoters were looking for every reason to get the show in. But a low-hanging cloud ceiling, drizzle and the occasional light rain shower continued into the afternoon despite the forecast and appearance on radar that the rain had moved out of the area. Throw in the near 100 percent humidity and Fred Putney and his crew just couldn't get the racing surface prepared in a timely manner.
They finally pulled the plug on the evening's racing program around 5 PM before the gates had officially opened.
Still yet to be determined will be when the 358 Sprint Trail-Way/Lincoln Speedway Shootout and Kids Big Wheel races will be rescheduled.
Next Saturday night, August 30th,Lincoln Speedway will celebrate Labor Day Holiday weekend with their Annual John Gleim Jr. Excavating Night featuring the Lawrence Chevrolet 410 Sprints, Keizer Aluminum Wheels 358 Sprints, and Super Sportsman. It will be the final point race for the 410 Sprints with Alan Krimes holding a 260 point lead over Jim Siegel, and 295 points over Brian Montieth, in the battle for the coveted 2014 track title. The evening's activities will be capped off with a spectacular Summer-ending Fireworks display. Gates will open at 5:30 PM, with green flag getting underway at 7:30 PM.
To get all the latest news, results, schedule changes and rule changes, visit Lincoln Speedway's website at http://www.lincolnspeedway.com or join them on Facebook (https://www.facebook.com/lincolnspeedway) or Twitter (@lincolnspeedway) to stay up-to-date on all the action or pending weather conditions at Central Pennsylvania's "Premier" Saturday night race track – The Fabulous Lincoln Speedway.