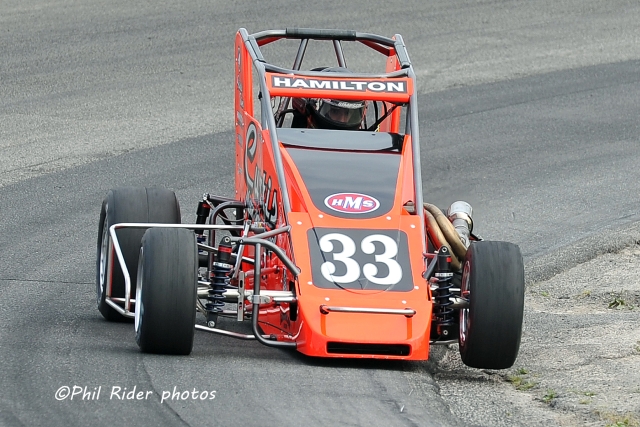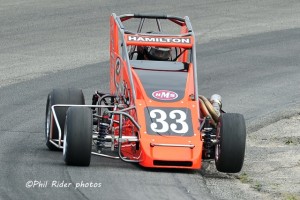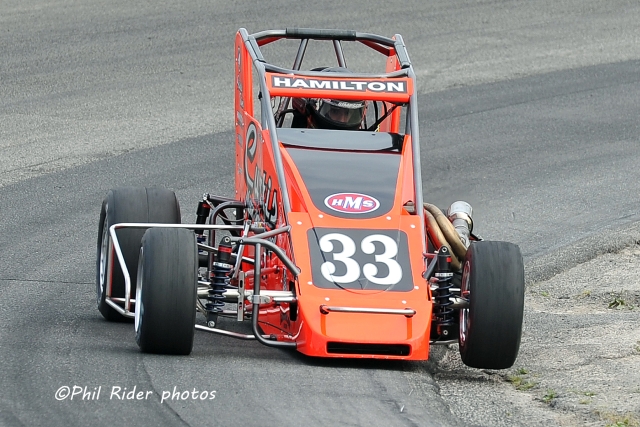 From Rich Murray
Morris, IL — (August 30, 2014) — The only word to describe Kyle Hamilton's performance at Grundy County Speedway in the month of August is "dominant." Hamilton, the 22-year-old native of Danville, Indiana, took his third consecutive D'Arcy GMC STARS National Midget feature win at the 1/3-mile paved oval in Morris, Illinois on Saturday night. Hamilton's eighth career STARS win also lifted him into a three-way tie for first place on the all-time series win list with Jim Anderson and Austin Prock.
As he has done in all six STARS races he has entered this season, Hamilton set the fastest lap during qualifying at 14.189. The fast lap extended Hamilton's lead as the most prolific qualifier in STARS history as he earned his 10th career fast qualifying time in only 15 appearances since 2011. Channahon, Illinois' Billy Hulbert and Beech Grove, Indiana's Kyle O'Gara won each of the heat races.
With the six-car inversion for the feature, that put Hamilton on the outside of the third row on the start with Ryan Probst and Tyler Baran occupying the front row. On the start, Baran was able to get the jump from the outside of the first row to take the top spot. Baran was took control of the race and led the first 24 circuits. Throughout most of the the 30-lap race, Hamilton cruised around in third place waiting to make his patented charge to the front. On the 18th lap, Hamilton got by Probst for second. With his sights set solely on tracking down the yellow BBOYZ number 11 of Baran, on lap 25, Hamilton made his move for the lead and it stuck. For the remaining six laps, Hamilton was able to cruise to his fourth STARS win of 2014.
In other action, Jimmy Clark, Jr. took the checkered flag in the Illini Racing Series feature. Darren Ihrke won his second consecutive STARS Classic Modified feature. In only his third Grundy County start of the season, Johnny Kringas took top honors in the INEX Legends feature. Jamie Domski was able to take his car to victory lane after earning the victory in the CSR Super Cup feature.
After a two-week break, the next STARS event on the calendar takes place on Saturday, September 20th for "70s and 80s Night." For the penultimate STARS event of 2014, you can bring out your favorite green leisure suit if you want to celebrate the 1970s or wear your favorite pair of acid washed jeans you've had stashed away in the back of your closet since 1987. The night features the D'Arcy GMC STARS National Midgets along with the return of the Illini Racing Series Midgets, STARS Classic Modifieds, INEX Legends, and the CSR Super Cups. Adult tickets are just $12. Kids age 5-12 get in for $2. Children age 4 and under are free! Pit gates open at 2 p.m. Grandstands open up at 5 p.m. Racing starts at 6:30 p.m.
GRUNDY COUNTY SPEEDWAY
D'ARCY GMC STARS NATIONAL MIDGETS – 34TH ANNUAL "BOB LOCKARD MEMORIAL"
AUGUST 30, 2014
QUALIFICATIONS:
1. Kyle Hamilton, 33, Hamilton-14.189; 2. Austin Prock, 41, Prock-14.321; 3. Nick Baran, 87, BBOYZ-14.368; 4. Kyle O'Gara, 99, Guess-14.387; 5. Ryan Probst, 99p, Probst-14.388; 6. Tyler Baran, 11, BBOYZ-14.525; 7. Billy Hulbert, 88, Hulbert-14.533; 8. Tyler Trainor, 25, Trainor-14.535; 9. Adam Wilsdon, 9, Wilsdon-14.853; 10. Terry Ahern, 6T6, Ahern-15.705
FIRST HEAT: (8 laps)
1. Hulbert, 2. Probst, 3. Hamilton, 4. N. Baran, 5. Wilsdon
SECOND HEAT: (8 laps)
1. O'Gara, 2. Trainor, 3. T. Baran, 4. Prock, 5. Ahern
FEATURE: (30 laps)
1. Kyle Hamilton, 2. Tyler Baran, 3. Ryan Probst, 4. Kyle O'Gara, 5. Billy Hulbert, 6. Tyler Trainor, 7. Terry Ahern, 8. Adam Wilsdon, 9. Nick Baran, 10. Austin Prock
FEATURE LAP LEADERS:
Laps 1-24 T. Baran. Laps 25-30 Hamilton.
NEXT D'ARCY GMC STARS NATIONAL MIDGET EVENT:
September 20th at Grundy County Speedway – "70s and 80s Night"