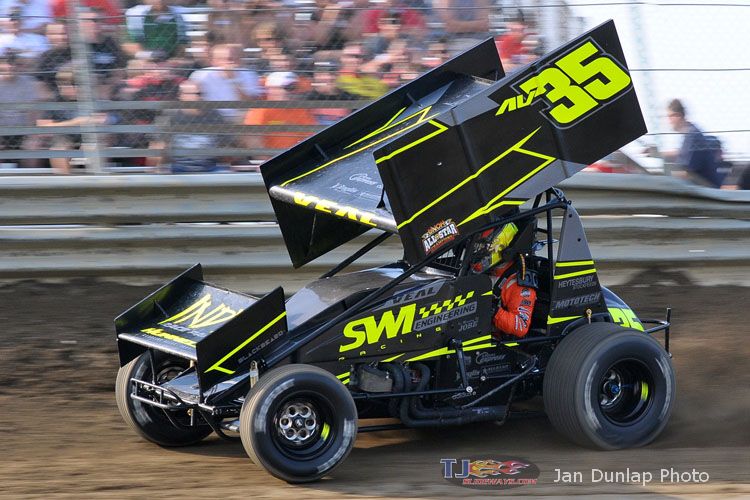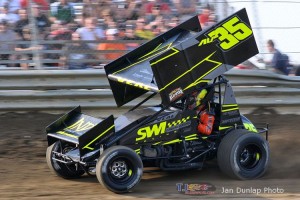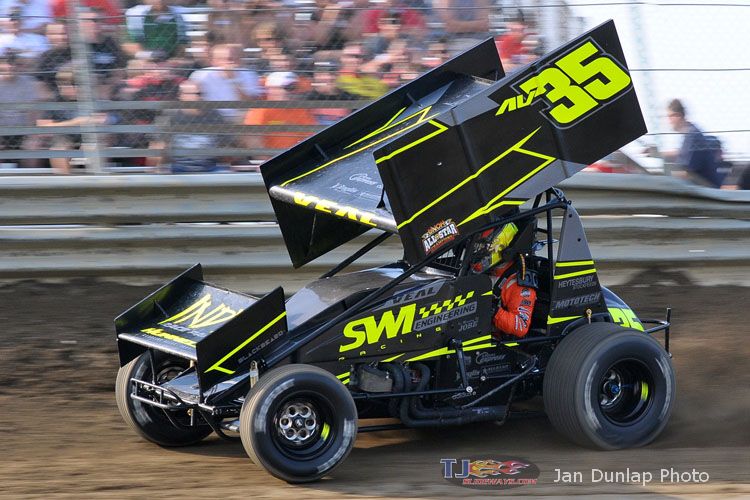 From Valvoline Raceway
Sydney, AU — (October 10, 2015) — Jamie Veal won his second consecutive feature race at Valvoline Raceway with another commanding performance in the second round of the Sydney Sprintcar Premiership tonight (October 11).
The Victorian second generation racer became the only Victorian (outside of Max Dumesny) to win back to back Sprintcar main events in the history of the Valvoline Raceway as he stormed away for the win in his #35 SWI Engineering Maxim chassis.
Northern Territorians Ben Atkinson and Danny Reidy claimed second and third respectively with defending track champion Max Dumesny in fourth and West Australian based Sydneysider Robbie Farr rounding out the top five on a very racy track surface.
Veal also claimed the Network Industry $100 Quick Time Award in Qualifying to kick off the night with a 12.3810s lap whilst Jordyn Brazier impressed to be second quickest with a 12.3910.
"It's good to get back to back wins but it'll be better if we can get three," smiled the Warrnambool 26 year old, "the boys have the car set really nicely right now and we were able to run the top and the bottom as we needed. It's definitely rewarding to get two mains in a row that's for sure."
Matt Dumesny claimed sixth ahead of James Thompson, Jeremy Cross, Marty Perovich, Trevor Green, Toby Bellbowen, Darryl Campbell, Andrew Wright, Sam Walsh, Daniel Harding, Kelly Linigen, Grant Tunks, Alex Orr, Ryan Davis and Garry Rooke rounding out the top 20.
The only serious stoppage of the race came when Jordy Brazier slammed the wall on the main straight, causing significant damage to the #21 car he had begun the main event in from the front row some 16 laps earlier.
DNF's included Brazier, Max Johnston, Warren Ferguson and Roddy Bellbowen.
The B-Main was won by Darryl Campbell from Ryan Davis, Andrew Wright and Daniel Harding – all four of which transferred through to the A-Main.
The C-Main transferees were Jackson Delamont and Kyle Caunt.
Late Models made a welcome return to Valvoline Raceway with some punishing competition and a handy field of cars.
Darryl Grimson took his #12 Mastersbilt chassis to the main event win over Todd Bayley in second place, Tim Bink third, Nathan Disney fourth, David Doherty fifth, Robert Carrig sixth, Scott Foy seventh, Katelyn Hickey eighth, Michael Hickey ninth and Ed Borg rounding out the top ten.
The Wingless Sprint main event was also very entertaining with Brian Briton crossing the line in second but being awarded the win when Adam Hourigan was relegated to second place after the chequers for being deemed to have put a 'bump and run' move on then leader Briton down the back straight.
Hourigan placed second in the end ahead of Jeff Thomas, Chris Priestly, Nikki Briton, Nathan Dicker, Clint McCorquodale, Daniel Flood, Marshall Blyton and Jeff Neve rounding out the top ten.
Next Saturday night at Valvoline Raceway sees the return of the Speedcars, Wingless Sprints, Street Stocks and Fender Benders.
Please visit www.valvolineraceway.com.au for more information.
Ends release.