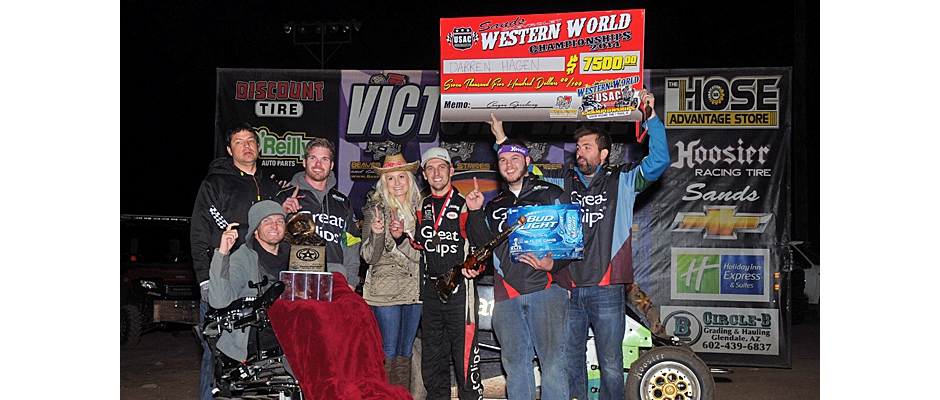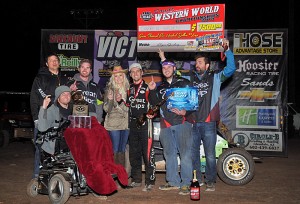 From Lonnie Wheatley
Peoria, AZ — (November 22, 2014) — The Western World got away from Darren Hagen one year ago with Bryan Clauson stealing the win in the final corner.
Hagen wanted no part of a repeat, fending off the Keith Kunz Motorsports duo of Tanner Thorson and Christopher Bell to pocket the $7,500 winner's share in the Honda USAC National Midget portion of the 47th Annual Sands Chevrolet Western World Championships at Canyon Speedway Park.
"I took it all the way to the wall at the end, I knew he (Thorson) would pretty much have to drive over us to get the win," Hagen said after posting his first USAC National Midget victory of the year aboard Shane Hmiel's Great Clips No. 56 Triple X.
After winning the Dash to earn the pole position for the 30-lap finale, Hagen led the early rounds but had plenty of company with fellow front-row starter Thorson actually racing by on the high side on the seventh lap in his pursuit of a first series win.
Zach Daum entered the mix as well only to detonate an engine exiting turn four with nine laps in the books, just two rounds before a red flag flew for a Jarid Blondel tumble in turn one.
Hagen pounced on Thorson on the lap 12 restart to reclaim the lead and suddenly had defending USAC Midget champ Bell challenging for the win on the low side as Thorson continued to work up top until another red flag after 19 laps when series points leader Rico Abreu came to a stop with a possible foot injury after a driveline failure.
Bell worked low and Thorson worked high over the final rounds, with Thorson making a last-gasp charge on the high side of turns three and four in a valiant effort to steal the win. Hagen held strong though, beating Thorson to the stripe by just two car-lengths with Bell right there in third.
Thursday night winner Tracy Hines was fourth with Bryan Clauson rounding out the top five. Tyler Thomas crossed the stripe sixth with Ronnie Gardner, Brady Bacon, Casey Shuman and Shane Golobic completing the top ten.
Canyon Speedway Park
47th Annual Sands Chevrolet Western World Championships
November 22, 2014 Results:
USAC Honda National Midgets:
QUALIFYING RACE: (8 laps) 1. Tyler Thomas (91T, Thomas), 2. Brady Bacon (51s, Fly), 3. Shane Golobic (17, Nichols), 4. Casey Shuman (32, Dunlap), 5. Mike Spencer (57, Ecker), 6. Jarid Blondel (98, Blondel), 7. Isaac Chapple (52, Chapple), 8. Terry Goodwin (2G, Goodwin), 9. Nick Foster (17N, Nichols).
DASH: (10 laps) 1. Darren Hagen (56, Hmiel), 2. Tanner Thorson (67, Kunz/Curb-Agajanian), 3. Rico Abreu (97, Kunz/Curb-Agajanian), 4. Zach Daum (5D, Daum), 5. Christopher Bell (71, Kunz/Curb-Agajanian), 6. Ronnie Gardner (68, Johnson), 7. Tracy Hines (24, Parker), 8. Bryan Clauson (63, RKR/Curb-Agajanian).
ALSO AT THE TRACK: Shannon McQueen (7, McQueen)
FEATURE: (30 laps) 1. Darren Hagen, 2. Tanner Thorson, 3. Christopher Bell, 4. Tracy Hines, 5. Bryan Clauson, 6. Tyler Thomas, 7. Ronnie Gardner, 8. Brady Bacon, 9. Casey Shuman, 10. Shane Golobic, 11. Mike Spencer, 12. Isaac Chapple, 13. Rico Abreu, 14. Jarid Blondel, 15. Zach Daum, 16. Nick Foster.
Lap Leaders: Darren Hagen 1-6, Tanner Thorson 7-11, Hagen 12-30l