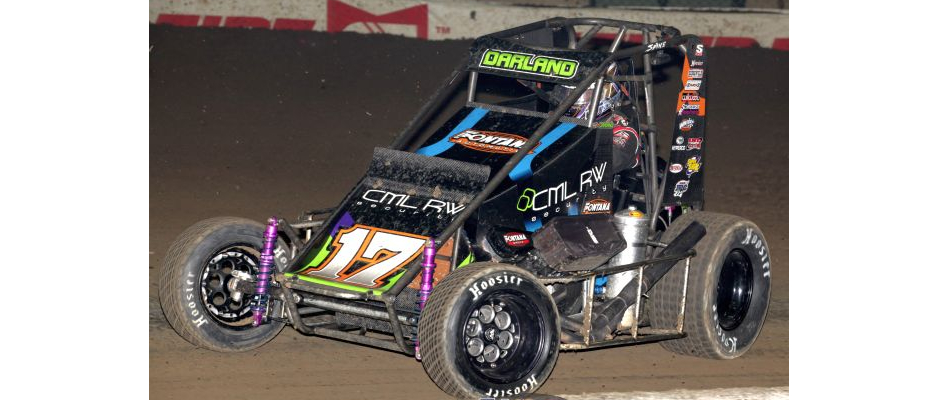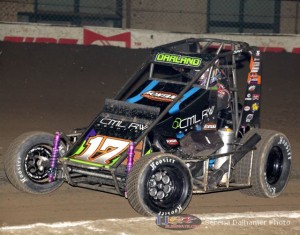 From Bryan Hulbert
Tulsa, OK — (December 5, 2014) — While stores echo the sounds of Christmas, race shops across the country ring alive for a different season as the 29th annual Lucas Oil Chili Bowl Nationals presented by General Tire kicks off in just over a month's time at the River Spirit Expo Center in Tulsa, Okla.
With Practice slated for Monday, January 12, 2015, the current list shows 94 entries confirming 87 drivers. Of those entered, none have claimed the Golden Driller while fourteen have made the call for the championship event.
Making his 18th consecutive Chili Bowl appearance in 2015, Indiana's Dave Darland has made the dance 14 times since 1998. Representing R.W. Motorsports, the all-time leading winner in USAC National Sprint Car competition is currently tied for third in overall Chili Bowl starts with Danny Lasoski.
Another Indiana racing phenom, Shane Cottle, brings eight championship feature appearances into the 2015 Lucas Oil Chili Bowl Nationals. The driver known as "the throttle" has an average finish of ninth, and will represent RFMS Racing in the upcoming Chili Bowl Nationals.
With four feature starts, Arizona's Casey Shuman will pilot a Spike/Esslinger combination for Matt Wood Racing in his eleventh Chili Bowl appearance. Oklahoma's Daryn Pittman and California's Thomas Meseraull join Shuman in the four start bracket. For Pittman, the 2015 Chili Bowl will again be in the self-owned Bob Hurley Ford No. 21 and marks his twelfth attempt at the Driller. For Meseraull, his chance for Speedquip Motorsports is round 14 for the San Jose driver.
A trio of starts for Ricky Stenhouse, Jr., the Mississippi veteran is one of four cars being fielded by Bryan Clauson Racing. With three starts as well, Zach Daum and Mike Hess will each represent the state of Illinois with Daum in the Daum Insurance backed No. 5d, and Hess piloting a Chuck Johnson entry.
Keeping with the theme of trios, Billy Wease, Don Droud, Jr., and A.J. Fike each bring a pair of feature starts with Kevin Ramey, Mike Goodman, and Alex Bright each looking for their second.
While feature starters and past champions are an interesting list of drivers, the Rookie crowd often brings surprises.
Among this year's crop of Rookies is Amber Balcaen. A native of Winnipeg, Manitoba, Canada, the 10 year veteran of open – wheel racing is the third entry of McQueen Racing. The all female team led by California's Shannon McQueen, the team includes Oklahoma's Michelle Decker, who has been a part of McQueen's Chili Bowl lineup for the past 10 years. The pair made history as the first female owner/driver winners in April, 2012 when Decker raced a McQueen owned USAC Midget to victory at Bakersfield Speedway.
Balcaen is one of 19 Rookies so far.
Lucas Oil Chili Bowl Nationals presented by General Tire Entry List (as of December 5, 2014):
0 – Johnny Murdock – Kaufman, TX
1B – Bobby Brewer – Cabot, AR
1W (R) – Mike Wheeler – Central Point, OR
2 – Ryan Hall – Midlothian, TX
2$ – Stuart (S tu) Snyder – Waverly, NE
2A – TBD Driver –
2K (R) – Kyle Jones – Kennedale, TX
2ND – Jeb Sessums – Burleson, TX
2S – TBD Driver –
2X (R) – Charlie McDonald – Jefferson, TX
3 – Shane Cottle – Kokomo, IN
3F – TBD Driver –
3M – Mike Fulper – Cumberland, OH
3T – Tim Barber – Sonoma, CA
4A – TBD Driver –
4C (R) – Chad Howell – Waurika, OK
4R – Ryan Greth – New Cumberland, PA
4X – Shawn Petersen – Irving, TX
5B – Andee Beierle – Bismarck, ND
5D – Zach Daum – Pocahontas, IL
5E – James Edens – Petaluma, CA
5G – P.J. Gargiulo – Morton, PA
7 – Shannon McQueen – Bakersfield, CA
7AB (R) – Amber Balcaen – Winnipeg, MB, Can.
7D – Michelle Decker – Guthrie, OK
7F (R) – Claud Estes III – Godley, TX
7J – Shawn Jackson – Bear, DE
7M – Kevin Ramey – Ft Worth, TX
7S – Pat Schudy – Springfield, MO
7W – Kory Schudy – Springfield, MO
8 – Alex Sewell – Broken Arrow, OK
8R – Randi Pankratz – Bradley, CA
9D – Sean Dodenhoff – Bakersfield, CA
9E (R) – Brody Roa – Buena Park, CA
9S – TBD Driver –
12 – Chris Sheil – Aurora, CO
12S – Bryan Severs – Collison, IL
15 – Tim Siner – Dupo, IL
17 – Ricky Stenhouse Jr – Olive Branch, MS
17C – Casey Shuman – Rattlesnake Bend, AZ
17D – Dave Darland – Lincoln, IN
17J – Chase Johnson – Penngrove, CA
17S – Dominic Scelzi – Fresno, CA
17W – Cole Wood – Auburn, CA
18P – Payton Pierce – Bridgeport, TX
19 – Steven Drevicki – Reading, PA
20 – Tadd Holliman – Murray, NE
20X – Jimmy Harris – Broken Arrow, OK
21 – Daryn Pittman – Owosso, OK
71T – Ricky Shelton – Huntington Beach, CA
22D (R) – David Stephenson – Porter, OK
22E – Mike Goodman – Broken Arrow, OK
25 – Jake Blackhurst – Hanna City, IL
27 – Alex Bright – Collegeville, PA
27H (R) – Curt Michael – Ocean View, DE
27K – Kyle O'Gara – Beech Grove, IN
32D – Danny Jennings – Norman, OK
35 – Billy Wease – Noblesville, IN
35L – Cody Ledger – Omaha, NE
35T – Tyler Robbins – Collinsville, IL
38 – Justin Grant – Ione, CA
39B (R) – Spencer Bayston – Lebanon, IN
P40 (R) – Aaron Dromgoole – North Richland Hills, TX
41 – Jason Johnson – Eunice, LA
43 (R) – Logan Arnold – Franklin, IN
44 – Don Droud Jr – Lincoln, NE
45X – Johnny Herrera – Albuquerque, NM
57 – Rik Forbes – Omaha, NE
62 (R) – Jacob Davis – Strafford, MO
67RW – TBD Driver –
68M – Tyler Edwards – Salina, OK
68S (R) – Matt Land – Elk Grove, CA
69 – A.J. Fike – Galesburg, IL
73 – Jason McDougal – Broken Arrow, OK
75 – Thomas Meseraull – San Jose, CA
75X – TBD Driver –
76M (R) – Adam Pearson – Fairlee, VT
78 – Nick Wean – Phillipsburg, NJ
78J (R) – Tommy Kunsman – Bethlehem, PA
81 – Ryan Beechler – McKinney, TX
82 – Eric Johnson – Rockford, IL
82H – Mike Hess – Riverton, IL
85 – Matt Johnson – Edmond, OK
87F – Brian McClelland – Tulsa, OK
88 (R) – Tyler Nelson – Olathe, KS
88W – Chad Wheeler – Muskogee, OK
91T – Tyler Thomas – Collinsville, OK
91W – Mickey Walker – Broken Arrow, OK
92 – Brenden Bright – Collegeville, PA
93 – Dustin Morgan – Tulsa, OK
95 – Jim Radney – New Cumberland, PA
96 – Cody Brewer – Choctaw, OK
98 (R) – Jarid Blondel – Orange, CA
930 (R) – Chase Allen – Midlothian, TX
***A list of entries and sponsors can be found online at http://www.chilibowl.com/entries/manual.aspx
The 29th Lucas Oil Chili Bowl Nationals presented by General Tire will begin moving teams in on Sunday, January 11, 2015.
Practice is scheduled for Monday, January 12 with the first night of competition getting underway with Tuesday's Warren CAT Qualifying night as well as the seventh annual Vacuworx Invitational Race of Champions.
Competition continues with Wednesday's River Spirit Casino Qualifier, Thursday's John Christner Trucking Qualifier, and Friday Vacuworx Global Qualifier with everything culminating on Saturday's Lucas Oil Chili Bowl Championship.
The top three in each Qualifying Night A – Feature will transfer directly into the Saturday championship event with the remainder of Saturday's features lined up according to the Qualifying night finishes.
General Admission seating is available along the back straight – a – way and can be accessed with the purchase of a Pit Pass. Additional information regarding the Lucas Oil Chili Bowl presented by General Tire can be found online at http://www.chilibowl.com. For more updates follow the Chili Bowl on Facebook and on Twitter.