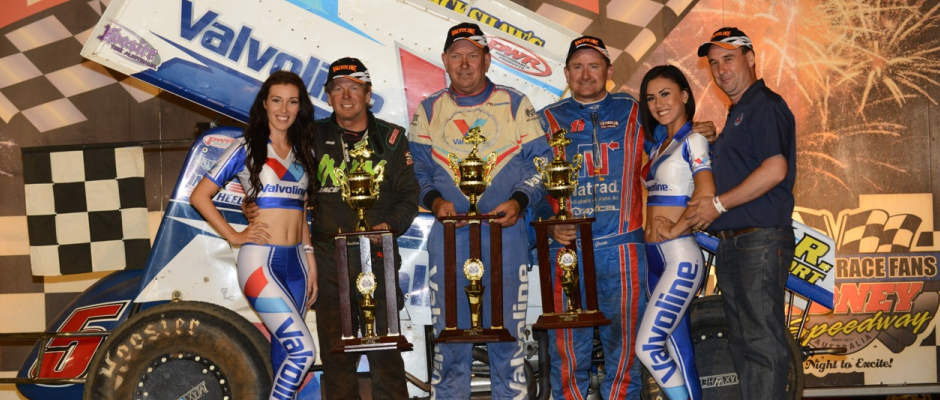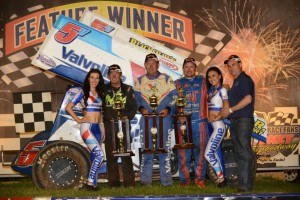 From Valvoline Raceway
The seemingly ageless veteran drove his Valvoline Maxim to a thrilling win in the non-stop rubber-down 35 lap main event win but not before he had to arm wrestle the victory from American legend Jac Haudenschild.
Third placed and defending champion Trevor Green – who came from the B-Main to storm home in the dying laps – quipped at the podium "the combined ages of the podium tonight is about 160!"
Dumesny thrilled the hometown fans with his hard fought victory.
"I've never seen that much rubber down at this place but it was a really fun race, we were three and four wide a few times there and it was really good fun battling with Robbie (Farr) first and then Jac. I'm really pleased for Valvoline that we can get this one."
The win was Dumesny's 45th at Valvoline Raceway and his third NSW Championship success.
Haudenschild was pleased to finally get on the podium in the Indy Race Parts Maxim after three attempts.
"It was cool to race with Max like that," he smiled, "the track was real racy tonight even with the rubber down and it was fun swapping positions with everyone. I'm really looking forward to each race now we seem to have our set up worked out."
Haudenschild again used the borrowed KRE Engine from NSW racers Steve and Kyle Caunt.
"I can't thank Steve and Kyle Caunt enough for letting us use this motor," he smiled.
The 35 lap main event ran it's full distance (9.17s.214) without even looking like a stoppage and in the process produced some fantastic racing between early leader Robbie Farr, Dumesny, Haudenschild and James Thompson.
Farr slipped back out of the top four after sitting on pole and leading initially and looked in danger of falling out of the top five before consolidating fourth as the chequers flew ahead of Troy Little (fifth) a fast-finishing Max Johnston in sixth, James Thompson seventh, Shaun Dobson eighth, Ian Madsen ninth, Grant Anderson tenth, Toby Bellbowen eleventh, Brad Sweet (who came from position #24) twelfth, Ben Atkinson thirteenth, Marty Perovich fourteenth and Danny Reidy rounding out the top fifteen.
Trailing Reidy home from there were Americans Tim Kaeding and Davey Heskin ahead of Lynton Jeffrey, Glen Saville, Roddy Bellbowen, Matt Dumesny, Jackson Delamont and Grant Tunks placing 23rd.
Garry Brazier was a DNF.
Once again Grant Anderson passed over 20 cars between the B-Main and A-Main to wind up with a solid 10th after starting from position #23 whilst Californian Brad Sweet desperately tried to avenge a difficult night with a 12 car passing spree in the A-Main.
The Litre Sprint main event was won by a determined DJ Raw after he passed leader David May with only two corners remaining in the 20 lap affair with 16 year old rookie Matt Geering coming home in third.
Earlier in the night Trevor Green set the Network Industry Quick Time in qualifying and heat race wins went to Max Dumesny, Troy Little, Ben Atkinson and Danny Reidy whilst Sam Walsh won the non-qualifiers heat.
The C-Main went to Queenslander Peter Lack whilst Garry Brazier won the very entertaining B-Main.
The next event at Valvoline Raceway is scheduled for Thursday night, January 1 and will feature the Firecracker 50 lap main event for Sprintcars, Speedcars and Legend Cars.
Please visit www.valvolineraceway.com.au for more information.