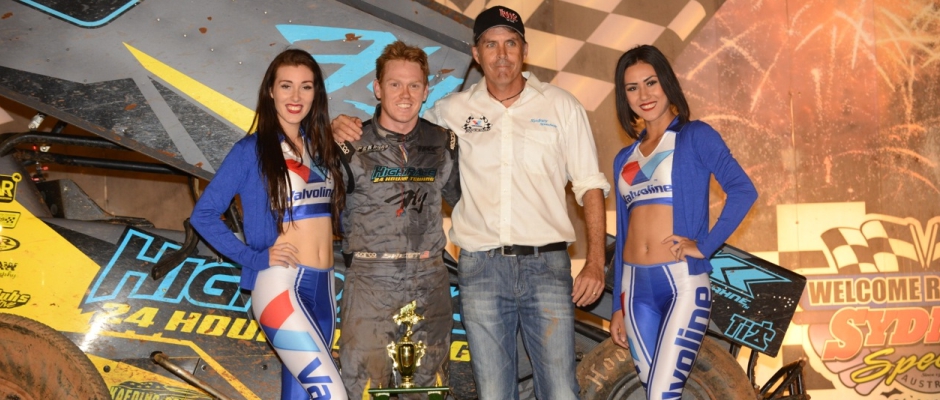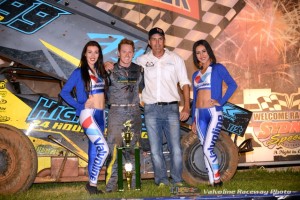 From Valvoline Raceway
Sydney, AU — (January 3, 2015) — In one of the most dominant performances seen at Valvoline Raceway in recent memory Californian Brad Sweet simply drove away from any and all contenders in the 35 lap Peter Murphy Appreciation main event tonight.
And they didn't see which way he went.
The #99 Highrace Towing / Ruhs Brothers Motorsport entry cleared out and lapped most of the field, leaving many of the sport's biggest guns without an answer.
"It's pretty hard when Brad drives like that," second placed Kerry Madsen lamented, "he was really on his game tonight. We didn't have anything for him."
Sweet was quick to praise his crew for giving him a very fast racecar.
"It was unbelievable to be honest. I couldn't believe how good the car was. We knew that we had a little bit more competition tonight and we wanted to see how we stacked up and apparently we nailed it right on the head and we were able to beat them."
Sweet simply tore off into the distance and unbelievably lapped up to sixth place in the 24-car field.
Kerry Madsen placed second ahead of Jamie Veal (who was the Network Industry "Quick Time" earlier in qualifying) in third who narrowly came out on top after a torrid late race battle with Ian Madsen for the final step of the podium.
"I don't think anyone had anything for Brad tonight," he conceded, "but it's still a good result for our team when you consider the standard of competition here tonight. We really enjoy racing here in Sydney and tonight's main was a real challenge."
Ian Madsen was as usual very quick to come home in fourth ahead of Sam Walsh (another solid performance after coming from the B-Main and getting his time from qualifying back) in fifth, Brooke Tatnell in sixth, Ben Atkinson in seventh (after destroying his car on Thursday night and having to build another one for tonight) Toby Bellbowen (who started on the second row) in eighth, Danny Reidy a solid job in ninth and Robbie Farr rounding out the top ten.
Eleventh was the Mad Harry's Steel Hard Charger Jac Haudenschild who came from position #24 with a barnstorming drive ahead of Troy Little in twelfth, Tim Kaeding in thirteenth after spinning earlier in the race, Darryl Campbell (who built a new car after destroying his on Thursday night) fourteenth, Max Johnston fifteenth, Grant Tunks sixteenth (who wore out a previously worn right rear tyre due to budget constraints) Jeremy Cross seventeenth, Grant Anderson eighteenth, James Thompson nineteenth, James McFadden twentieth, Marty Perovich twenty first, Shaun Dobson twenty second and Jordyn Brazier being placed as the last official finisher.
Warren Ferguson was race's only DNF with mechanical problems.
Transferees from the B-Main were Danny Reidy (who stole the win in the last two laps) James Thompson in second, Jac Haudenschild in third and Sam Walsh rounding out the four.
Peter Gordon received $200 from Mad Harry's Steel for being the first car to miss the transfer.
Matt Thomas drove very smoothly to collect the C-Main win and transfer along with Trevor Green whilst Matt Dumesny received $100 from Mad Harry's Steel for being the first car to miss the transfer to the B-Main.
Jason Bates showed plenty of car speed coupled with maturity and a cool head to literally blitz the field in the Wingless Sprint 20 lap main event.
Trailing Jason home in second place Daniel Sayre in second place with Daniel Flood in third place followed by Scott Rowe in fourth and Jeff Thomas rounding out the top five.
The Peter Murphy Appreciation Night was a huge success from an emotional standpoint with Pete's 13 year old son Tyler singing the American national anthem to kick off the night along with Max Dumesny's son Marcus singing the Australian anthem.
The next event at Valvoline Raceway is this Monday, January 5 with the Sprintcar Showdown in addition to American Late Model superstar Steve Francis against the Sydney and interstate heroes plus Litre Sprints.
For more information visit www.valvolineraceway.com.au