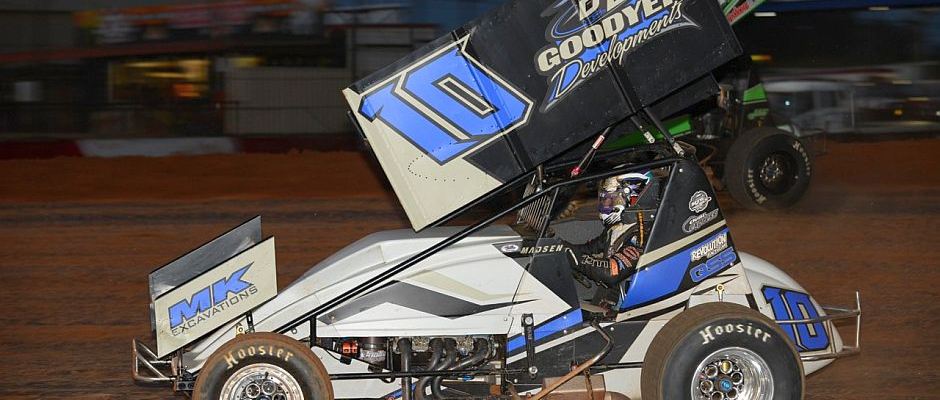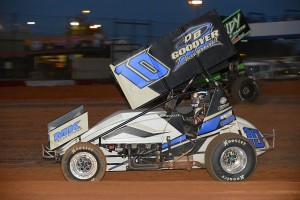 From Wade Aunger
Sydney, AU — (January 5, 2015) — Ian Madsen was in a seemingly invincible frame of mind tonight as he annexed the 35 lap Sprintcar Summer Showdown at Valvoline Raceway on a 'methanol Monday night" with a convincing drive in the D&B Goodyer Developments #10 Maxim.
Madsen, who moved forward from an original #8 starting position in the Pole Shootout to the front row for the main event was able to put his car wherever he chose at most points on the track.
"We've got an awesome team, an awesome racecar, an awesome crew chief and it's showing," grinned the happy winner, "the cushion was fun, I love it when it's like that, it nearly caught me out a couple of times but I really enjoy getting up there and bashing against it."
Brad Sweet, who was in a class of his own on Saturday night, paid tribute to Madsen's win.
"Ian definitely ran some lines that we just couldn't seem to nail tonight," the Californian explained, "full credit to him and his team they had a real handle on this place and he can really run this cushion."
Jamie Veal sealed his second consecutive podium finish with third place.
"I'm happy to get on the podium in this kind of company," he explained, "the track really slowed up tonight and so it was a bit of a challenge but I hope it's like this on Scotty Darley night in two weeks when we're back."
Tim Kaeding put in his best drive to date in the International Series by powering forward to an eventual fourth place after smashing the cushion in typical Kaeding style to edge out James Thompson back in fifth place as the chequers flew.
"I'm happy to run up the front with these guys," smiled Thompson in the pits later, "it's an honour to race with drivers of this caliber. We can't really afford to take the chances that some of them do but good luck to them. I'm pretty happy with where we're at."
Jackson Delamont drove brilliantly to finish in sixth place ahead of Max Dumesny in seventh, James McFadden in eighth, Trevor Green in ninth and Sam Walsh rounding out the top ten.
Marty Perovich ran eleventh from Kerry Madsen (who set Network Industry Quick Time) in twelfth, Robbie Farr (who came from #24) in thirteenth, Lynton Jeffrey fourteenth, Danny Reidy fifteenth and Ben Atkinson sixteenth.
Aktinson was dead unlucky.
The Darwin racer was powering around on the cushion and with a lap to go looked like he might vault from fourth to second in the final two corners but he jumped the cushion in turn three and spun to a stop in sight of the chequers.
Jac Haudenschild was challenging for a top five result but spun to miss contact with Kerry Madsen and had to begin from the rear where he eventually soldiered back to seventeenth whilst Grant Tunks also spun to miss contact in a separate incident and worked his way back to eighteenth by the chequers.
Toby Bellbowen was caught up in two incidents, one which involved Grant Anderson and unfortunately took Grant out with damage and the other later in the race saw him spin after contact from behind coming out of turn four.
"I apologise to Grant for that," Toby explained later about the Anderson incident, "I didn't mean to take him out like that."
Matt Dumesny and Carl Dowling were the last registered cars for twentieth and twenty first position
The next event at Valvoline Raceway is on this Saturday, January 10 with the Time Target Easternapolis for Late Models featuring a big field of NSW and interstate stars plus Americans Steve Francis and Jac Haudenschild.
For more information please visit www.valvolineraceway.com.au