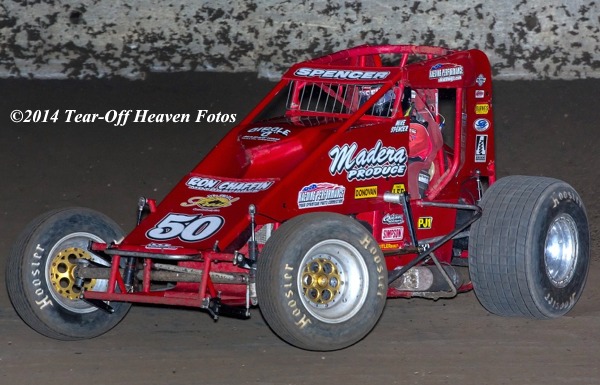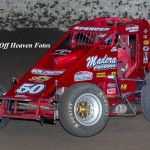 From Lance Jennings
Phoenix, AZ — (March 17, 2015) — After a fantastic March 7th season opener at Perris, California, the Amsoil USAC/CRA Sprint Cars will tackle the USA Raceway in Tucson, Arizona. Starting this Friday, March 20th, the fast 3/8-mile oval will host two-nights of action at the "Eighth Annual Copper On Dirt." Also featuring the West Coast Late Models and the winged ASCS SouthWest Sprint Cars, the event marks the return of traditional 410 sprints to Tucson since February 2010. For more information, visit the track's website at www.raceusaraceway.com or call 520.664.2074.
Originally held at Manzanita Speedway in Phoenix, NASCAR driver Ricky Stenhouse won the inaugural "Copper On Dirt" in 2007. "The Throttle" Shane Cottle and Darren Hagen added the prestigious race to their resume before the legendary track closed their doors. Levi Jones and Shane Stewart (winged) claimed their Copper on Dirt wins at Tucson, then R.J. Johnson won the 2013 event at Canyon Speedway Park. Last season, "The Demon" Damion Gardner won the preliminary feature at Canyon before rain cancelled the finale.
On October 8, 2005, "The Kruser" Cory Kruseman scored the inaugural USAC/CRA feature win at the Tucson facility. On that night, Kruseman set the 1-lap track record of 15.582, which is still the standard with USAC/CRA. Since that night, the non-winged 410s have visited USA Raceway on five occasions and Damion Gardner, Jesse Hockett, Scotty Weir, Charles Davis Jr. and Levi Jones have claimed the checkered flags.
NOTICE TO COMPETITORS: Per USAC/CRA rules, all fuel-injected 410 and 360 powered sprint cars must run the Hoosier 105/16 Medium Right Rear Tire and all four corners must be Hoosier. Cars must pass a tech inspection and one-way radios are mandatory for drivers. USAC/CRA charges a $25 entry fee to all competitors and the series rule book can be found online at www.usacracing.com.
After winning the "Sokola Shootout" at Perris, Richard Vander Weerd of Visalia, California sits atop the point standings. The pilot of the family owned #10 Vander Weerd Construction / Stone Gate Development Maxim took the lead from Matt Mitchell on lap eight and streaked to his second career USAC/CRA victory. The 2011 USAC West Coast Sprint Car Champion will be looking to extend his six-point lead by sweeping the "Copper On Dirt."
Temecula, California's Mike Spencer is second in the point chase. Driving Ron Chaffin's #50 Grubstake Mini Storage / Madera Produce Maxim, Spencer earned the first Woodland Auto Display Fast Time Award of 2015 and ran third in the "Sokola Shootout." The five-time champion has thirty-five career USAC/CRA victories and will have his sights on adding USA Raceway to his win list.
Austin Williams of Yorba Linda, California kicked off his 2015 season with a strong run and is third in the point standings. Racing Jack Jory's #2 John Jory Corporation / AMA Plastics Spike, Williams finished second in the Perris Auto Speedway feature. The 2009 Rookie of the Year has three USAC/CRA wins to his credit and will be looking to add his name to the list of "Copper On Dirt" winners.
Sitting fourth in championship points is Concord, California's "The Demon" Damion Gardner. Driving Mark Alexander's #4 Scott Sales Company / Weld Racing Spike, Gardner had a hard fought battle with Matt Mitchell before placing fourth in the season opener. The three-time champion leads all drivers with fifty-seven USAC/CRA wins and will have his sights on adding the winning trophies to his collection.
Matt Mitchell of Yorba Linda is currently fifth in the Amsoil point standings. Piloting his #37 Campbell Bros. Storage / Pit Boss Jacks Maxim, Mitchell scored fifth at Perris after leading the first seven laps. The 2014 USAC West Coast Sprint Car Champion has six career USAC/CRA feature wins and will be looking to win the "Copper On Dirt."
Among the other drivers expected to be in action are Jake Swanson, "The Cadillac" Cody Williams, Brody Roa, David Bezio, "The Magic Man" Mike Martin, R.J. Johnson, Logan Williams, Jace Vander Weerd, "The People's Champion" Dave Darland, Brady Bacon, "The Real Deal" Rick Ziehl, Josh Hodges, and more.
Currently seventeenth in points, Michael Curtis of Cottonwood, Arizona leads the chase for Rookie of the Year honors. California's Parker Colston, Anthony Lopiccolo, and Tommy Malcolm are also in contention.
USA Raceway is located at 4300 E. Los Reales Road in Tucson, Arizona. To get to the track, take Interstate 10 to exit 265. Drive 2.5 miles south on S. Alvernon Way, then 0.5 miles east on Los Reales Road. Advance tickets are on sale now and more event information can be found at www.raceusaraceway.com or calling 520.664.2074.
The Amsoil USAC/CRA Sprint Car Series thanks Hoosier Tire, Circle Track Performance, Competition Suspension Inc., DJ Safety, Diversified Machine Inc., Extreme Mufflers, Huntington Beach Glass & Mirror, Keizer Wheels, Pyrotect Racing Cells, Rod End Supply, Saldana Racing Products, Ultra Shield Race Products, and Woodland Auto Display for their support. If you or your company would like to become part of the series, email PR Director Lance Jennings at lwjennings@earthlink.net.
For more information on the Amsoil USAC/CRA Sprint Car Series, visit www.usacracing.com or follow the series on Facebook (www.facebook.com/pages/USAC-CRA-Sprint-Car-Series/167535183297971) or Twitter (www.twitter.com/USAC_CRA). Mike Truex's Loudpedal Productions has DVDs available for purchase that feature the Amsoil USAC/CRA Sprint Car Series. For more information, call (805) 407-7229 or visit www.loudpedalvideo.com.