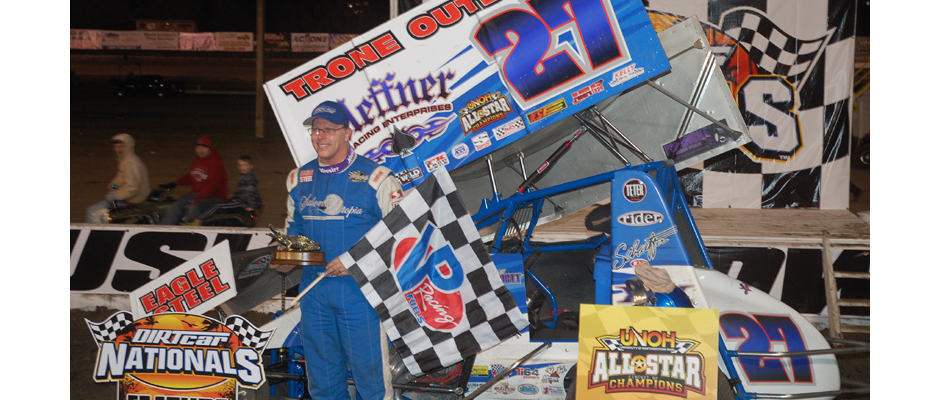 From Shawn Brouse
Port Royal, PA — (April 11, 2015) — Greg Hodnett of Thomasville put on a passing clinic on Saturday night at Port Royal Speedway to claim the 25-lap sprint car feature after starting in the 13th spot.
Hodnett became just the second driver in four years to claim posted bonus money for driving to a regular event win from a starting position behind the first five rows. The victory was his 37th at the oval.
Mike Lupfer of Shermansdale made it back-to-back wins in the super late model division by out-racing Dylan Yoder for the 22-lap victory for the second week in a row as well in what was an exciting stock car main.
In the 18-lap econo late model main Eric Irvin of Petersburg drove to his first victory in the division at the track in its two year history while Kurt Zimmeran of Pasadena, Md., won the all american outlaws feature event.
Lucas Wolfe started on the pole of the 410 sprint featur along side Blane Heimbach.
Wolfe took the lead at the start as fourth starter Aaron Ott zipped by Heimbach for second before an early red flag with just two laps completed for a frontstretch flip by Brock Zearfoss, who escaped injury.
Ott failed to challenge Wolfe on the restart with Heimbach, Mark Smith and Mike Wagner following.
The leader entered the rear of the field on the eighth tour of the event with 13th starter Hodnett now up to sixth.
And while Ott stuck with Wolfe without mounting a challenge Hodnett was just mowing down his adversaries as he marched to the front.
With 15 laps to go he had worked his way into fourth behind Smith and with 12 laps to go he was sitting in third but was still a good half-lap back of the leaders.
But that distance just steadily shrunk as Hodnett's fleet running No. 27 blistered around the speedway and with sixth to go Hodnett was around Ott and closed in on Wolfe as he worked traffic.
Hodnett was scored the leader with five laps to go but Wolfe and he would exchange the lead in the first corner for split seconds as the pair perfected their slide job and recovery skills to see Hodnett go back out in front on the backstretch.
And then again in turn three Wolfe dove in on Hodnett who this time twitched on the cushion as the pair drove up on a lapped car with Wolfe coming away the leader this time only to see a caution flag before the lap could be scored, putting Hodnett back out in front for a restart.
And that clear track was eaten up by Hodnett when action resumed to become the pilots third overall win of the young 2015 season.
Wolfe was second with 10th starter Brent Marks finishing third followed by Ott and Smith.
Sixth through 10th went to Mike Wagner, Davey Sammons, Dylan Cisney, Heimbach and Doug Esh, who started 21st.
Heats went to Heimbach, TJ Stutts and Mike Wagner.
Feature: 1. 27 – Greg Hodnett, 2. 19M – Brent Marks, 3. 1 – Lucas Wolfe, 4. 25 – Aaron Ott, 5. 1M – Mark Smith, 6. 55 – Mike Wagner, 7. 747 – Davey Sammons, 8. 5 – Dylan Cisney, 9. 12 – Blane Heimbach, 10. 07 – Doug Esh, 11. 20 – Ryan Taylor, 12. 23 – T.J. Stutts, 13. 56 – Nate Snyder, 14. 7W – Logan Wagner, 15. 3 – Davey Ely, 16. 30 – Daryl Stimeling, 17. 98 – Tyler Bear, 18. 33 – Curt Stroup, 19. 2H – Dave Hahn, 20. 29W – Ryan Wilson, 21. 44H – Joey Hershey, 22. 0 – Rick Lafferty, 23. 36D – Wayne Dadetto, 24. 12W – Tory Fraker, 25. 3Z – Brock Zearfoss.