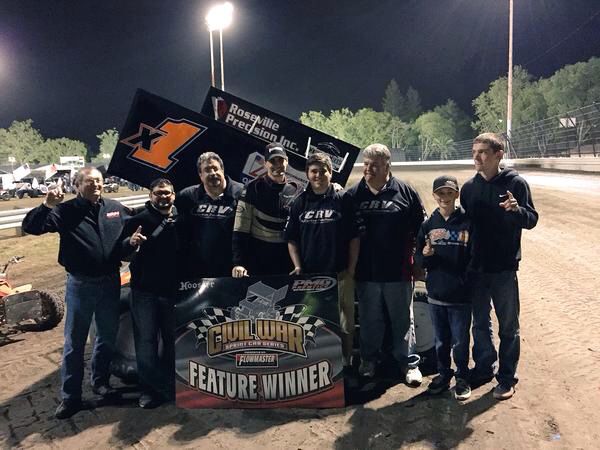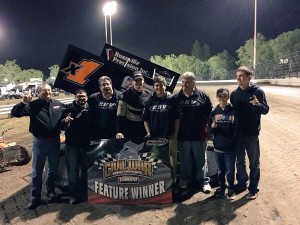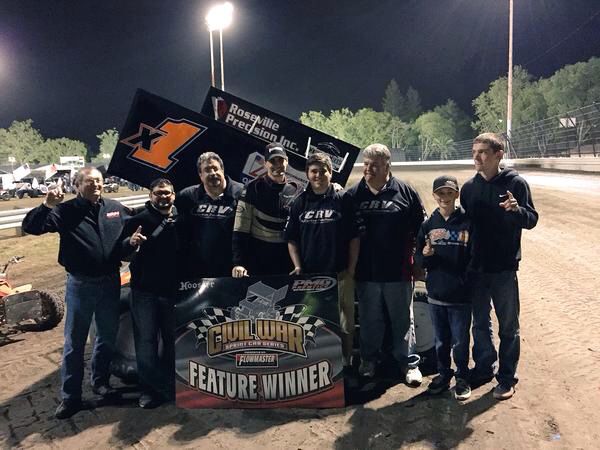 From Peterson Media
Calistoga, CA — (April 11, 2015) — Sean Becker made a late race move at the Calistoga Speedway on Saturday night that saw the three-time series champion become the third different winner through three Civil War Series events thus far on Saturday night.
With Shane Golobic and Dominic Scelzi leading the field to green, it was reigning series champion, and opening night winner, Shane Golobic, jumping out to an early lead, as he quickly began distancing himself from the rest of the field as Sean Becker made a bold move around Scelzi to take over the second spot on the opening lap.
As Golobic continued to pace the field, Becker would keep him in his sights, but behind the lead duo the action was picking up as Rico Abreu and Andy Forsberg began making some moves forward.
With Abreu moving into the third spot, Forsberg had a monster run down the back stretch as be got by both Abreu and Scelzi to take over the third spot, as Sean Becker began to reel Golboic in as the lead duo got into traffic.
With five laps to go, a slower car bobbled in front of Golobic, and Becker pulled right up on Golobic's rear bumper, and was able to make his move for the lead coming to the flag stand.
Out in front, Becker was very strong, though Golobic did not go away easy, as he continued to pressure Becker, as he then felt pressure from Andy Forsberg.
Becker would not be denied on this night, as he picked up his second career victory at the Calistoga Speedway as Shane Golobic, Andy Forsberg, Rico Abreu, and Dominic Scelzi rounded out the top five, in what was the series first appearance at the speedway since the 2012 season.
"It is just a pleasure to drive this car for the F&F team," Becker said. "I am helping them shake this car down for Alan Bradway's son Justin, and I think he is going to have a really good piece. The guys gave me a great car and it is great to win again at Calistoga."
With 15 cars checked into the pit area on Saturday night, Rico Abreu got things started off by timing in with the quickest lap during qualifications. With two Civil War Series presented by Flowmaster heat races also part of the program, wins went to Andy Forsberg and Dominic Scelzi, as Shane Golobic won the night's Dash.