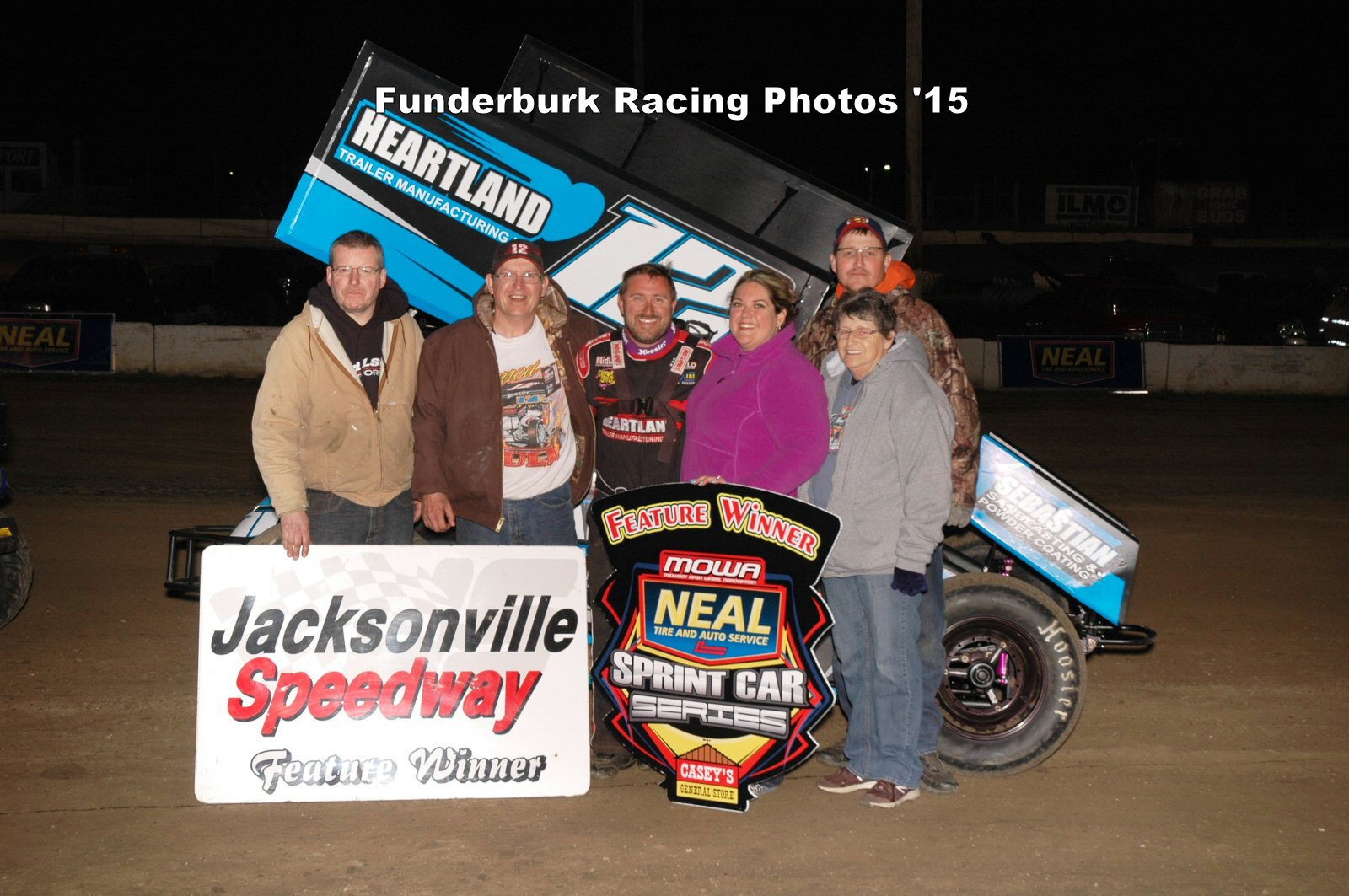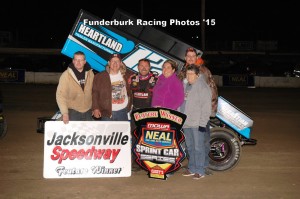 From Bill Wright
April 13, 2015 – Jerrod Hull made it two for two by winning his second race of the year at Jacksonville Speedway in Illinois with the MOWA series last Friday night. He added a second place finish Saturday at St. Francois County Raceway near Farmington, Missouri on Saturday. The Sikeston, Missouri driver has some serious momentum heading into action with MOWA at the Tri-City Speedway in Granite City, Illinois on Friday, and with ASCS at the Randolph County Raceway in Moberly, Missouri on Saturday.
At Jacksonville, Jerrod drew a spot outside of row one for the heat race. "We were able to get the jump from the start and led it every lap," he says. "Everything just went great. We were lucky enough to draw the pole for the Dash after that."
He would finish second in the Dash. "Cory Bruns got the jump on us and won the Dash," says Jerrod. "That was kind of alright with us, because it put us on the front row outside for the feature."
Jerrod would lead every lap of the main event, though it wasn't easy. "The car was great," he says. "It was rolling around there really well. Lapped traffic was super-tough though. You had to ride around the top on the cushion. There was a little hole in turn one and it was kind of choppy. The bottom was so slick that you couldn't run down there. The only way to pass anyone was to do a big slide job. For the most part, it was a good night."
Brady Bacon was breathing down his neck at the checkers. "He was running second there the whole way," says Jerrod. "I knew he was there. I saw him go low with a couple laps to go. He wasn't able to clear us. I had to be on it, or else he would have been able to pass us. It was fast. I'm sure it was a fun race for the fans."
The team traveled to Farmington on Saturday. "We drew outside the front row of the heat race again and won it," says Jerrod. "That's the third time in three races that's happened for us."
Jerrod would draw a four for the Dash. "We really weren't that good in the Dash," he says. "We felt a little loose and finished fourth. I wasn't that worried. I knew Scott (Bonar) could make some changes for the feature and we'd be a lot better."
Starting fourth in the feature, he would work his way to the front. "We were able to get into second," says Jerrod. "Eventually, we were able to get in the lead and we had some cautions. We had put a tire on from last year that was used. It ended up sealing over on us. We got looser and looser as the feature went on, and Tommy Worley got better. He drove around us and did a good job."
It has been a good beginning to 2015. "Two firsts and a second to start the year are great," says Jerrod. "We'll use that momentum to keep things going. We'll be running Granite City with the MOWA on Friday, and then we'll go to Moberly, Missouri and run with ASCS on Saturday. It's going to be fun. We're looking forward to it."
Jerrod and the #12 team would like to thank: Midland Performance, Super Shox, Sebastian Sand Blasting & Powder Coating, Inc., Chuck's Small Engines, Don Hamilton, HRP, Lighthouse Christian Center, Rockstar Graphics, King Racing Products, DMI, KSE Performance Products, Hoosier Tire, Simpson, Weld, Automotive Machine, Maxim and Heartland Trailer Manufacturing.