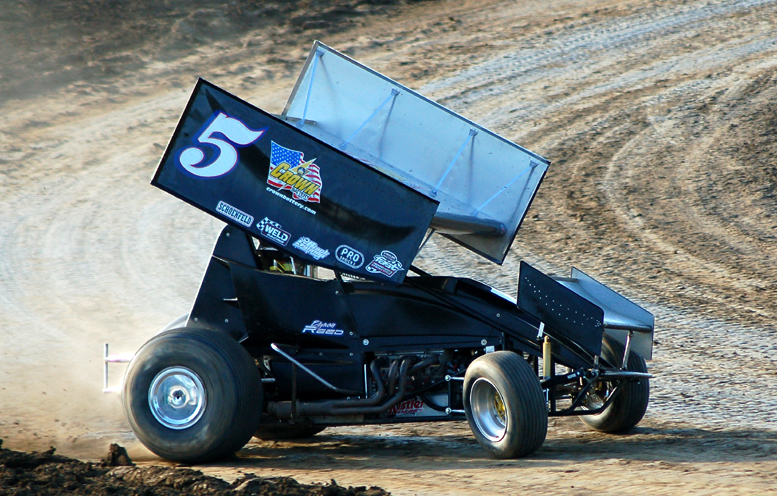 From Bryan Liskai
Fremont, OH — (May 2, 2015) — Byron Reed and Craig Mintz – both former two time Kistler Racing Products Fremont Attica Sprint Title (FAST) Championship Series champions – waged a tremendous battle at Fremont Speedway Saturday. When the non-stop 30 laps came to a conclusion it was Reed with his first victory of the season at "The Track That Action Built" on Baumann Auto Group Night.
The win in the Fort Ball Pizza Palace 410 Sprints would put Reed atop the FAST point standings as he tries for his third $10,000 championship. It was his 27th career win at Fremont and moves him into a tie for 15th on the track's all-time win list.
"That was a good race. Rich Farmer told me to kick some ass tonight and I tried to do that. I was getting a little goofed up with some lapped cars. I'm just glad…I love Fremont Speedway but this particular track…I call it the old Fremont. I usually never run well on the old Fremont so this is great. It means good things for our team because we're doing good on surfaces we usually don't run good at," said Reed beside his Crown Batter/Kistler Engines/Fremont Auto Parts backed #5.
When asked if he was ready to defend the home turf against the All Stars coming up at the end of the month, Reed said Saturday's race was just as important.
"It's funny. As I've gotten older I've become a point's racer. I worry less about those (All Star) races than I do these races. I keep saying I'm going to slow down but they keep throwing money out there and saying there's a good prize at the end of the year. The All Star races are just kind of a fun night really. I want to thank the fans of Fremont…they are always a great crowd….the people are really into it," added Reed.
"I have a back up pit crew tonight and I have to thank Keith Brewer, Donnie Corwin, Kevin Meyer…my main crew chief is out farming tonight," concluded Reed.
Fremont's Bobby Clark would lead all 25 laps of the Fremont Federal Credit Union 305 Sprint feature but it wasn't easy as Jamie Miller hounded him the entire distance. A lapped car the final three circuits nearly cost Clark the win as he struggled to get around the back marker. But, when the checkers flew Clark raced to his second straight win at Fremont.
Clark now has 31 career wins at "The Track That Action Built" and is tied with hall of famer Rollie Beale for 13th on the all-time win list.
"I couldn't get by that lapped car. He moves around a lot. I tried to go around him and I really wasn't getting any where. I thought I didn't want to get snuck on the bottom so I went back down. I could hear someone up top but until I saw someone I wasn't going to change," said Clark beside his Fremont Fence/Kear's Speed Shop/B&L Plumbing and Cooling/Nagy Equipment Sales/Miller Rigging/Shellukes Bar/Willey's Towing/Big D's Pizza/Kistler Engines backed machine.
"Dave (Foos, crew chief) knows what to do when the track gets slick like this. He just tells me be patient with it early and it will come around at the end," added Clark.
"To tie Rollie Beal…that name to me was a legend. It's a great thing. I love racing here. We've had a lot of success. It's an honor to be tied with him," Clark concluded.
In the 30-lap 410 feature Craig Mintz and Chris Andrews would bring the field to green with third starter Cap Henry slipping under both to lead. Mintz would immediately challenge to Henry's outside with Andrews, Reed, Rob Chaney and Nate Dussel in tow.
Henry could not shake the field as Mintz, Andrews and Reed were locked in a tremendous battle for second. The leaders would hit heavy lapped traffic by the 10th circuit which allowed Mintz to drive under Henry for the lead.
Mintz, Henry, Reed and Andrews stayed nose to tail over the next hand full of laps with Reed taking second by lap 14. Reed closed on Mintz and the two raced side by side over the next five laps.
With 14 laps to go Mintz had worked his way through the traffic and pulled away slightly from Reed with Henry, Andrews, Chaney and D.J. Foos in pursuit. A lap later and Reed reeled Mintz in as the two began a spirited battle for the lead which would last until Reed slipped by on lap 23 with Henry, Andrews, Foos, Chaney, Stuart Brubaker and Dussel ready to pounce.
Reed could never complete shake Mintz who stayed close with Henry comfortably in third. Reed would drive the bottom groove to perfection to take the win with Mintz, Henry, Andrews and Foos rounding out the top five.
Clark and Miller brought the field to green for the 25-lap 305 sprint feature with Clark gaining the slight advantage.
The first portion of the race saw four cautions, but the last 16 laps went uninterrupted.
The caution would fly on lap three for an Alex Hill spin as Kyle Farmer also spun to avoid Hill. The running order was Clark, Miller, Seth Schneider, T.J. Michael, John Ivy, Dan McCarron, Luke Griffith, Paul Weaver and Trey Jacobs.
When the race resumed it would only be one lap when Farmer spun. On the restart Clark and Miller pulled away slightly from Schneider, Ivy, Michael, McCarron, Weaver Griffith and Steve Rando.
After a Hill spin on lap six, Clark and Miller would pull away again from Schneider with Michael and Ivy locked in a great battle for fourth. Kelsey Ivy's mount would blow a radiator hose on lap nine for the final caution.
When the green flew Clark was able to pull away by just a car length over Miller with Schneider, Michael, John Ivy, Rando, McCarron and Jordan Ryan in tow. Ryan would make his way to fifth by lap 15 and drove into fourth a circuit latter.
The leaders would catch lapped traffic by the 18th circuit and that allowed Miller to close quickly on Clark with Schneider, Ryan, Michael, Alvin Roepke, Ivy and Rando staying close.
Clark would have trouble putting a car down a lap as he was racing in the bottom groove. Miller would blast away at the cushion in turns three and four and several times drove right to Clark's rear bumper.
Clark would hold his cool and drove to the win over Miller, Schneider, Ryan and Roepke.
Fremont Speedway will be back in action Saturday, May 9 on Smith Family Food Mascot Night. Several area school and business mascots will be on hand to greet fans for the Mo Vaughn Transportation Buckeye Outlaw Sprint Series (BOSS) event. The non-wing sprints will be joined by the 305 sprints, dirt trucks and late models on the racing card.
For more information go to www.fremontohspeedway.com
Fremont Speedway – 5/2/2015
Baumann Auto Group Night
Fort Ball Pizza Palace 410 Sprints (24 Cars)
[#]-Starting Position
Qualifying – Fricker's Restaurant/Callie's Performance
1. 5R-Byron Reed, 12.774; 2. 16-Stuart Brubaker, 12.968; 3. O9-Craig Mintz, 12.974; 4. 9X-Rob Chaney , 12.984; 5. 53-Cap Henry, 13.033; 6. 9-Bryan Sebetto, 13.038; 7. 19-Chris Andrews, 13.055; 8. 60-Jody Keegan, 13.164; 9. 40DD-Nate Dussel, 13.175; 10. 23-Jimmy Light, 13.182; 11. 21-DJ Foos, 13.205; 12. 9Z-Duane Zablocki, 13.210; 13. 33M-Caleb Griffith, 13.222; 14. 45L-Brian Lay, 13.267; 15. 68G-Tyler Gunn, 13.302; 16. 83M-Broc Martin, 13.331; 17. 97-Dean Jacobs, 13.489; 18. 4-Tracy Hines, 13.554; 19. 33K-Kyle Patrick, 13.678; 20. 1-Matt Merrill, 13.895; 21. 77-Dain Naida, 13.922; 22. 2+-Brian Smith, 14.146; 23. 8M-TJ Michael, 14.534; 24. 50B-Mike Burns, 14.654
Heat 1 – American Power Sports (8 Laps – Top 5 finishers transfer to the A-feature)
1. 83M-Broc Martin[1] ; 2. 19-Chris Andrews[4] ; 3. 33M-Caleb Griffith[2] ; 4. 5R-Byron Reed[6] ; 5. 9X-Rob Chaney [5] ; 6. 23-Jimmy Light[3] ; 7. 2+-Brian Smith[8] ; 8. 33K-Kyle Patrick[7]
Heat 2 – Kistler Racing Products (8 Laps – Top 5 finishers transfer to the A-feature)
1. 45L-Brian Lay[2] ; 2. 97-Dean Jacobs[1] ; 3. 53-Cap Henry[5] ; 4. 16-Stuart Brubaker[6] ; 5. 21-DJ Foos[3] ; 6. 60-Jody Keegan[4] ; 7. 1-Matt Merrill[7] ; 8. 8M-TJ Michael[8]
Heat 3 – Hoosier Racing Tires (8 Laps – Top 5 finishers transfer to the A-feature)
1. 68G-Tyler Gunn[2] ; 2. 4-Tracy Hines[1] ; 3. O9-Craig Mintz[6] ; 4. 40DD-Nate Dussel[4] ; 5. 77-Dain Naida[7] ; 6. 9Z-Duane Zablocki[3] ; 7. 9-Bryan Sebetto[5] ; 8. 50B-Mike Burns[8]
Dash – Borer Glass & Mirror (6 Laps, finishing order determined first 6 starting positions of A-feature
1. O9-Craig Mintz[4] ; 2. 19-Chris Andrews[1] ; 3. 53-Cap Henry[2] ; 4. 5R-Byron Reed[6] ; 5. 9X-Rob Chaney [3] ; 6. 16-Stuart Brubaker[5]
B-Main – Computer Man Inc. (10 Laps – Top 5 finishers transfer to the A-feature)
1. 23-Jimmy Light[3] ; 2. 9Z-Duane Zablocki[4] ; 3. 9-Bryan Sebetto[1] ; 4. 1-Matt Merrill[6] ; 5. 2+-Brian Smith[7] ; 6. 60-Jody Keegan[2] ; 7. 33K-Kyle Patrick[5] ; 8. 50B-Mike Burns[9]
A-Main – (30 Laps)
1. 5R-Byron Reed[4]; 2. O9-Craig Mintz[1]; 3. 53-Cap Henry[3]; 4. 19-Chris Andrews[2]; 5. 21-DJ Foos[8]; 6. 9X-Rob Chaney [5]; 7. 16-Stuart Brubaker[6]; 8. 9Z-Duane Zablocki[13]; 9. 40DD-Nate Dussel[7]; 10. 33M-Caleb Griffith[9]; 11. 97-Dean Jacobs[16]; 12. 23-Jimmy Light[12]; 13. 2+-Brian Smith[20]; 14. 45L-Brian Lay[10]; 15. 4-Tracy Hines[17]; 16. 68G-Tyler Gunn[14]; 17. 77-Dain Naida[19]; 18. 1-Matt Merrill[18]; 19. 9-Bryan Sebetto[11]; 20. 83M-Broc Martin[15]
Hard Charger: 2+-Brian Smith[+7]
Fremont Federal Credit Untion 305 Sprints (23 Cars)
[#]-Starting Position
Heat 1 – American Power Sports (8 Laps – Top 5 finishers transfer to the A-feature)
1. 8-Bobby Clark[3] ; 2. 19R-Steve Rando[8] ; 3. 39-Jamie Miller[7] ; 4. 22M-Dan McCarron[4] ; 5. 77X-Alex Hill[5] ; 6. 99-Alvin Roepke[6] ; 7. 44-Kyle Farmer[1] ; 8. 10-Josh Harrison[2]
Heat 2 – Kistler Racing Products (8 Laps – Top 5 finishers transfer to the A-feature)
1. 3J-Trey Jacobs[2] ; 2. 1W-Paul Weaver[1] ; 3. 11G-Luke Griffith[3] ; 4. 36-Seth Schneider[8] ; 5. 7M-Brandon Moore[7] ; 6. 37-Austin Ream[5] ; 7. 75-Jerry Dahms[6] ; 8. 20I-Kelsey Ivy[4]
Heat 3 – Hoosier Racing Tires (8 Laps – Top 5 finishers transfer to the A-feature)
1. 18-TJ Michael[3] ; 2. 77I-John Ivy[4] ; 3. 12-Kyle Capodice[6] ; 4. 5R-Jordan Ryan[7] ; 5. 25-Jason Keckler[5] ; 6. 7-Thomas Schinderle[1] ; 7. 26-Ryan French[2]
A-Main – (25 Laps)
1. 8-Bobby Clark[1]; 2. 39-Jamie Miller[2]; 3. 36-Seth Schneider[3]; 4. 5R-Jordan Ryan[12]; 5. 99-Alvin Roepke[16]; 6. 19R-Steve Rando[11]; 7. 18-TJ Michael[9]; 8. 77I-John Ivy[4]; 9. 22M-Dan McCarron[5]; 10. 11G-Luke Griffith[7]; 11. 1W-Paul Weaver[8]; 12. 7M-Brandon Moore[14]; 13. 10-Josh Harrison[22]; 14. 3J-Trey Jacobs[10]; 15. 12-Kyle Capodice[6]; 16. 25-Jason Keckler[15]; 17. 7-Thomas Schinderle[18]; 18. 75-Jerry Dahms[20]; 19. 37-Austin Ream[17]; 20. 20I-Kelsey Ivy[23]; 21. 77X-Alex Hill[13]; 22. 44-Kyle Farmer[19]; 23. 26-Ryan French[21]
Hard Charger: 99-Alvin Roepke[+11]