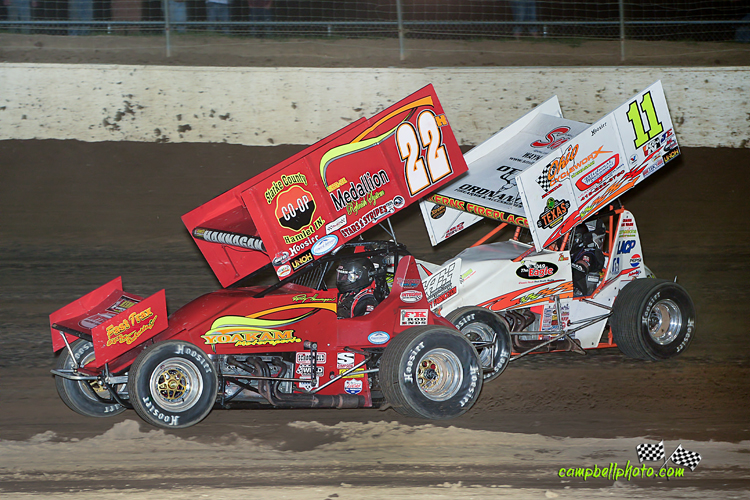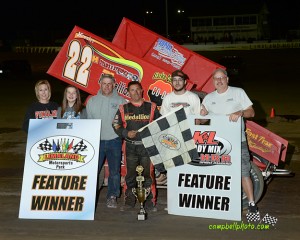 Lima, OH — (May 1, 2015) — The K & L Ready Mix NRA Sprint Invaders took over for their 25-lap feature, looking for a third different winner on the young 2015 season. Previous winners J.R. Stewart and Kyle Sauder were both relegated to mid-pack starting slots, while traditional top contenders Tim Allison and Randy Hannagan had much preferred first and second row starting positions.
The veteran Allison had a runner-up finish at the track two weeks ago, and on this night roared to the early lead. He took his #11 machine on a high side ride around the ¼-mile oval and controlled the event through a 15-lap stretch of racing from the opening green flag. The restart following a caution period at lap 16 saw Allison trying to hold off Dustin Stroup, Hannagan, and former winners Max Stambaugh and Jared Horstman.
A second quick yellow flag forced another restart on lap number eighteen, and had Randy Hannagan in hot pursuit of Allison. The sprint car veteran from California was able to execute a clean pass inside of Allison through turn three on lap number 20. Allison had a chance to recapture the lead with a final restart of the race on lap 21. He slipped a bit and that's all the advantage Hannagan needed to solidify his lead and storm to the checkered flag.
"Tonight everything worked for us," stated the Yoakam Motorsports driver. "When I got up to Tim's bumper, this car just worked like it is supposed to. We started to find it last week in the feature and it showed as we went from 12th to fifth. We were the same as last week in the main event and now here we are. I want to dedicate this win to (owner) Dennis Yoakam's brother Donald who is getting ready for some serious surgery in the next few weeks."
It is Hannagan's 17th career win at Limaland Motorsports Park and he becomes a third Sprint car to qualify for the season-ending Reineke Family of Dealerships King of the Quarter Mile races.
K&L Ready Mix NRA Sprints
Heat 1 – (8 Laps – Top 7 Transfer)
1. 10X-Dustin Stroup, 2. 23-Devon Dobie, 3. 49-Shawn Dancer, 4. 28H-Hud Horton, 5. 83-Kyle Sauder, 6. B20-Butch Schroeder, 7. 5W-Jeff Williams
Heat 2 – (8 Laps – Top 7 Transfer)
1. 22H-Randy Hannagon, 2. 6M-Max Stambaugh, 3. 8J-Jess Stiger, 4. 57-Mike Dunlap, 5. 12R-Nick Roberts, 6. 12J-Tyler Moore, 7. 27R-Kyle Locke
Heat 3 – (8 Laps – Top 7 Transfer)
1. 11-Tim Allison, 2. 35-Ron Blair, 3. 17-Jared Horstman, 4. 6S-Jr Stewart, 5. 22R-Kevin Roberts, 6. 31N-Rod Henning, 7. 16B-Dakota Busche
A-Main – (25 Laps) [#]-Starting Position
1. 22H-Randy Hannagon[3]; 2. 6M-Max Stambaugh[5]; 3. 11-Tim Allison[2]; 4. 17-Jared Horstman[9]; 5. 10X-Dustin Stroup[4]; 6. 23-Devon Dobie[1]; 7. 28H-Hud Horton[10]; 8. 6S-Jr Stewart[12]; 9. 49-Shawn Dancer[7]; 10. 35-Ron Blair[6]; 11. 22R-Kevin Roberts[15]; 12. B20-Butch Schroeder[16]; 13. 57-Mike Dunlap[11]; 14. 83-Kyle Sauder[13]; 15. 31N-Rod Henning[18]; 16. 8J-Jess Stiger[8]; 17. 16B-Dakota Busche[21]; 18. 12J-Tyler Moore[17]; 19. 5W-Jeff Williams[19]; 20. 27R-Kyle Locke[20]; 21. 12R-Nick Roberts[14]