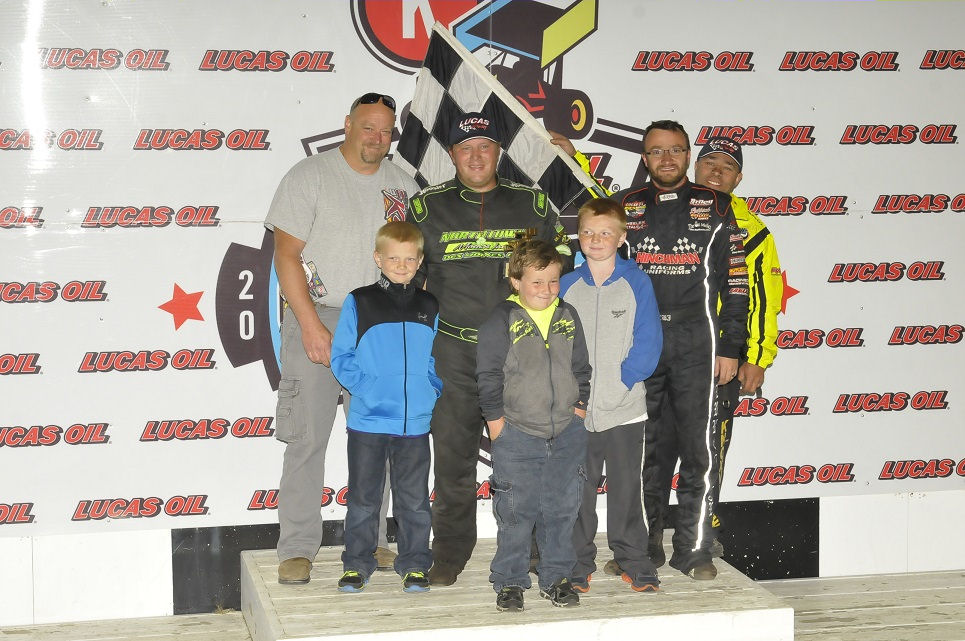 By Bill W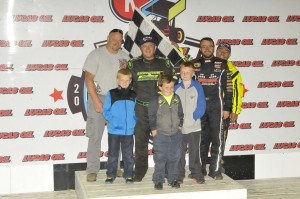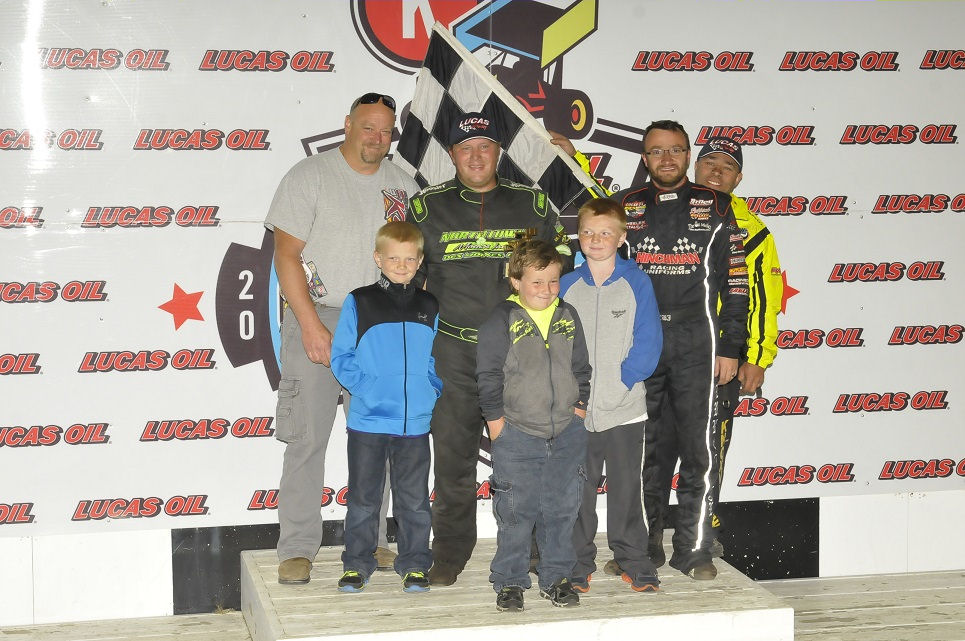 May 12, 2015 – Russ Hall didn't wait long to register his first win of the season. Last Saturday night, he picked up a victory in the 360 class at the season opener for the Knoxville Raceway. The win was the Pleasant Hill, Iowa driver's third at the "Sprint Car Capital of the World". After a Wednesday night crash at the Southern Iowa Speedway in Oskaloosa, Russ didn't even think he could get the Skillz Motorsports #29 to the track three days later. This Friday night will see Russ in 410 competition at the "Sprints Gone Wild" event featuring the FVP National Sprint League vs. the MOWA series at Jacksonville Speedway in Illinois aboard the Northrop Racing #83. He will be back in Knoxville on Saturday.
The Sprint Invaders were in Oskaloosa on Wednesday. Russ would finish fourth in his heat. "The track was fast early," he says. "It was hard to pass in the heats. I was really rusty too. Usually by the first of May, I've raced eight to ten times. As it was, it was the first race of the year. As fast as it was, and Knoxville was on Saturday, it was a little tough to get the feeling back."
Starting 12th in the feature, he charged forward and was battling for fifth with Jon Agan when they tangled. "I had some power steering issues, but we were really coming on at the end of that feature," says Russ. "It looked like we were going to get into the top five when (Jon) Agan and I tangled up. It was just a racing deal. Unfortunately for Agan, Dakota (Hendrickson) hit him first when he came along. It was fortunate for me, because I was squared up and he would have hit me in the cockpit. As it was, we kind of bounced us around."
Still the hit took its toll on equipment. "I'm running thin on parts," says Russ. "It didn't tear up too much, but it took our top wing and a couple of wheels. It didn't look good for us as far as running on Saturday at Knoxville. One of my friends called me and asked what it would take to get me back on track. He helped me out, and I called Lynton Jeffrey to ask if he could have a wing ready for us. He had one the next morning. I'd like to thank them for getting us back on track. Otherwise, we wouldn't have been racing."
Russ, father Roger and the Skillz Motorsports team were burning the midnight oil and then some. "Actually, we borrowed a motor on Wednesday, so we got ours back for Knoxville," he says. "We changed that. We worked all night every night and worked our full-time jobs during the day. I think by feature time Saturday night, we had had six hours of sleep since Thursday. Right before the feature, I was sitting in the push off lane during the 305's and I actually fell asleep. Fortunately, someone wished me good luck and woke me up. I was worn out."
He woke up for the feature. Having qualified eighth quick and making it through the heat race, he redrew a starting spot outside of row two. "We got off to a good start and the car was on a rail," says Russ. "The track had a good bottom, and that's where we like to run. We were able to get out front. Towards the end of the race, the car was getting a little looser, and I was getting more cautious. I didn't want to make a mistake on a bottom that was getting narrow."
A late caution put Justin Henderson on his bumper with a handful of laps to go. "I was getting through lapped traffic well before the restart," says Russ. "I didn't need it and had my momentum up. The last few laps, I overprotected. Justin Henderson's fastest lap was lap 16, and that's when he got by me. I dropped the hammer and got back by him. My fastest lap of the race was the last one. I think our Ostrich engines combined with our Schnee chassis are going to be really good this year."
Russ is excited to get some 410 seat time in at Jacksonville, a track where he won the Herb Barlow Memorial a few years back. "It's going to be wild for sure!" he says. "We'll be in the stacked tube Schnee. We'll see what we can do. We'd definitely like to make the show!"
Russ and the Skillz Motorsports team would like to thank: Waterfront Seafood Market, Kulow Trucking, Northtown Motors, Schnee Chassis, Ostrich Racing Engines, Tom Davis Automotive, Des Moines Industrial Products, Midland Performance, Octane Ink, Vortex, R&L Racing Shocks, Tony and Allison and Jocko's.