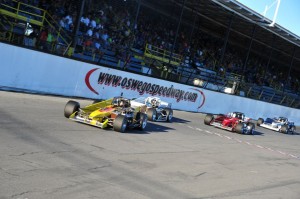 From Oswego Speedway
Oswego, NY — (May 18, 2015) — One of the most highly anticipated events in recent memory at Oswego Speedway will take place on Saturday night with the running of the Port City 160 'Super Spectacle' presented by Corr/Pak Merchandising and Shea Concrete Products, featuring the Novelis Supermodified Jim Shampine Memorial, the ISMA Supermodified Jack Murphy Memorial, and the Pathfinder Bank SBS Tony White Memorial.
The blockbuster event will mark the first time in over ten years that Oswego's non-wing Supermodifieds and the winged ISMA Supermodifieds will compete on the same track, same night.
From 1999-2004, the Speedway held combination events, with the 2003 event being lost to rain.
Bob Goutermout (Novelis Supermodified) and Randy Ritskes (ISMA Supermodifed) were inaugural winners in 1999. Craig Rayvals (Novelis Supermodified) and Johnny Payne (ISMA Supermodified) collected the final combination main event victories in 2004.
Saturday's Supermodified events will be the second on the racing calendar for both the Novelis Supermodifieds and ISMA Supermodifieds.
Just two weeks ago Otto Sitterly picked up where he left off in Novelis Super action in 2014, winning the 65th annual opening night at the Steel Palace over Classic champions Bob Bond and Joe Gosek.
Gosek contended on opening night in a team car to Sitterly, and may very well be behind the wheel of that same car on Saturday night as he searches for his first career Shampine Memorial victory.
Plans are also in place for Sitterly to be joined by another teammate in Dave Shullick Jr., who will look to be behind the wheel of a new Hawk Supermodified for his 2015 Speedway debut.
Sitterly and Shullick will pull double duty on Saturday night, competing in both portions of the 'Super Spectacle.'
Bond will also try and run both events on Saturday in separate cars, as he hopes to compete on the ISMA side of the card with his own No. 25 machine that won the International Classic and King of Wings in 2010.
Dave Gruel, Jeff Abold, Dave Danzer, Pat Lavery, Keith Shampine, and Kody Graham all also shined on the Speedway's opening night and aim at continuing their positive momentum on the non-wing side of the card this weekend.
A full field of Novelis Supermodifieds is expected this weekend with the likes of Shaun Gosselin, Brian Sobus, Michael Muldoon, Aric Iosue, Tim Snyder, Dan Connors Jr., the LeVeas, Brandon Bellinger, Stephen Gioia III, Dave Cliff, Ray Graham, Hal LaTulip, Tim Devendorf, as well as the expected addition of Jerry Curran.
The ISMA Supermodified season kicked off on Friday, May 15 with Shullick grabbing the checkers at Delaware International Speedway utilizing a last lap pass of Jeff Locke.
A strong field of 22 ISMA Supers made the trip over the border with defending series champion Ben Seitz, Mark Sammut, Mike Lichty, Jon McKennedy, Chris Perley, Ryan Litt, Eddie Witkum Jr., and Alison Cumens filling the top ten positions.
With a nice turnout at Delaware, all indications point toward a stellar field making the trip to the 'Steel Palace' on Saturday, where Shullick and Lichty have dominated in recent memory.
Joining the Supermodifieds will be the Pathfinder Bank SBS 35-lap Tony White Memorial.
Dalton Doyle and defending White Memorial champion Andrew Schartner led the SBS field on opening night ahead of Dave Cliff, Russ Brown, and Mike Bruce.
Another top flight night of action is expected on Saturday as JJ Andrews, Alex Hoag, Jack Patrick, Kreig Heroth, Jason Simmons, and Mike Bond all look to chase down the front runners from two weeks ago.
A special added bonus to Saturday's action will be four fully restored Jim Shampine race cars owned by Dave Hollinger, Jim Paternoster, and Jamie Moore – in honor of the late great champion that the Novelis Supermodifieds will race in memory of this weekend.
The 1966 Shampine Supermodified, the 1969 wedge, the 1976 radical offset, and the Shampine sprint car will all be at the Speedway Saturday for fans and competitors to admire.
Pit gates for Saturday's events will open at 11:30 a.m. with hot laps beginning at 1:30 p.m. Grandstand gates will also open at 1:30 p.m.
ISMA Supermodified time trials will go off at approximately 4 p.m. with heat racing at 5 p.m.
Kids 16 and under with paid adult are admitted free as well as active military with ID.
An open practice session will be held Friday night at the Speedway for all three divisions, with hot laps running from 6-10 p.m. Grandstand admission will be free.
For more information on Oswego Speedway visit online at www.oswegospeedway.com or LIKE on Facebook at www.facebook.com/OswegoSpeedway or FOLLOW on Twitter @OswegoSpeedway.
Oswego/ISMA Combination winners at Oswego Speedway
1999 – Bob Goutermout (Oswego), Randy Ritskes (ISMA)
2000 – Greg Furlong (Oswego), Dave McKnight (ISMA)
2001 – Mike Ordway (Oswego), Dave McKnight (ISMA)
2002 – Mike Ordway (Oswego), Scott Martel (ISMA)
2003 – RAINED OUT
2004 – Craig Rayvals (Oswego), Johnny Payne (ISMA)