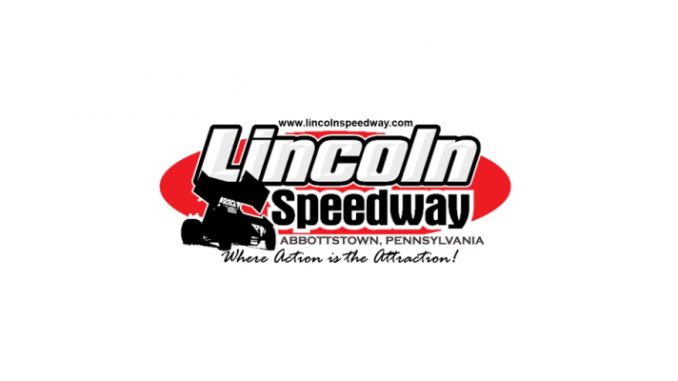 From Bill Meyer
Abbottstown, PA — (July 11, 2015) — Jim Siegel capitalized on a week of hard work and possibly a little help from upstairs in scoring his first win of the year in the Fallen Firefighters Night feature event at Lincoln Speedway Saturday night.
The 33-lap race was run in memory of firefighter Brandon Little, who was killed in a traffic crash while responding to a fire call in January of 2012, and in recognition of United Hook and Ladder Station 33, which serves Abbottstown and New Oxford.
As a young race fan, Brandon's favorite driver was Jim Siegel.
"It's special for me to be able to stand here on a night when we celebrate Brandon's life," said Siegel after scoring his 12th career Lincoln win and claiming the $5,000 top prize, "All I can say is that kids like him give their time and efforts. It matters a lot what those people do for us. I think it's real special that they volunteer and help us out, because when you need them, they're there for you."
"I've been working my (butt) off all week," continued Siegel, "So have my guys and my dad. We got that car tore up during the Monday Speedweek show here, and couldn't make it back for Thursday. It's been a long year. And it was an even longer week. It sure feels good to get the monkey off my back."
Normal handicapping and a redraw with the first six spots and second group of six cars put Siegel on the inside of row two for the start. Outside front row starter Kyle Moody grabbed the lead from polesitter Glenndon Forsythe at the outset, with Siegel falling in line behind them.
The race's lone caution flag came out for Scott Fisher on lap four. Siegel passed Forsythe for second two laps later, and closed quickly on Moody in lapped traffic over the next six lap. Siegel was actually scored the leader at the line completing lap 15, but Moody was able to retake the lead on the following lap.
Meanwhile, seventh-starting Danny Dietrich had worked his way into third place during that exchange.
Siegel was able to put on his race-winning move on lap 20. Four laps later, Dietrich got by Moody to take second. For the next ten laps, the Sandoe's Fruit Market #48 tried to track down Siegel. He got close with five laps to go, but got hung up behind lapped cars, allowing Siegel to pull away to the .62-second win.
Moody settled for third, with Alan Krimes and Greg Hodnett completing the top five. Sixth through tenth were Austin Hogue, Forsythe, 20th-starting Brian Montieth, Chase Dietz, and Tim Wagaman.
Heats for the 34 410's on hand were won by Moody, Cory Haas, Wagaman, and Lance Dewease, with Freddie Rahmer winning the consolation.
Sussex, New Jersey's Davie Franek came from 11th starting spot to score his first career Lincoln win in the 20-lap "358" sprint car feature. Franek methodically worked his way through the field during through a red flag and four caution flags during the first nine laps of the race to restart third after the ninth-lap caution.
Driving the Roger McKeehan #4R, Franek caught Lucas Montgomery for the runner-up spot at the half-way point, and made his race-winning pass by polesitter and race-long leader Wyatt Hinkle three laps later. From there, he pulled away to a convincing 5.37-second win.
Hinkle crossed second, followed by Montgomery, Tyler Esh, and 12th-starting Jeff Halligan.
Rounding out the top ten were Brie Hershey, 22nd-starting Cole Young, Matt Campbell, 24th-starting Todd Rittenhouse, Jr., and 23rd-startng Jordan Givler.
Heats for the 40 358's on hand were won by Troy Wagaman, Jr., Esh, Scott Fisher, and Hershey, with Chandler Leiby winning the consolation.
Aaron Ott ended a Lincoln win drought by winning the make-up 25-lap Mach 1 360/358 Challenge from 2014.
Front row starters Josh Weller and Jimmy Stitzel battled for the lead in the early going, with Weller leading lap one, Stitzel leading laps two and three, and Weller reclaiming the lead on lap four.
Ott made it a race between the yellow #25 cars after passing Stitzel for second on lap seven. Following the race's final caution (a lap 12 caution for a spinning Mark Smith in turn one), Ott took the lead from Weller on the restart and drove away to a 4-second win, his first at Lincoln since 2011.
Weller crossed second, with Stitzel, Greg Hodnett, and Davie Franek rounding out the top five.
Lincoln swings back into action next weekend, Saturday, July 18th, with the DARYL GOHN/GLENN GOHN, SR. MEMORIAL FINALE for 410 Sprints plus 358 Sprints "Nouse Signs & Graphics Summer Series" event, and Central PA Legends. Gates open at 5:30 PM, racing set to get underway at 7:30 PM.
To get all the latest news, results, schedule changes and rule changes, visit Lincoln Speedway's website at http://www.lincolnspeedway.com to stay up-to-date on all the action or pending weather conditions at Central Pennsylvania's "Premier" Saturday night race track – The Fabulous Lincoln Speedway.
RACE RESULTS
Saturday, July 11, 2015
LINCOLN SPEEDWAY
Abbottstown, PA
NATIONAL FALLEN FIREFIGHTERS NIGHT IN MEMORY OF BRANDON LITTLE
410 SPRINT FEATURE FINISH (33 Laps) – 1. 59-Jim Siegel ($5,000); 2. 48-Danny Dietrich; 3. 99M-Kyle Moody; 4. 87-Alan Krimes; 5. 27-Greg Hodnett; 6. 52-Austin Hogue; 7. 2W-Glenndon Forsythe; 8. 21-Brian Montieth; 9. 44-Chase Dietz; 10. 1*-Tim Wagaman; 11. 14-Lance Dewease; 12. 35-Steve Owings; 13. 25-Aaron Ott; 14. 16-Gerard McIntyre, Jr.; 15. 55K-Robbie Kendall; 16. 5-Tyler Ross; 17. 11C-Cory Haas (DNF); 18. 8-Billy Dietrich; 19. 69-Shane Hoff; 20. 747-Davey Sammons; 21. 21T-Scott Fisher; 22. 88-Brandon Rahmer (DNF); 23. 51-Freddie Rahmer (DNF); 24. 39-Tim Glatfelter (DNF). No Time
Lap Leaders – Kyle Moody (1-14), Jim Siegel (15), Kyle Moody (16-19), Jim Siegel (20-33)
410 Sprint Heat One Finish (10 laps/5 to qualify) – 1. 99M-Kyle Moody; 2. 59-Jim Siegel; 3. 44-Chase Dietz; 4. 39-Tim Glatfelter; 5. 55K-Robbie Kendall; 6. 69-Shane Hoff; 7. 91-David Quackenbush; 8. 10-Zach Euculano (DNF); 9. Q83-Dave Murcott (DNF). No Time
410 Sprint Heat Two Finish (10 laps/5 to qualify) – 1. 11C-Cory Haas; 2. 87-Alan Krimes; 3. 52-Austin Hogue; 4. 16-Gerard McIntyre, Jr.; 5. 25-Aaron Ott; 6. 51-Freddie Rahmer; 7. 8C-Brian Carber; 8. 15-Adam Wilt; 9. 3B-Randy Baughman. No Time
410 Sprint Heat Three Finish (10 laps/5 to qualify) – 1. 1*-Tim Wagaman; 2. 27-Greg Hodnett; 3. 35-Steve Owings; 4. 21T-Scott Fisher; 5. 88-Brandon Rahmer; 6. 8-Billy Dietrich; 7. 3W-Hunter Mackison; DNS – 1080-Jordon Mackison. Time – 2:27.535
410 Sprint Heat Four Finish (10 laps/5 to qualify) – 1. 14-Lance Dewease; 2. 27-Greg Hodnett; 3. 35-Steve Owings; 4. 21T-Scott Fisher; 5. 88-Brandon Rahmer; 6. 8-Billy Dietrich; 7. 3W-Hunter Mackison; DNS – 1080-Hunter Mackison. Time – 2:26.279
410 Sprint Consolation Finish (12 laps/4 to qualify) – 1. 51-Freddie Rahmer; 2. 69-Shane Hoff; 3. 747-Davey Sammons; 4. 8-Billy Dietrich; 5. 15-Adam Wilt; 6. M1-Mark Smith; 7. Q83-Dave Murcott; 8. 8C-Brian Carber; 9. 3W-Hunter Mackison; 10. 91-David Quackenbush; 11. 3B-Randy Baughman; 12. 74-Dwayne Gutshall (DNF); 13. 1080-Jordon Mackison (DNF); DNS – 10-Zach Euculano. No Time
KEIZER ALUMINUM WHEELS 358 SPRINTS
358 SPRINT FEATURE FINISH (20 laps) – 1. 4R-Davey Franek ($1,333); 2. 19D-Wyatt Hinkle 3. 15-Lucas Montgomery; 4. 35-Tyler Esh; 5. 45H-Jeff Halligan; 6. 97-Brie Hershey; 7. 17-Cole Young; 8. 16-Matt Campbell; 9. 23-Todd Rittenhouse, Jr.; 10. 90-Jordon Givler; 11. 77-David Halbrook; 12. 47K-Kody Lehman; 13. 45-Jeff Rohrbaugh; 14. 66-Doug Hammaker; 15. 13-Ryan Higgins; 16. 66A-Cody Fletcher; 17. 47-Michael Hamer; 18. 22B-Nat Tuckey; 19. 00-Chris Frank (DNF); 20. 19-Troy Wagaman, Jr. (DNF); 21. 19Z-Isaac Sneeringer (DNF); 22. 119-Chandler Leiby (DNF); 23. 28-Matt Findley (DNF); 24. 21T-Scott Fisher (DNF). No Time
Lap Leaders – Wyatt Hinkle (1-12), Davey Franek (13-20)
358 Sprint Heat One Finish (10 laps/5 qualify) – 1. 19-Troy Wagaman, Jr.; 2. 00-Chris Frank; 3. 66A-Cody Fletcher; 4. 45-Jeff Rohrbaugh; 5. 47K-Kody Lehman; 6. 17-Cole Young; 7. 90-Jordon Givler; 8. 23A-Chris Arnold; 9. 38D-Kyle Denmyer (DNF); DNS – 11Z-Zach Newlin. Time – 2:30.66
358 Sprint Heat Two Finish (10 laps/5 qualify) – 1. 35-Tyler Esh; 2. 77-David Holbrook; 3. 19D-Wyatt Hinkle; 4. 47-Michael Hamer; 5. 22B-Nat Tuckey; 6. 21X-Kyle Abahims (DNF); 7. 9-Rytan Hansen (DNF); 8. 23-Todd Rittenhouse, Jr. (DNF); FNS- 5A-Brian Allman, F5-Mark Bitner. Time – 2:31.21
358 Sprint Heat Three Finish (10 laps/5 qualify) – 1. 21T-Scott Fisher; 2. 19Z-Isaac Sneeringer; 3. 4R-Davie Franek; 4. 66-Doug Hammaker; 5. 16-Matt Campbell; 6. 119-Chandler Leiby; 7. 4-Dwight Leppo; 8. 5-Ashley Cappetta; 9. 2-Mahe Thomas; 10. 65-Travis Willow (DNF). No Time
358 Sprint Heat Four Finish (10 laps/5 qualify) – 1. 97-Brie Hershey; 2. 45H-Jeff Halligan; 3. 15-Lucas Montgomery; 4. 13-Ryan Higgins; 5. 28-Matt Findley; 6. 66R-Russel Hammaker; 7. 22-Nathan Prezenica; 8. 98-Sammy Sahedra; 9. 14-Dave Carlberg (DNF); 10. 17G-George-Streaker Jr. No Time
358 Sprint Consolation Finish (12 laps/4 qualify) – 1. 119-Chandler Leiby; 2. 17-Cole Young; 3. 90-Jordon Givler; 4. 23-Todd Rittenhouse, Jr.; 5. 5-Ashley Cappetta; 6. 23A-Chris Arnold; 7. 4-Dwight Leppo; 8. 5A-Brian Allman; 9. 66R-Russel Hammaker; 10. 38D-Kyle Denmyer; 11. 22-Nathan Prezenica; 12. 98-Sammy Sahedra; 13. 21X-Kyle Abrahims; 14. 9-Ryan Hansen (DNF); 15. 17G-George Streaker, Jr. (DNF); 16. 2-Mike Thomas (DNF); 17. 14C-Dave Carlberg (DNF). No Time
358/360 SPRINT MACH 1 CHALLENGE (MAKE-UP FROM 2014)
358/360 SPRINT FEATURE FINISH (25 laps) – 1. 25A-Aaron Ott; 2. 25-Josh Weller; 3. 4-Jimmy Stitzel; 4. 27-Greg Hodnett; 5. 28F-Davie Franek; 6. 56-Randy West; 7. 45-Jeff Rohrbaugh; 8. 88B-Andy Best; 9. 2W-Glenndon Forsythe; 10. 16-Matt Campbell; 11. 66-Doug Hammaker; 12. 28-Keith Prutzman; 13. 23-Todd Rittenhouse, Jr.; 14. 66A-Cody Fletcher; 15. 97-Brie Hershey; 16. 38D-Kyle Denmyer; 17. 5-Ashley Cappetta; 18. 9-Kevin Darling; 19. M1-Mark Smith; 20. 17-Cole Young; 21. 21T-Scott Fisher; DNS – 23T-Tyler Ross. No Time
Lap Leaders – Josh Weller (1), Jimmy Stitzel (2-3), Josh Weller (4-11), Aaron Ott (12-25)