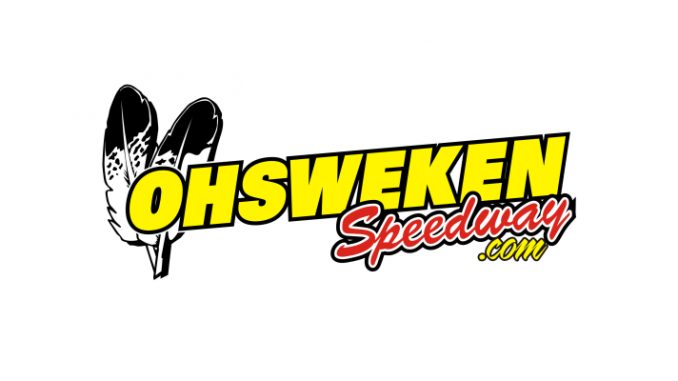 Ohsweken
Ohsweken, ON — (September 4, 2015) — Derek Jonathan survived a couple of trips over the edge of the banking to claim his 2nd A-Feature win of the season at Ohsweken, while Jim Huppunen used a slide job to snare the runner-up position from early race leader Dane Lorenc with 2 laps remaining. Lorenc had also slipped off track earlier in the race, allowing Jonathan to get by and eventually claim the win by 2.898 seconds. Huppunen, Lorenc, Cory Turner, and Mitch Brown rounded out the top 5.
Glenn Styres entered the night 22 points ahead of Todd Hoddick in the championship standings, and needing to finish 9th or better in the A-Feature to lock up his 2nd consecutive title. He ended up doing exactly what he needed to do, but his title hopes were in jeopardy after he stopped on the track with a suspected flat tire on lap 16.
Discovering that his tire wasn't flat after all, Styres restarted well outside the top 10, and advanced to take the 9th spot with 2 laps remaining. Meanwhile, Hoddick faded to 6th after being as high as 3rd.
Styres claimed the championship by 16 points over Hoddick, while Ryan Turner won the Rookie of the Year honours.
Jake Brown won the crate sprint car feature.
Ohsweken Speedway
Ohsweken, ON
September 4, 2015
Winged 360 Sprint Cars
1. 81 – Derek Johnathon
2. 14H – Jim Huppunen
3. 0 – Dane Lorenc
4. 19 – Cory Turner
5. 10 – Mitch Brown
6. 49 – Todd Hoddick
7. 77 – Dain Naida
8. 91 – Ryan Turner*
9. 0 – Glenn Styres
10. 5 – Keith Dempster
11. 69 – Kris Root
12. 80 – Chris Steele
13. 6 – Curtis Gartly
14. 2 – Lee Winger*
15. 38 – Tyler Hendricks*
16. 21J – John Burbridge
17. 11 – Jamie Turner
18. 67 – Chris Durand
A-Feature Lap Leaders – Keith Dempster (1), Dane Lorenc (2-8), Derek Jonathan (9-25)
INSIDE TRACK MOTORSPORT NEWS HEAT RACE #1 (8 laps)
Finish. # Name, Hometown (Starting Position)
1. 49 Todd Hoddick, Cheektowaga NY (2), 2. 5 Keith Dempster, Alton ON (5), 3. 81 Derek Jonathan, Lewiston NY (3), 4. 2 Lee Winger, Mount Hope ON (4), DNF. 77 Dain Naida, Tecumseh MI (6), DNF. 0 Glenn Styres, Ohsweken ON (1). No Time
PASWORD PROTECTION HEAT RACE #2 (8 laps)
Finish. # Name, Hometown (Starting Position)
1. 14h Jim Huppunen, Welland ON (1), 2. 19 Cory Turner, Caistor Centre ON (3), 3. 6 Curtis Gartly, Thamesford ON (2), DNF. 21j John Burbridge, Jr., St. Williams ON (5), DNF. 80 Chris Steele, St. Catharines ON (4), DNS. 67 Chris Durand, Port Stanley ON (6). No Time
TRANSPORT SALES & SERVICE HEAT RACE #3 (8 laps )
Finish. # Name, Hometown (Starting Position)
1. 10 Mitch Brown, Brantford ON (3), 2. 00 Dane Lorenc, Bowmansville NY (2), 3. 91 Ryan Turner, Caistor Centre ON (1), 4. 38 Tyler Hendricks, Chatham ON (4), 5. 69 Kris Root, Delaware ON (6), DNF. 11 Jamie Turner, Caistor Centre ON (5). No Time
(Top 8 in heat race passing points redrew for A-Feature starting positions)
NATHAN ACKLAND STATE FARM INSURANCE "TOP GUN" AWARD ($150 – heat race passing points high score): 10 Mitch Brown
———————————————————–
STRICKLAND'S GMC CRATE SPRINT CARS (15 entries)
Jake Brown took the lead of the Crate Sprint Car A-Feature before the halfway mark of the 20 lap race, and went on to claim his first win of the season. Early leader Kyle Durnin spun out of the 3rd spot, creating a 2 lap dash to the finish. Brown got a good restart, leaving Ryan Hunsinger to fight off the challenges of Aaron Turkey and Holly Porter. Brown finished 1.982 seconds ahead of Hunsinger, followed by Porter, Turkey, and Alex Hill.
Dylan Westbrook entered the night only needing to start the A-Feature, and that's all he was able to do, as he crashed in the first turn along with Mark Czuba and Jeremy Hughes. Josh Shantz was also caught up in the incident, but avoided damage to his car and restarted.
Westbrook won the championship by 23 points over Brown, while Alex Hill won the Rookie of the Year award.
A-FEATURE (20 laps)
Finish. Number Name (Starting Position)
1. 1-10 Jake Brown (6)
2. 7h Ryan Hunsinger (9)
3. 1 Holly Porter (5)
4. 68 Aaron Turkey (4)
5. 77x Alex Hill (10)
6. 18 Josh Shantz (15)
7. 4 Mack DeMan (8)
8. 55 Mike Thorne (7)
9. 12 Brad Herron (13)
10. 54 Ed Green (3)
11. 43k Kyle Durnin (1)
12. 6m Eric McGlone (2)
DNF. 00 Mark Czuba (11)
DNF. 47x Dylan Westbrook (12)
DNF. 5 Jeremy Hughes (14)
No Time
A-Feature Lap Leaders – Kyle Durnin (1-7), Jake Brown (8-20)
CREATIVE EDGE SIGNS & GRAPHICS HEAT RACE #1 (6 laps)
Finish. # Name, Hometown (Starting Position)
1. 43k Kyle Durnin, Cambridge ON (1), 2. 54 Ed Green, Ohsweken ON (3), 3. 68 Aaron Turkey, Ohsweken ON (4), 4. 6m Eric McGlone, Union ON (2), 5. 1-10 Jake Brown, Brantford ON (8), 6. 1 Holly Porter, Delhi ON (7), 7. 12 Brad Herron, Waterford ON (5), 8. 18 Josh Shantz, St. Agatha ON (6). Time – 1:32.545
CREATIVE EDGE SIGNS & GRAPHICS HEAT RACE #2 (6 laps)
Finish. # Name, Hometown (Starting Position)
1. 55 Mike Thorne, Caledonia ON (1), 2. 4 Mack DeMan, Mississauga ON (2), 3. 47x Dylan Westbrook, Scotland ON (6), 4. 77x Alex Hill, Wilsonville ON (4), 5. 7h Ryan Hunsinger, Stouffville ON (3), 6. 00 Mark Czuba, Burlington ON (5), 7. 5 Jeremy Hughes, Burlington ON (7). Time – 1:31.777
NATHAN ACKLAND STATE FARM INSURANCE "TOP GUN" AWARD ($50 – fastest heat race single lap time): 55 Mike Thorne – 15.162 seconds