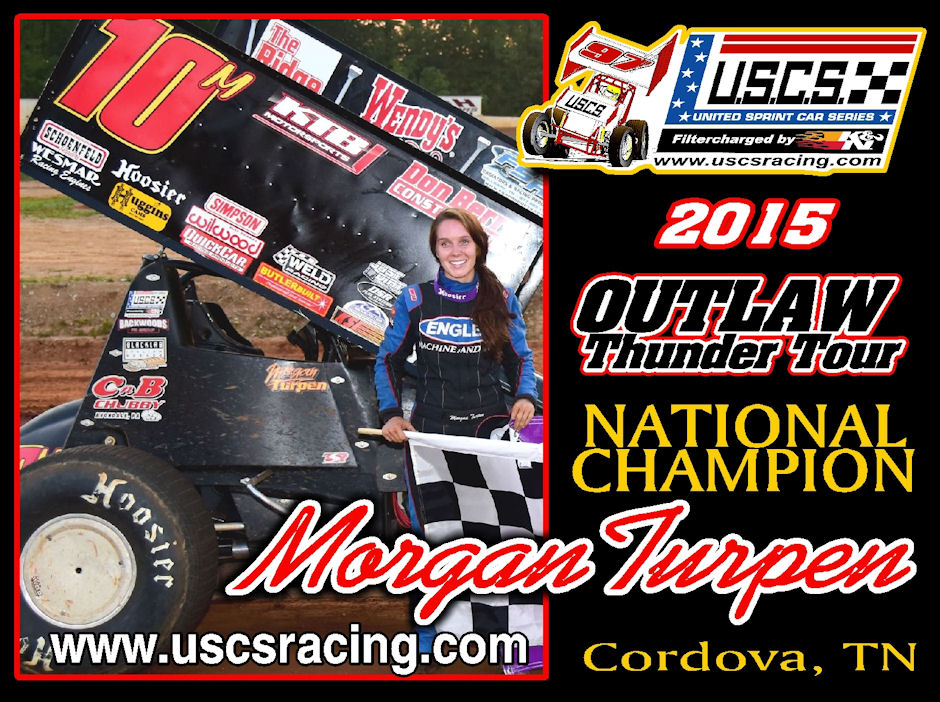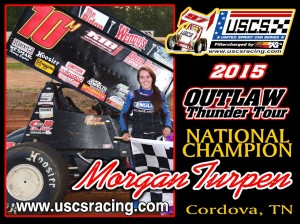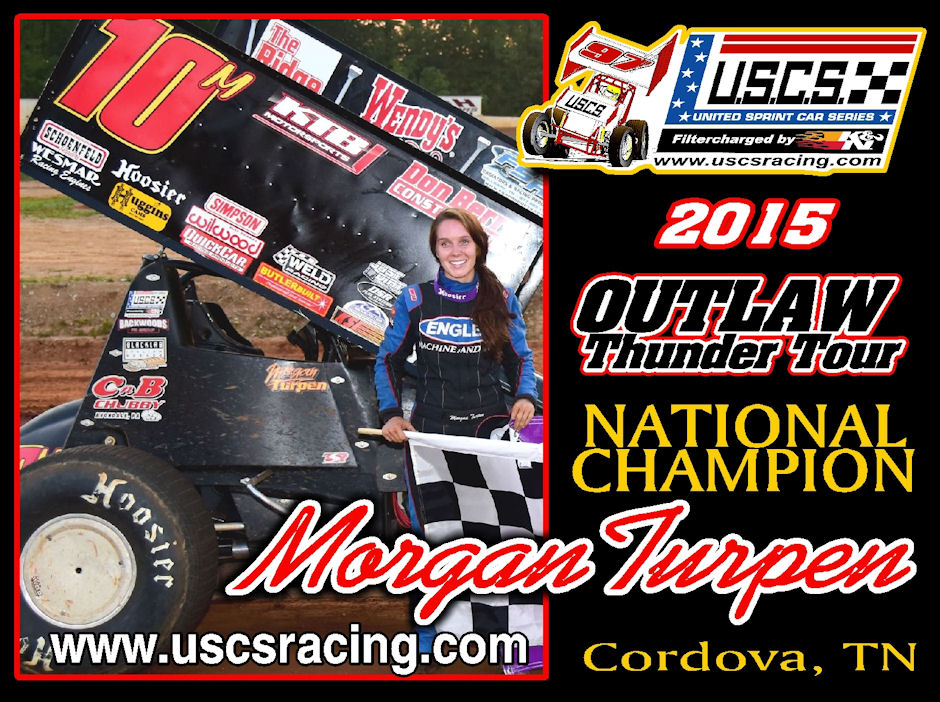 By Pete Walton
Atlanta, GA – December 29, 2015 – The United Sprint Car Series would like to congratulate 22 year-old 2015 USCS presented by K&N Filters National Champion, Morgan Turpen from Cordova, Tennessee on her nomination as one of only three winged 360 sprint car drivers in North America to be nominated for the 2015 National Sprint Car Hall of Fame 360 Driver of the Year poll's "Wild Card Award". The "Wild Card Award" is voted on annually by NSCHoF pollsters as the driver that has impressed them the most with his/her exciting sprint car racing performances in 2015.
Turpen got out her broom and swept to all three available USCS division titles including the USCS Outlaw Thunder Tour National Championship, the USCS Mid South Thunder Tour and USCS Southern Thunder Tour regional series Championships as well.
She is also nominated as one half of the Terry Gray Racing team that has been nominated as 360 "Team of the Year". The TGR team swept to the top two positions in the final United Sprint Car Series 2015 National standings. Her car owner, team-mate and 11-time USCS National Champion, Terry Gray from Bartlett, Tennessee was the other half of the Championship driving team. Gray finished in the runner-up spot in the National point standings and raced to a third place finish in the final standings in both USCS regional series.
Turpen has competed with the United Sprint Car Series presented by K&N Filters full time since the 2010 season when she earned the USCS National Rookie of the Year honors. According to the National Sprint Car Hall of Fame 2014 North American Driver of the Year poll for winged 360 sprint cars, she was the top ranked female winged sprint car driver in North America for last season. Turpen was the only female driver to receive votes among only 32 drivers out of several thousand considered who received multiple votes in that poll.
Turpen has seven total USCS career feature wins including one on September 5th this season at Harris Motor Speedway in Rutherfordton, North Carolina. She has been close to the top of the point standings at the conclusion of three other seasons. She finished in the runner-up position in the USCS National point standings during the 2010, 2011 and 2014 seasons. Other than the 2010 USCS Rookie crown, Turpen has also earned the 2014 USCS "Road to Atlanta" Hoosier Asphalt Series Championship.
Turpen's 2015 National title run, although showing only one trip to the www.rockauto.com USCS Victory Lane for the September 5th win on her score card, it is filled with nine podium finishes (top three finishers), sixteen top five and twenty-seven top ten finishes. Those finishes were enough to keep her ahead of eleven-time series National Champion
For information on Morgan Turpen's USCS 2015 results visit www.uscsracing.com For USCS rules, updated schedules and other information, please visit the www/iscsracing.com website as well or you may contact the USCS office at 770-460-7223 or 770-865-6097.