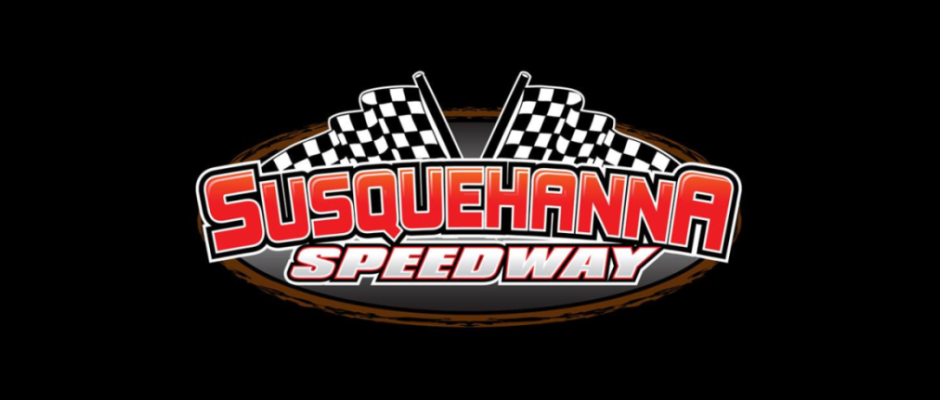 Susquehanna, PA — (March 26, 2016) — Harrisburg's Gregg Foster helped usher in a new season of racing at Susquehanna Speedway to become the first winner of the new era of racing under the Scott Gobrecht/Kolten Gouse banner.
Foster held off repeated challenges from Kevin Nouse to score the opening night 25-lap Credit Connection Auto Sales Super Sportsman feature win Saturday at the York Haven oval.
It marked the first competitive night of action at the York County track under the new management as a nice size crowd came out to see all of the off-season changes to the facility as well as all of the action on the new racing surface.
Other winners on opening night included Dover's Gene Knaub in the 358 Late Models, Halifax's Craig Morgan in the Street Stocks and defending series champ Bill Diehl of Craley, PA was the ServiceMaster Clean Central PA Legends winner.
Foster started on the front row of the 25-lap Super Sportsman feature and only momentarily lost the point during the early stages of the race despite battle throttle issues.
Foster was able to keep Mechanicsburg's Kevin Nouse at bay to secure the win aboard his American Legion Dept. of Pennsylvania RPM Chassis No. 32.
Nouse came home in the runner-up spot with Newville's Russ Mitten earning the Hard Charger award after starting back in the 15th spot and finishing third.
Fourth went to Newville's Devin Beidel with Marysville's Kenny Edkin rounding out the top five finishers.
Sixth through tenth were 18th starting Timmie Barrick, Rich Eichelberger, Scott Geesey, Jay Fannasy and Tony Jackson.
Heat races for the 31 Super Sportsman were won by Mike Enders, Scott Dellinger and Rick Barr with Davey Walsh topping the consolation.
Gene Knaub continued his domination in the 358 late model ranks as he opened the Susquehanna season with a victory in the 20-lap feature over Jake Jones, Steve Billet, Randy Christine, Jr. and Justin Ehrhart. Knaub started fourth and took control from Jones on the fifth lap.
Christine and Chase Billet were late model heat winners with 20 cars pitside.
Despite starting fourth, Craig Morgan led every lap to win the Street Stock feature, taking the checkered flag over Jasen Geesaman, Eddie Richards, Ryan Smith and Jim Palm.
Heats for the 28 cars were won by Jason Townsend, Eddie Richards and Ryan Smith.
Defending Central PA Legends champion Bill Diehl was back in winning form as he came away with the win in that division's feature event, defeating Lucas Montgomery, Chad Earnst, Travis McClelland and Justin Mitchell. Diehl led laps 2 through 20 but his win came in a near photo finish over Montgomery.
Heats for the 23 Legends went to McClelland, Harlon Leppo and Mitchell.
Susquehanna Speedway returns to action Saturday, April 2 at 6PM with a three-division program of Credit Connection Auto Sales Super Sportsman, 358 Late Models and Street Stocks.
CREDIT CONNECTION AUTO SALES SUPER SPORTSMAN
25 LAPS: 1. 32-Gregg Foster, 2. 1J-Kevin Nouse, 3. 77-Russ Mitten, 4. 19-Devin Beidel, 5. 75-Kenny Edkin, 6. 7B-Timmie Barrick, 7. 8-Rich Eichelberger, 8. 41-Scott Geesey, 9. 222-Jay Fannasy, 10. 17J-Tony Jackson, 11. 55C-Chad Criswell, 12. 99-Chad Smith, 13. 318-Teddy Thomas, 14. 99G-Scott Grace, 15. 6-Steve Wilbur, 16. 77W-Tom Wyckoff, 17. 3B-Mike Enders, 18. 14-Nate Young, 19. 30-Scott Dellinger, 20. 4-Joe Bryson, 21. 44-Russ Lebo, 22. 20W-Davey Walsh, 23. 00-Rick Barr, 24. 58-Paul Miller.
Did Not Qualify: Doug Dodson, Justin Foster, Lanny Hake, Mike Lorah, Tony Troy Rhome, Bruce Buckwalter, John Stoll, Jr.
358 LATE MODELS
20 LAPS: 1. 1-Gene Knaub, 2. 43-Jake Jones, 3. 20-Steve Billet, 4. 74-Randy Christine, Jr., 5. 69-Justin Ehrhart, 6. NINE-Randy Stoudt, 7. 48-Chris Knopp, 8. 57-Brad Shank, 9. 19L-Dave Latsha, 10. 116-Travis Mease, 11. 31-Dave Ogin, 12. 89-Sonny Norris, 13. 19-Drew Weisser, 14. 3-Ron Kline, 15. 722-Pat McNeal, 16. 000-Matt Nailor, 17. 2-Scott Richwine, 18. 21M-Matt Murphy, 19. 22-Chase Billet, 20. 62-Devin Frey.
SERVICEMASTER CLEAN CENTRAL PA LEGENDS
20 LAPS: 1. 53-Bill Diehl, 2. 15-Lucas Montgomery, 3. 85-Chad Earnst, 4. 93-Travis McClelland, 5. 91-Justin Mitchell, 6. 19-Travis Perry, 7. 20-Rocky Magaro, 8. 14-Joe Ehrisman, 9. 79-Ed Trump, 10. X-Justice Forbest, 11. 18-Chris Transeau, 12. 18H-Jeff Herbst, 13. 8A-Austin Bellemare, 14. 7MD-Nathan Renfro, 15. 8Ball-Robert Shaw, 16. 15H-Harlon Leppo, 17. 43-Tony Markovich, 18. 25-Cody Madison, 19. 07-Bob Stough, 20. Greg Hurd, 21. 83-Jason Gastley, 22. 5-Scott Houdeshell, DSQ: 8CR-Mason Chaney.
STREET STOCKS
15 LAPS: 1. 11-Craig Morgan, 2. 86-Jasen Geesaman, 3. FOUR-Eddie Richards, 4. 59-Ryan Smith, 5. 7P-Jim Palm, 6. 72-Jason Townsend, 7. M1-Mike Potts, 8. 43-Eric Tripp, 9. 00-Josh Bloom, 10. 39-Wayne Dutterer, 11. 23B-Don Murphy, 12. 37-Mark Hutchison, 13. 9-Matt Adams, 14. 01-Kyle Saylor, 15. F5-Dalton Frye, 16. 101-Dave Goode, 17. 64-Brandon Wanner, 18. 41W-Doug Hoffman, 19. 94-Mike Buckley, 20. 54J-Jimmy Combs, 21. 16-Walt Lemmon, 22. 25H-Joe Hower, 23. 47-Bob Scott, Jr., 24. 00-Caldvin Redding.
Did Not Qualify: Scott Thunberg, Sean Todd, Dave Bowermaster, Doug Barber.