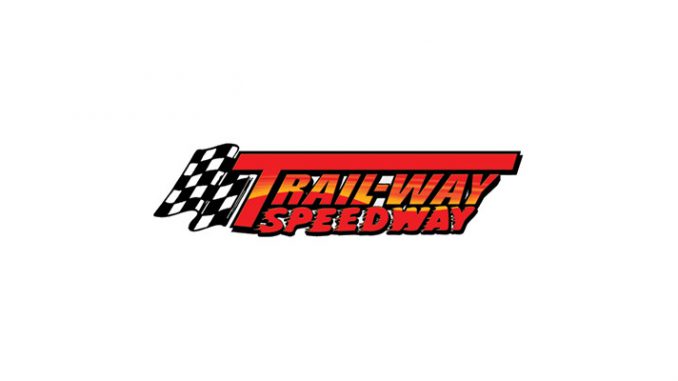 From Kalida Landis
Hanover, PA — (April 15, 2016) — For all he's accomplished in 358 sprint car racing the past few years, including the 2015 Central PA Point Series championship, Carlisle's Doug Hammaker had never won at Trail-Way Speedway. That is, until Friday night.
"This is the hardest place to win," said Hammaker after driving the family Heavy Equipment Loaders and Parts/Hammaker's Automotive #66 to his first career Trail-Way win in the season opener for 358 sprint cars, "I've been wanting to get one here, and quite frankly I have sucked here."
An inversion of nine pulled by first heat winner Mike Bittinger put Hammaker on the pole for the start, and although he led every lap, he had to fight off the ongoing challenges of Dwight Leppo the entire race.
"I was trying to make my car as wide as I could, and Dwight kept trying to get around me," said Hammaker, "The outside started working for him, so I decided to put on my big boy pants and move up a little."
After drawing the highest possible inversion for the feature, Bittinger got together with Wyatt Hinkle and flipped exiting turn two of lap two. Bittinger was uninjured but done for the night.
Leppo started third when two drivers in front of him opted for the rear, got by Brandon Noel for second on lap two, and ran there the rest of the way.
Third through fifth were Jeff Halligan, hard charger Cody Fletcher (who started 11th), and Noel. Completing the top ten were Zach Euculano, Dave Thrush, Randy Whisler, Hinkle, and Steven Kisamore (in his first ever sprint car start). Heats for the 18 "358" sprint cars were won by Bittinger, Thrush, and Leppo.
HOOSIER TIRE MID-ATLANTIC 358 SPRINT CARS
FEATURE (25 Laps) – 1. 66-Doug Hammaker; 2. 4-Dwight Leppo; 3. 41-Jeff Halligan; 4. 66A-Cody Fletcher (Hard Charger); 5. 10B-Brandon Noel; 6. 10-Zach Euculano; 7. 22T-Dave Thrush; 8. 64-Randy Whisler; 9. 19D-Wyatt Hinkle; 10. 77K-Steven Kisamore; 11. 30-Seth Kearchner (DNF); 12. 39-JB Cunningham, Jr. (DNF); 13. 17-George Streaker, Jr. (DNF); 14. 77-David Holbrook (DNF); 15. 59T-Tim Stallings (DNF); 16. 12-Mike Bittinger (DNF); 17. 90-Jordan Givler (DNF); 18. 99Y-Shane Yost (DNS). No time.
Lap Leaders: Doug Hammaker (1-25)
358 Sprint Heat 1 Finish (10 Laps/All Qualify) – 1. 12-Mike Bittinger; 2. 41-Jeff Halligan; 3. 90-Jordan Givler; 4. 10-Zach Euculano; 5. 59T-Tim Stallings (DNF); 6. 39-JB Cunningham, Jr. (DNF). Time – 2:22.81
358 Sprint Heat 2 Finish (10 Laps/All Qualify) – 1. 22T-Dave Thrush; 2. 17-George Streaker, Jr.; 3. 10B-Brandon Noel; 4. 66A-Cody Fletcher; 5. 19D-Wyatt Hinkle; 6. 99Y-Shane Yost (DNS). Time – 2:33.44
358 Sprint Heat 3 Finish (10 Laps/All Qualify) – 1. 4-Dwight Leppo; 2. 77-David Holbrook; 3. 66-Doug Hammaker; 4. 30-Seth Kearchner; 5. 64-Randy Whisler; 6. 77K-Steven Kisamore. Time – 2:23.53