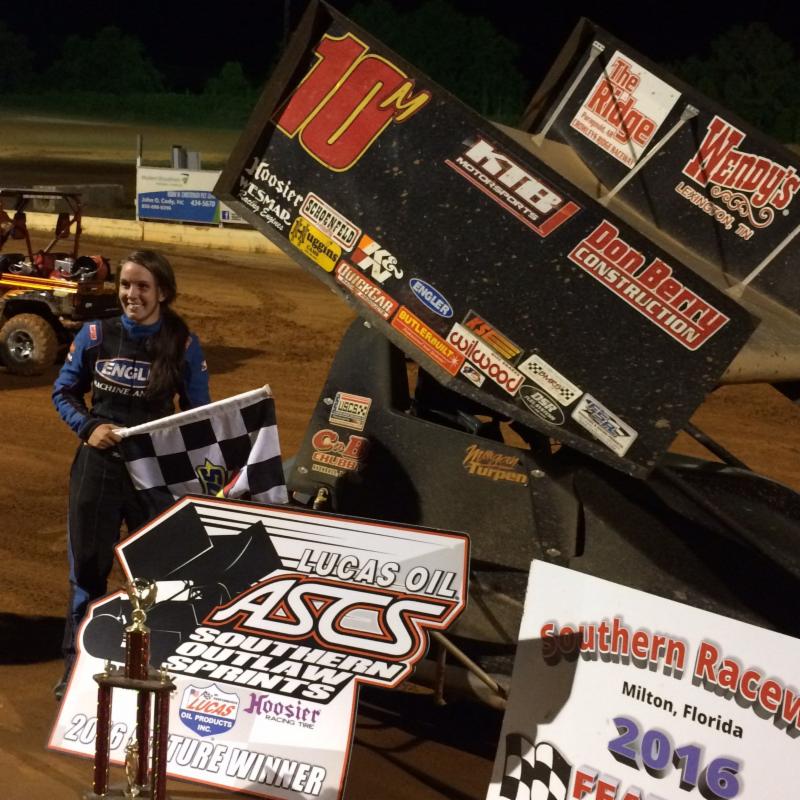 By Bryan Hulbert
MILTON, Fla. (May 21, 2016) Able to outlast the rain in Florida, Tennessee's Morgan Turpen, became only the second woman to win an ASCS sanctioned event, topping the Lucas Oil ASCS Southern Outlaw Sprints at the Southern Raceway in Milton, Fla. on Saturday night. Turpen joins New York's Jessica Zemken as the only other female ASCS winner.
The sixth different winner in just as many events with the Southern Outlaw Sprints in 2016, Turpen is the 14th winner in regional history, beating Marshall Skinner to the line. With Derek Hagar taking on Non-Wing racing in the Midwest on Saturday, Skinner has taken over the points lead with the ASCS/SOS with a 31 point buffer.
Shane Morgan crossed third with Michael Miller fourth. Miller his now second in driver standings. Turpen's  team mate, Terry Gray, completed the top-five.Kyle Amerson was sixth with Timmy Thrash seventh. Ryan Moore, Casey Hinds, and Lee Moore made up the top-ten.
The Lucas Oil ASCS Southern Outlaw Sprints next showdown will be a rematch with the Griffith Truck and Equipment ASCS Gulf South Region presented by Southern Trailer Works as the grudge moves to Texas soil with the Golden Triangle Raceway Park on June 10, followed by Battleground Speedway on June 11.

Race Results:
ASCS Southern Outlaw Sprints
Southern Raceway – Milton, Fla.
Saturday, May 21, 2016
Car Count: 16
Heat 1 (8 Laps): 1. 09-Timmy Thrash; 2. 01-Shane Morgan; 3. 83-Blake Carrier; 4. 1A-Lee Moore; 5. 1S-Joey Schmidt; 6. 59-Kevin Newton
Heat 2 (8 Laps): 1. 4M-Michael Miller; 2. 10-Terry Gray; 3. 38-Ryan Moore; 4. 20-Casey Hinds; 5. 00-Tristan Lee
Heat 3 (8 Laps): 1. 29-Kyle Amerson; 2. 26-Marshall Skinner; 3. 10M-Morgan Turpen; 4. 29S-Rusty Sanford; 5. 88-Brandon Blenden
A Feature (25 Laps): 1. 10M-Morgan Turpen[2]; 2. 26-Marshall Skinner[5]; 3. 01-Shane Morgan[4]; 4. 4M-Michael Miller[6]; 5. 10-Terry Gray[3]; 6. 29-Kyle Amerson[8]; 7. 09-Timmy Thrash[7]; 8. 38-Ryan Moore[10]; 9. 20-Casey Hinds[11]; 10. 1A-Lee Moore[1]; 11. 1S-Joey Schmidt[13]; 12. 83-Blake Carrier[9]; 13. 59-Kevin Newton[16]; 14. 88-Brandon Blenden[15]; 15. 29S-Rusty Sanford[12]; 16. 00-Tristan Lee[14]