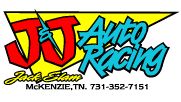 From J&J
McKenzie, Tenn. (June 7, 2016) – J&J Auto Racing teams continued to tally up victories as the 2016 season marches on as they drove the McKenzie, Tenn., based chassis manufacturer's brand to into the winner's circle in four states and earn the United Sprint Car Series (USCS) Speedweek title. Ryan Hunsinger, Scott Lawrence, Casey Mack and Trey Starks took the checkered flag in four different series, including the Ohsweken Speedway Crate Sprint Car Series, the Carolina RaceSaver Series, the Northern Outlaw Sprint Association and the Summer Thunder Sprint Series. Derek Hagar capped off a fantastic run by being crowned the USCS Speedweek Champion.
OHSWEKEN SPEEDWAY – OHSWEKEN, ONT. (CANADA)
Ryan Hunsinger continues to dominate the Crate Sprint Car Division at Ohsweken Speedway in Ohsweken, Ontario, Canada, on Friday, June 3, with his third consecutive victory. Hunsinger finished fourth in the first heat race to set himself for a premium A-main starting position. Needing only one lap to grab the lead in the 20-lap feature event, Hunsinger set sail. Battling traffic near the end of the race, the No. 43H held on for a 0.564 second margin of victory. Hunsinger expanded on his lead in the Crate Sprint Car Series Championship standings, widening the gap to 24 points. Follow Hunsinger on Twitter @Ryan_Hunsinger.
SUMTER SPEEDWAY – SUMTER, SC
Scott Lawrence rode the Carolina heat wave into victory lane at Sumter (SC) Speedway on Saturday, June 4, grabbing his second Carolina 305 RaceSaver Series victory of the season. Finishing third in the night's only heat race, Lawrence wasted little time in moving into third position in the early laps of the feature event. Spinning to avoid another car, Lawrence gathered the No. 09 back up and assumed the lead on the restart. Driving a clean, fast race throughout the 20-lap feature event, Lawrence took the checkered flag ahead of the No. 88 of Mike Sellers, who finished second. For more information regarding the Carolina 305 RaceSaver Series, follow them on Facebook at https://www.facebook.com/Carolina-RaceSaver-Sprint-Car-Series-330639993614914/.
DEVILS LAKE SPEEDWAY – CRARY, ND
Casey Mack drove into victory lane for the first time in 2016 with a Northern Outlaw Sprint Association (NOSA) win at Devils Lake Speedway in Crary, ND, on Saturday, June 4. The No. 8 entry started the A-main from the front row and jumped out to an early lead only to see a caution bring a complete restart. Mack quickly grabbed the lead on the second attempt to kick-off the 25-lap feature event. Leading from wire-to-wire, Mack defended the lead following a red flag period and found himself in lapped traffic in the final laps. Mitch Mack in the No. 92 entry grabbed a top-10 finish, crossing the line in ninth. J&J Auto Racing driver, Wade Nygaard, leads the NOSA Series championship standings. Casey Mack is currently ranked second. Follow Mack on Twitter @caseymack8.
GRAYS HARBOR RACEWAY – ELMA, WA
Trey Starks won his third race of the 2016 season in grandiose style, sticking a huge slide job off turns three and four on the final lap of the Saturday, June 4, Summer Thunder Sprint Series event at Grays Harbor Raceway in Elma, Wash. Qualifying eighth and finishing second in his heat race, Starks set himself up for the random redraw that would determine an inside the third row starting position for the A-main. By lap 20, Starks found himself in a three-way battle for fourth, fifth and sixth place. A red flag with 10 laps remaining set the stage for Starks to get a solid restart and to set the No. 55 entry up for a sweeping, last corner pass that would see him into victory lane. For more information regarding Starks, visit www.TreyStarksRacing.com, or follow him on Facebook at www.Facebook.com/TreyStarksRacing. Starks can also be found on Twitter @Starks55Trey.
USCS SPEEDWEEK CHAMPIONSHIP – DEREK HAGAR
Derek Hagar garnered his second USCS Speedweek championship in the last three years last weekend with a runner-up performance at Talladega Short Track on Thursday, June 2. Hagar advanced from fifth to third place in the dash and from fifth to second place in a heat race. That lined him up on the outside of the front row for the main event. The second-place result gave Hagar podium finishes during all five USCS Speedweek races that were contested. The final two shows were rained out. Follow Hagar on Twitter @HagarDerek and online at www.DerekHagarRacing.com.
ABOUT J&J AUTO RACING – McKENZIE, TN
For more than 40 years, J&J Auto Racing has been a leader in racecar chassis manufacturing. With intricate attention to detail and a willingness to provide chassis to the consumer's specifications, J&J has taken its place as a leader in Sprint car racing innovation and safety. Founded and headed by Jack and Bonnie Elam, J&J Auto Racing is based in McKenzie, Tenn. For more information regarding J&J Auto Racing, please visit www.jandjautoracing.com or follow the brand on Twitter @JJ_Auto_Racing and on Facebook at https://www.facebook.com/JJ-Auto-Racing-199865997589/.