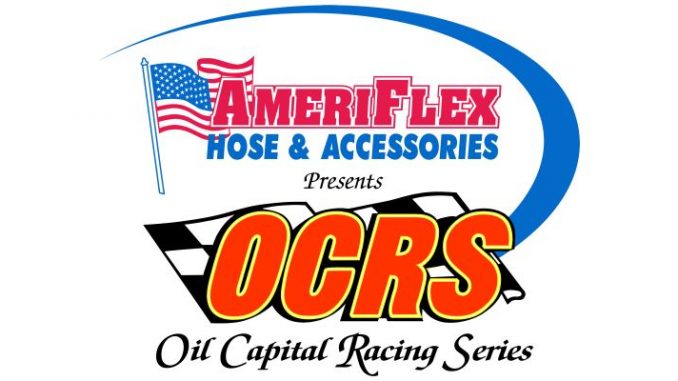 John Lemon
Tulsa OK (June 23, 2016)- After the completion of last weekends doubleheader at the Monett Speedway and Caney Valley Speedway, the Ameri-Flex / OCRS sprint car series is just a couple of events away in hitting the half-way mark for the 2016 season. As that is, we are even closer to the Ameri-Flex Challenge event that will take place on September 3rd at Caney Valley.
The car owners that are jockeying for the 12 automatic lock in positions for their drivers are much the same as in the last Ameri-Flex Challenge report albeit with a few position changes in the standings. One newcomer to the Top-12 is car owner Steve Schmidt who owns the number 4 sprint car in the series driven by Tuttle, Oklahoma pilot Shane Sellers. Sellers missed a few events early in the season while tending to his military duties. The team had made the most of their return to action since mid-May and now find themselves in the mix this week.
With each passing week, the teams near the top of the charts are strengthening their grasp as automatic qualifiers. As for the rest of the field, the month of July looks as though there will be a mix of those who will also tighten their claim to qualify while others will likely shuffle back and forth from a combination of performance and/or series participation. This situation is much like common sports entities trying to make a playoff run. The Ameri-Flex / OCRS teams may soon be in a "Wild Card" race to get into the Ameri-Flex Challenge race.
 The current standings for the automatic qualifiers per car owner (and driver) in order as per qualifying rules is as follows:
1) David Chappell (Zach Chappell) 952 pts.
2) David Moss (Robert Sellers) 928 pts.
3) Whit Gastineau (Self) 861 pts.
4) Richard Barksdale (Sheldon Barksdale) 737 pts.
5) Cameron Hagin Racing (Cameron Hagin) 627 pts.
6) Brian Gramm (Self) 533 pts.
7) Tom Pickard (Perry Pickard) 410 pts.
8) Casey Wills (Self) 553 pts.
9) Johnny W. Kent (Johnny 'Hotrod' Kent) 551 pts.
10) Bob Bookout (Michael Bookout) 479 pts.
11) Steve Schmidt (Shane Sellers) 431 pts.
12) Andy Sewell (Alex Sewell) 545 pts.
Rounding out the top 15 in qualification order are:
13) Waddell Racing (Shayla Waddell) 365 pts.
14) Tim Kent (Self) 414 pts.
15) Sean McClelland (Self) 343 pts.
NOTE: Car owners points are also based on percentage of participation thus the reason some points appear out of order.
What's the Ameri-Flex Challenge?
The Ameri-Flex Challenge will start 14 cars for a 15-lap shootout with $5000 going to the victor. Additional cash and prizes will be paid out to the remaining 13 starters as well. This special event will be held at the Caney Valley Speedway in Caney Kansas on September 3, 2016. The field will have 12 positions locked in by a point system for 'car owners' with Ameri-Flex Hose & Accessories having 2 selections that will make for a 14-car field.
Complete rules on the Ameri-Flex Challenge can be found at: http://ocrsracing.com/challengerace.html
The entire staff of the Ameri-Flex / OCRS series wishes to thank all of our loyal sponsors that make the Ameri-Flex Challenge a possibility. These extremely valued supporters include:
Ameri-Flex Hose & Accessories / ameriflexhose.com
Amsoil (Grady Oil)  / amsoil.com
Brodix / brodix.com
DSO Racing Engines / (918) 808-8874
Maxim Racing Products / racemaxims.com
Rod End Supply / rodendsupply.com
Schoenfeld Headers / schoenfeldheaders.com
Smiley's Racing Products / smileysracing.com
Support these very sponsors at every possible opportunity as they have extended their hand to our program.
On Deck: Salina Highbanks Speedway / Salina Oklahoma / Saturday July 9. 2016
About the Ameri-Flex / OCRS Series –
Established in 2002, the Tulsa OK based Ameri-Flex / OCRS series sanctions dirt track s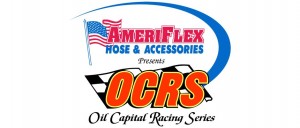 print car racing in the southern region of the central plains. Fan appeal, quality race teams combined with our solid core of supporting sponsors are the nucleus of the series. Thrilling competition providing the ultimate quality family entertainment is the essence of what the Ameri-Flex / OCRS series is all about.
Website: www.ocrsracing.com
Facebook: www.facebook.com/oil.series
About Ameri-Flex Hose & Accessories-
Located in Tulsa OK, Ameri-Flex Hose & Accessories is a family owned and operated company. From food grade hose to hoses for the petroleum industry, Ameri-Flex will strive to fill your needs. Ameri-Flex can build a hose to your specifications or we will assist you in creating what you have designed while you wait. Ameri-Flex has several hard to find items that some vendors can't get or find. Product can be shipped quickly and efficiently. If we do not have what you are looking for, we will direct you on where to find it. Give us a try, after all…………..
Ameri-Flex Has The Stuff That Keeps You Going!
Website: www.ameriflexhose.com