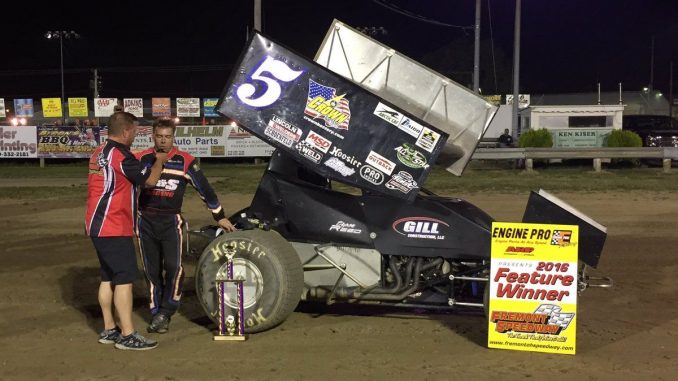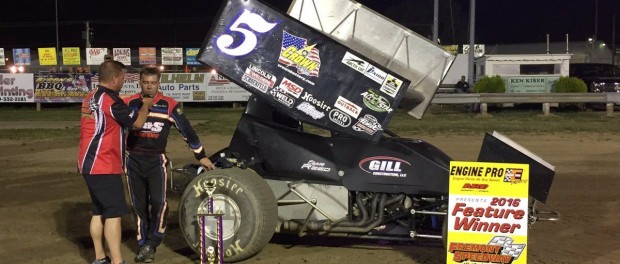 From Brian Liskai
Fremont, OH — (June 25, 2016) — Byron Reed survived a wild feature at Fremont Speedway Saturday, June 25 on Ludwig Propane Night to score his third Fort Ball Pizza Palace 410 Sprint victory of the season at "The Track That Action Built."
On a tricky track, Reed, from Monclova, Ohio, took the lead on the second lap and despite some bobbles and several restarts, went on to score his 30th career win at Fremont Speedway putting him in a tie for 15th on the track's all-time win list.
"That was an excruciating 40 laps. It didn't help that Monday night I flipped and wrenched my neck and back pretty good and those ruts were going through my spine it felt like," said Reed in the Engine Pro Victory Lane.
"As I've gotten a long more in my career you start to recognize the history and all the people that have gone around this place and the historic significance of this track. This means a lot. I have to thank Fremont and Rich (Farmer, promoter) and the crew. It looked like there was a pretty good crowd. I want to thank Crown Battery and Ken Gill Construction and my crew," added Reed.
Lindsey, Ohio's Steve Rando drove into the lead with 10 laps to go and went on to earn his first win of the year in the Fremont Federal Credit Union 305 Sprints. It is his 9th career victory at Fremont Speedway.
"When the race first started I was really tight and it was falling over on the right rear hard and I just kept running it and running it and it got better and better. I figured out where to run and it worked. It's been a tough year. We got a new car and we've been struggling on set-up," said Rando beside his Westway Farms, Davis Fabricators, North Coast Sealing, North Coast Asphalt, Attitudes Hair Salon backed #19R.
"I have to thank my daughter. She was yelling at me today 'daddy can you just go faster, I want a trophy.' I'm glad I could do that for her tonight," Rando added.
Fostoria, Ohio's Shawn Valenti would dominate the Burmeister Trophy Dirt Truck feature, leading 14 of the 15 laps to score his fifth win of the year. It is his 30th career victory at Fremont Speedway, tying him with Reed for 15th on the track's all time win list.
"It's pretty awesome to have 30 wins let alone one at the action track. Happy anniversary to Mr. and Mrs. Jeff Babcock (truck owners) I'm glad I could give them a win tonight," said Valenti beside his Craig Miller Trucking, Real Geese Decoys, Dave Story Equipment Repair, KS Sales and Service backed #7B.
Delta, Ohio's Ky Harper would lead all 15 laps for a dominating win in the McCullough Industries 602 Late Models. It was his third victory of the year at Fremont and eighth career win at the track.
"I'm getting too fat and out of shape for this rough stuff. We gave it our best and we're here on the front stretch. I have to thank all my family members, Cut Right Lawn Care, Jed's, Harper Enterprises, Twist T Freeze…couldn't do it without all those people," Harper said.
Adam Kekich and DJ Foos brought the field to green for the 40 lap 410 sprint feature with Foos gaining the advantage over Reed, Kekich, Caleb Griffith, Parker Price Miller, Ryan Broughton and Broc Martin. Foos jumped the cushion in turn three after a lap was completed, bringing out the caution. Reed inherited the lead and on the restart pulled away slightly from a good battle for second between Griffith and Kekich.
Griffith took second before the caution flew again for a Foos spin with four laps scored. When the green flew Griffith began to pressure Reed with Price Miller battling with Martin for third. Following a caution for a stalled Chris Andrews on lap six Reed again felt pressure from Griffith. Price Miller popped a tire on lap seven but would repair and join the tail of the field.
Once again when the green came out Reed and Griffith battled with Martin, Kekich, Stuart Brubaker and Brian Lay in pursuit. Griffith's great run came to a disastrous end on lap 11 when he got upside down. He was okay. The restart order was now Reed, Martin, Kekich, Brubaker, Lay, Todd Heller, Gary Taylor and Craig Mintz. Brubaker would take third on lap 12.
With 15 laps scored, Reed bobbled on the cushion in turn three and Martin quickly closed as they raced into lapped traffic. A quick caution on lap 26 gave Reed a clear track with Martin and a surging Price Miller in tow.
Reed encountered lapped traffic with six laps to go with Martin again closing followed by Price Miller, Taylor and Kekich. Martin jumped the cushion in turns one and two with four laps to go but a caution for Valenti who cut a tire would put him right back on Reed's back bumper. It looked like Reed had the race in control when the caution flew on lap 39. The one lap chase to the checkers saw Reed drive away to the win. Martin would have a mechanical issue and dropped back through the pack. Following Reed would be Price Miller, Taylor, Kekich and Broughton.
Kelsey Ivy and Jimmy McGrath Jr. brought the field to green for the 25 lap 305 sprint feature with McGrath gaining the advantage. Dustin Dinan spun with three laps scored with McGrath leading Kyle Capodice, Kelsey Ivy, Jason Keckler, Paul Weaver, Matt Foos and Ricky Peterson.
Capodice took the lead on lap five but McGrath raced side by side with him over the next three laps while Peterson worked his way to third. Capodice started to pull away slightly by lap eight with McGrath now battling with Peterson for second while Ivy, Foos and Keckler battled hard for fourth. By lap 10, Capodice had a slim lead over Peterson with McGrath also close while Ivy, Keckler, Rando and Foos battled hard for fourth.
Peterson blasted into the lead on lap 11 but disaster struck a lap later as he made contact with a lapped machine, sending him spinning and giving the lead back to Capodice. McGrath was now second again with Rando into third followed by Ivy, Weaver, Jamie Miller and Keckler.
Rando found something in the middle of turns three and four to his liking and drove from third into the lead on lap 15. Rando began to pull away from Capodice, McGrath, Foos, Weaver, Miller and Ivy.
A few close calls with lapped cars in the final four circuits were the only thing standing in Rando's way. He drove to the win over Capodice, Foos, McGrath and Weaver.
In the 15-lap dirt truck feature, after a couple of cautions to start the event, Cory McCaughey led the first lap over Jeff Ward and Valenti. Valenti split the top two and took the lead on the second circuit but McCaughey, Ward, Kent Brewer and Dustin Keegan stayed close.
McCaughey brought out the caution on lap three. When the green flew so did Valenti as Ward and Brewer battled for second. Brewer took the second position on lap five but could not get to Valenti.
Eric Potridge took a tumble with three laps remaining but no one had anything for Valenti who drove to the win over Brewer, Ward, Dana Frey and Dustin Keegan.
A multi-car pile-up on the opening lap of the 15 lap late model feature was about the only thing to slow Harper. He would grab the lead from the drop of the green while a great battle ensued for second involving Matt Shipley, John Brooks, Steve Sabo and Tim Sabo. However, a caution for debris from Shipley's car with two laps scored put Steve Sabo now into second with Brooks and Tim Sabo in pursuit.
A caution for Jamie Miller with five laps scored would keep the field tight with Harper leading Tim Sabo, Brooks, Steve Sabo and Chester Fitch. The final caution flew on lap 10 with Harper leading Tim Sabo, Brooks and Fitch.
Harper was able to pull away the final five laps for the win over Tim Sabo, Fitch, Shipley and Brooks.
Fremont Speedway will be back in action Saturday, July 9 for Crown Battery Night. Fans will cast their votes for their favorite driver and the driver who gains the most votes will take home a truck load of racing supplies.
For more information go to www.fremontohspeedway.com
Fremont Speedway
Ludwig Propane Night
Starting Position [*]
410 Sprints – Fort Ball Pizza Palace
Fricker's Qualifying
1.16-Stuart Brubaker, 13.107; 2.83M-Broc Martin, 13.127; 3.33M-Caleb Griffith, 13.197; 4.2-Parker Price-Miller, 13.303; 5.1st-Gary Taylor, 13.351; 6.22B-Ryan Broughton, 13.370; 7.2+-Brian Smith, 13.393; 8.5-Byron Reed, 13.411; 9.45L-Brian Lay, 13.504; 10.9Z-Duane Zablocki, 13.601; 11.23-DJ Foos, 13.620; 12.14H-Todd Heller, 13.633; 13.5K-Adam Kekich, 13.749; 14.68G-Tyler Gunn, 13.826; 15.35-Chris Andrews, 13.964; 16.09-Craig Mintz, 13.982; 17.59J-Kirk Jeffries, 13.990; 18.27K-Ben Rutan, 14.046; 19.83-Nate Reeser, 14.076; 20.3J-Trey Jacobs, 14.112; 21.1M-Dustin Stroup, 14.124; 22.46AU-Stuart Williams, 14.310; 23.901-Bob Lime, 14.596; 24.33K-Kyle Patrick, 14.679; 25.96AU-Bruce White, 14.769; 26.8J-Jess Stiger, 15.004; 27.7-Shawn Valenti, 15.277; 28.14-Daryl Daugherty, 16.166; 29.1K-Joey Pendergrass, 99.140; 30.9-Jordan Ryan, 99.150; 31.8-Bryan Sebetto, 99.210;
Heat 1 (8 Laps, top 4 to A)
1. 5K-Adam Kekich[3] ; 2. 1M-Dustin Stroup[1] ; 3. 16-Stuart Brubaker[6] ; 4. 59J-Kirk Jeffries[2] ; 5. 1st-Gary Taylor[5] ; 6. 45L-Brian Lay[4] ; 7. 96AU-Bruce White[7] ; 8. 1K-Joey Pendergrass[8]
Heat 2 (8 Laps, top 4 to A)
1. 68G-Tyler Gunn[3] ; 2. 83M-Broc Martin[6] ; 3. 46AU-Stuart Williams[1] ; 4. 22B-Ryan Broughton[5] ; 5. 9Z-Duane Zablocki[4] ; 6. 27K-Ben Rutan[2] ; 7. 8J-Jess Stiger[7] ; 8. 9-Jordan Ryan[8]
Heat 3 (8 Laps, top 4 to A)
1. 35-Chris Andrews[3] ; 2. 33M-Caleb Griffith[6] ; 3. 23-DJ Foos[4] ; 4. 7-Shawn Valenti[7] ; 5. 83-Nate Reeser[2] ; 6. 901-Bob Lime[1] ; 7. 2+-Brian Smith[5] ; 8. 8-Bryan Sebetto[8]
Heat 4 (8 Laps, top 4 to A)
1. 2-Parker Price-Miller[6] ; 2. 09-Craig Mintz[3] ; 3. 5-Byron Reed[5] ; 4. 33K-Kyle Patrick[1] ; 5. 3J-Trey Jacobs[2] ; 6. 14-Daryl Daugherty[7] ; 7. 14H-Todd Heller[4]
B-Main 1 (10 Laps, top 4 to A)
1. 9Z-Duane Zablocki[4] ; 2. 1st-Gary Taylor[1] ; 3. 45L-Brian Lay[3] ; 4. 14H-Todd Heller[5] ; 5. 3J-Trey Jacobs[8] ; 6. 83-Nate Reeser[7] ; 7. 8J-Jess Stiger[11] ; 8. 27K-Ben Rutan[6] ; 9. 96AU-Bruce White[10] ; 10. 14-Daryl Daugherty[12] ; 11. 901-Bob Lime[9] ; 12. 1K-Joey Pendergrass[13] ; 13. 8-Bryan Sebetto[15] ; 14. 9-Jordan Ryan[14] ; 15. 2+-Brian Smith[2]
A-Main 1 (40 Laps)
1. 5-Byron Reed[3] ; 2. 2-Parker Price-Miller[5] ; 3. 1st-Gary Taylor[11] ; 4. 5K-Adam Kekich[1] ; 5. 22B-Ryan Broughton[4] ; 6. 83M-Broc Martin[7] ; 7. 68G-Tyler Gunn[9] ; 8. 9Z-Duane Zablocki[13] ; 9. 1M-Dustin Stroup[17] ; 10. 14H-Todd Heller[14] ; 11. 33K-Kyle Patrick[19] ; 12. 7-Shawn Valenti[20] ; 13. 16-Stuart Brubaker[8] ; 14. 45L-Brian Lay[12] ; 15. 09-Craig Mintz[15] ; 16. 59J-Kirk Jeffries[16] ; 17. 33M-Caleb Griffith[6] ; 18. 35-Chris Andrews[10] ; 19. 23-DJ Foos[2] ; 20. 46AU-Stuart Williams[18]
Hard Charger: 1st-Gary Taylor +8
305 Sprints – Fremont Federal Credit Union
Heat 1 – (8 Laps, top 5 to A)
1. 19R-Steve Rando[2] ; 2. 2-Ricky Peterson[1] ; 3. 2F-Matt Foos[3] ; 4. 20I-Kelsey Ivy[4] ; 5. 1X-Dustin Dinan[9] ; 6. 99-Alvin Roepke[7] ; 7. 94K-Kevin Mingus[6] ; 8. 97-Kyle Peters[10] ; 9. 7M-Brandon Moore[8] ; 10. 44-Kyle Farmer[5]
Heat 2 – (8 Laps, top 5 to A)
1. 1-Nate Dussel[3] ; 2. 25-Jason Keckler[2] ; 3. 12-Kyle Capodice[7] ; 4. 10-Josh Harrison[8] ; 5. 11G-Luke Griffith[6] ; 6. 22M-Dan McCarron[10] ; 7. 9R-Dustin Rall[9] ; 8. 47-Matt Lucius[4] ; 9. 9W-Don Whitney[1] ; 10. 77I-John Ivy[5]
Heat 3 – (8 Laps, top 5 to A)
1. 2L-Landon Lalonde[2] ; 2. 5JR-Jimmy Mcgrath Jr[5] ; 3. 36-Seth Schneider[3] ; 4. 1W-Paul Weaver[7] ; 5. 1J-Jeremy Shambaugh[1] ; 6. 41-Thomas Schinderle[4] ; 7. 66-Jamie Miller[9] ; 8. 75-Jerry Dahms[6] ; 9. 45-Trevor Baker[8]
B-Main 1 – (10 Laps, top 5 to A)
1. 66-Jamie Miller[6] ; 2. 99-Alvin Roepke[1] ; 3. 22M-Dan McCarron[2] ; 4. 41-Thomas Schinderle[3] ; 5. 7M-Brandon Moore[10] ; 6. 77I-John Ivy[14] ; 7. 94K-Kevin Mingus[4] ; 8. 9R-Dustin Rall[5] ; 9. 97-Kyle Peters[7] ; 10. 45-Trevor Baker[12] ; 11. 75-Jerry Dahms[9] ; 12. 44-Kyle Farmer[13] ; 13. 47-Matt Lucius[8] ; 14. 9W-Don Whitney[11]
A-Main 1 – (25 Laps)
1. 19R-Steve Rando[8] ; 2. 12-Kyle Capodice[3] ; 3. 2F-Matt Foos[6] ; 4. 5JR-Jimmy Mcgrath Jr[2] ; 5. 1W-Paul Weaver[5] ; 6. 66-Jamie Miller[16] ; 7. 77I-John Ivy[19] ; 8. 20I-Kelsey Ivy[1] ; 9. 25-Jason Keckler[4] ; 10. 1-Nate Dussel[12] ; 11. 36-Seth Schneider[7] ; 12. 1X-Dustin Dinan[11] ; 13. 99-Alvin Roepke[15] ; 14. 11G-Luke Griffith[14] ; 15. 41-Thomas Schinderle[17] ; 16. 7M-Brandon Moore[20] ; 17. 10-Josh Harrison[9] ; 18. 1J-Jeremy Shambaugh[13] ; 19. 2-Ricky Peterson[10] ; 20. 22M-Dan McCarron[18]
Hard Charger: 77i-John Ivy +12
Dirt Trucks – Burmeister Trophy
Heat 1 (8 Laps)
1. 17x-Dustin Keegan[3] ; 2. 8KB-Kent Brewer[4] ; 3. 36M-Cory Mccaughey[5] ; 4. 4x-Brian Sorg[1] ; 5. 7f-Dana Frey[8] ; 6. 72-Eric Potridge[6] ; 7. 13-Len benyak[2] ; 8. 51W-Thomas Anderson[7]
Heat 2 (8 Laps)
1. 7B-Shawn Valenti[1] ; 2. 5s-Brad Stuckey[6] ; 3. 33-Jeff Ward[7] ; 4. 16-Jim Holcomb[4] ; 5. 37-Eric DeVanna[5] ; 6. 99-Gene Potridge[3] ; 7. 721-John Martis[8] ; 8. 4s-Keith Sorg[2]
A-Main 1 (15 Laps)
1. 7B-Shawn Valenti[6] ; 2. 8KB-Kent Brewer[8] ; 3. 33-Jeff Ward[3] ; 4. 7f-Dana Frey[9] ; 5. 17x-Dustin Keegan[5] ; 6. 16-Jim Holcomb[4] ; 7. 4s-Keith Sorg[16] ; 8. 99-Gene Potridge[12] ; 9. 13-Len Benyak[13] ; 10. 721-John Martis[14] ; 11. 72-Eric Potridge[11] ; 12. 51W-Thomas Anderson[15] ; 13. 37-Eric DeVanna[10] ; 14. 36M-Cory Mccaughey[1] ; 15. 5s-Brad Stuckey[7]
Hard Charger: 4s-Keith Sorg +9
602 Late Models – McCullough Industries
Heat 1 (8 Laps)
1. 34-Ky Harper[1] ; 2. 44-Matt Shipley[5] ; 3. 00-John Brooks[2] ; 4. 4M-Jamie Miller[4] ; 5. 43K-Louis Alan[3] ; 6. 04-Jeff Hites[7] ; 7. 12-Kyle Dukeshire[6]
Heat 2 (8 Laps)
1. 98-Tim Sabo[2] ; 2. 101-Chester Fitch[5] ; 3. 01-Brandon Perkins[1] ; 4. 16-Steve Sabo[4] ; 5. 17x-Dustin Keegan[3] ; 6. 32-Brandon Myers[7] ; 7. 27K-Jay King[6]
A-Main 1 (15 Laps)
1. 34-Ky Harper[4] ; 2. 98-Tim Sabo[5] ; 3. 101-Chester Fitch[2] ; 4. 44-Matt Shipley[6] ; 5. 00-John Brooks[8] ; 6. 01-Brandon Perkins[7] ; 7. 16-Steve Sabo[1] ; 8. 17x-Dustin Keegan[10] ; 9. 32-Brandon Myers[12] ; 10. 04-Jeff Hites[11] ; 11. 27K-Jay King[14] ; 12. 43K-Louis Alan[9] ; 13. 4M-Jamie Miller[3] ; 14. 12-Kyle Dukeshire[13]