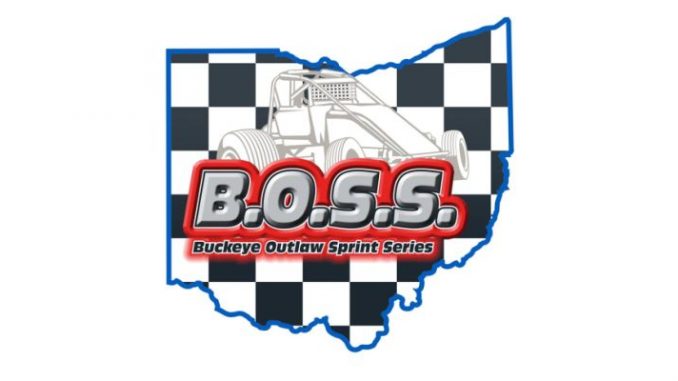 From Aaron Fry
After a light month of June with only 2 events, the action heats up in July as the Rick's Trucks & Equipment BOSS tour will be
in action 7 nights including 3 new facilities for the 5 year old wingless sprint tour.
This coming Friday and Saturday, July 1-2, the traveling band of outlaw sprint drivers will roll into the Keystone State for the final time in 2016. One of the most anticipated doubleheaders of the year, the house that Don Martin built, the legendary Lernerville Speedway will play host to BOSS on Friday night. One night later, the wingless gladiators will enter the arena of the "Monster Half Mile" at Pittsburgh's Pennsylvania Motor Speedway.
Defending tour champion Shawn Westerfeld took over the points lead on the heels of a victory in the last event at Lawrenceburg Speedway in Indiana. Cooper Clouse of Ohio City, Ohio has already scored 2 victories on the season and sits a close 2nd in the championship standings. Justin Owen, Chad Wilson and Michael Fischesser round out the top 5 in current points and all 3 are hungry for their first career tour victories. Aaron Middaugh, Andy Feil, Steve Little, Stratton Briggs and Brandon Spithaler round out the top 10. In addition to the drivers already named, several other drivers who have had some bad luck early in the year, will also be on hand including 2 past champions Dustin Smith and Mike Miller. Add in Cody Gardner and Bobby Distel who both destroyed race cars in May. Along with local heroes Bob McMillin and Joe Butera who are set to defend the home turf! Also entered are Kirk Jeffries, Riley VanHise, Dallas Hewitt, and many more local teams.
Pit and general admission gates will open at 5 pm at Lernerville with the drivers meeting scheduled for 6:30. Pit passes are $30. General admission is $14 for adults, $10 for seniors, $7 for students (11-17) and kids 10 and under are free! For teams, fuel is available at the track and all cars must run mufflers or muffler inserts. A race official will be checking these before hot laps.
On Saturday at Pittsburgh, pit gate will open at 4 pm with general admission gates opening at 5. Drivers meeting will be at 5:45 with hot laps at 6 and racing at 7. Pit passes will be $35 with general admission $20 for adults, $19 for seniors, kids age 13-16 are $10, kids age 7-12 are $5 and kids 6 and under are free. Fuel will be available at PPMS and no mufflers are required.
As always, there are no entry fees, membership fees , pill draw fees or any other goofy fees with the BOSS sprints. It is an open tire rule, so any commercially available racing tire is legal. This weekends events are also being sponsored by Precise Racing Products who will be allowing BOSS to use their transponders FREE of charge. They stock Hoosier Tires and tons of sprint car parts, so be sure to stop there and thank Brett Neupert for helping us out!
For more information on these 2 great tracks, please visit their websites at www.lernerville.com and www.ppms.com or check out the BOSS website at www.buckeyesprints.com