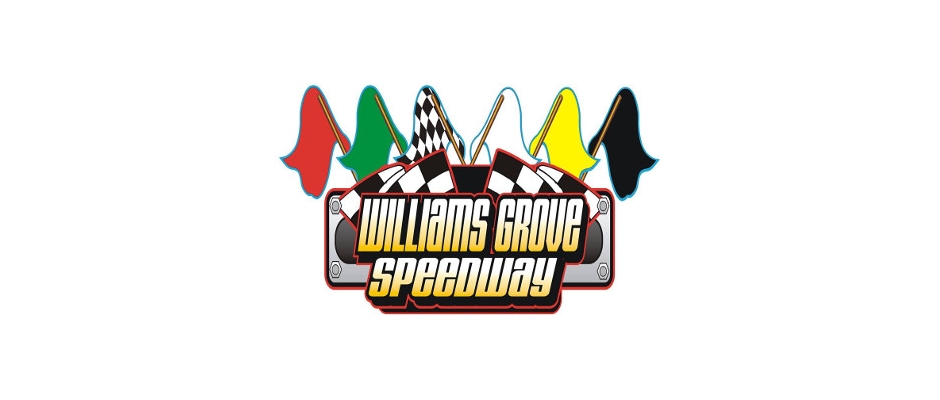 From Williams Grove Speedway
MECHANICSBURG, Penn. (September 2, 2016) — It was all Doug Esh in the inaugural running of the Gary Beam Tribute Race for the sprint cars Friday night at Williams Grove Speedway as "The Hammer" led all 25 laps and was never challenged.
The race was run in honor of the late car owner that had three track championships at the Grove, along with wins and other championships throughout central Pennsylvania.
His wife, Patty, former driver Todd Shaffer and former mechanic Jimmy Russell were all on hand. T.J. Stutts had his sprinter painted like the old Beam 88 for the event.
Esh, of Lancaster, earned $4,088 for his second win of the season at the Grove in a car owned by Mark Coldren.
"The car was pretty easy to drive actually," said Esh. "The guys have the car working really good. We've got Factory Kahne Shocks on and that has turned our program around a little bit and HP Engines gives us the horsepower we need. It's a special night. I didn't know Gary and Patty as well as some of the other guys, but I knew Todd (Shaffer) and Allison real well. It was a fun night and a great race to win."
Esh started on the pole and drove into the race lead over Stevie Smith, second place point man Brian Montieth and point leader Greg Hodnett.
Esh built a big 2.55 second lead over the opening laps as he quickly reached slower traffic.
Montieth tried to slide Smith in turn three, but Smith maintained the spot. Hodnett then tried to get by Montieth, but couldn't make the move. They traded sliders again as they race for the track championship.
Esh was able to get through traffic better than the others and maintained his lead.
"TJ (Stutts) is a good racer and I knew if I could get him behind me he would hold up the cars because it took me a little while to get by him," said Esh. "We got lucky and the seas parted at the right time. The car was really good. Starting position is everything. We didn't pass a car tonight, but we still won."
Hodnett eventually got by Montieth for third. Esh led by 3.25 seconds when Brent Marks had an engine blow and stopped on the frontstretch with 19 laps completed.
Two lapped cars were between Esh and Smith for the restart with six laps remaining.
Smith eventually cleared the lapped cars and closed over the final laps, but it was Esh getting the win by 0.938 seconds over Smith and Hodnett. Lance Dewease raced from 15th to fourth and eighth starter Brock Zearfoss completed the top five. Montieth, Alan Krimes, Lucas Wolfe, Danny Dietrich and Cory Haas rounded out the top 10.
Esh was joined in victory lane by former members of the Beam Team.
"It was good to see the 88, but not good to be watching," said Shaffer. "I'm not a very good fan. It was good to see TJ (Stutts) and I appreciate him and his family doing this for Gary and Patty."
Hodnett set fast time over the 25-car field with a lap of 16.773. Stevie Smith, Lance Dewease, Lucas Wolfe and Freddie Rahmer completed the top five in qualifying. Doug Esh, Smith and Eric Tomecek won the eight-lap heat races.
In the limited late model feature, it was Randy Stoudt leading all 20 laps to get the win. Dan Zechman, Cam Zeigler, Chase Billet and Bobby Beard completed the top five. Shaun Jones, Jake Jones, Alan Sagi, Jed Latshaw and Daulton Bigler rounded out the top 10.
Latshaw and Zeigler won the heat races.
Williams Grove will be back in action Sunday night with the Billy Kimmel Memorial for the Sprint cars, plus the super sportsman.
Gary Beam Tribute Sprint Car Feature (25 laps): 1. Doug Esh. 2. Stevie Smith. 3. Greg Hodnett. 4. Lance Dewease. 5. Brock Zearfoss. 6. Brian Montieth. 7. Alan Krimes. 8. Lucas Wolfe. 9. Danny Dietrich. 10. Cory Haas. 11. Freddie Rahmer. 12. Eric Tomecek. 13. Ryan Smith. 14. Chase Dietz. 15. Chad Trout. 16. Tim Wagaman. 17. T.J. Stutts. 18. Rodney Westhafer. 19. Austin Burke. 20. Troy Fraker. 21. Brent Marks. 22. Rick Lafferty. 23. Jay Reichard.
DNS: Aaron Ott, Matt Campbell.
Limited Late Model Feature (20 laps): 1. Randy Stoudt. 2. Dan Zechman. 3. Cam Zeigler. 4. Chase Billet. 5. Bobby Beard. 6. Shaun Jones. 7. Jake Jones. 8. Alan Sagi. 9. Jed Latshaw. 10. Daulton Bigler. 11. Scott Richwine. 12. Sam Rial. 13. Jake Moser. 14. Chaz Walls. 15. Carl Leach. 16. Tyler Horst. 17. Taylor Farling. 18. Randy Scheaffer. 19. Shaun Miller.