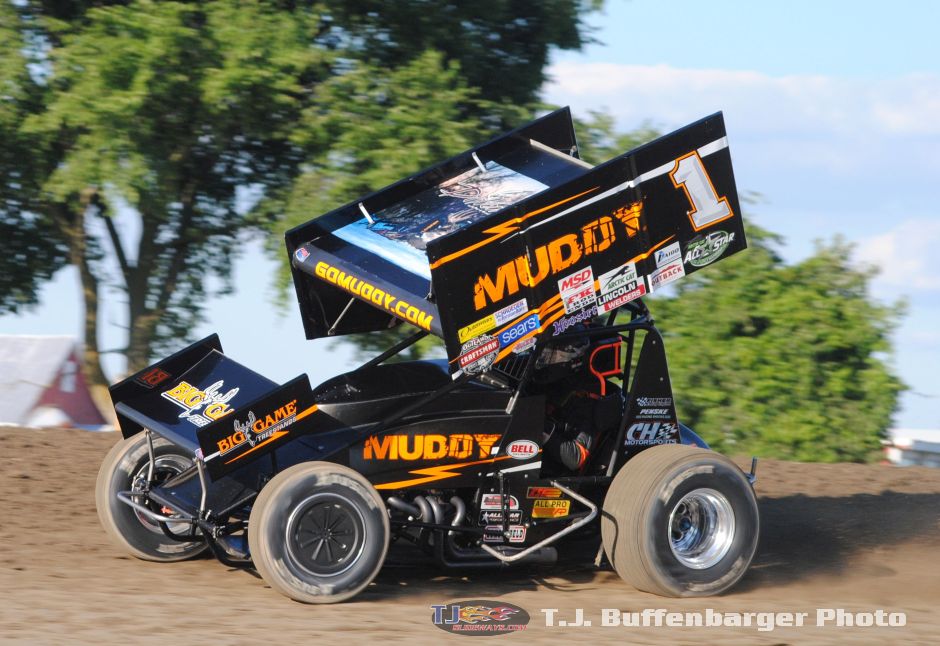 From Inside Line Promotions
CONCORD, N.C. (Nov. 1, 2016) – Dale Blaney wrapped up his season last weekend during the Bad Boy Off Road World of Outlaws World Finals with a major part missing.
Blaney's longtime crew chief, George Fisher, passed away last week after a battle with cancer. The Mainstream Holdings, Inc., sponsored CH Motorsports team ventured to The Dirt Track at Charlotte for the World of Outlaws Craftsman Sprint Car Series season finale and nearly pulled off a win despite racing with heavy hearts.
"George and I are like brothers," Blaney said. "We spent 15 years together racing. He's one of my best friends in life. To lose a guy like that, who you can talk to about anything and also is your crew chief that you trust with your life … He made me a better race car driver, a better person. Life can change in a minute. We've seen that happen this year a few times. It's a tough one to take. It was hard getting in that car Friday night. He was as good of a guy and as respected of a guy you could think of. He was a hard-working, intense mechanic that loved to win races."
The team kicked off the event by setting quick time during their group for Friday's program before timing in 12th quickest for Saturday's race.
Blaney took advantage of the top qualifying performance on Friday when he won a heat race and the dash from the pole position to start the 30-lap main event on the outside of the front row.
"I took off and felt really good," he said. "Clean air is huge down there. The car feels a ton different than when you're starting 10th. I was good the first 10 laps and ok from Laps 10 to 20."
Blaney led the first 23 laps of the feature, but he knew he was in trouble when the caution came out with approximately 10 laps remaining.
"After that caution I lost a little air in the left rear tire," he said. "I felt a difference once the green came out. I felt like my left rear lost some air and it was going flat. I was worried about it blowing the first two or three laps after the restart. It finally got a little air back in it. I was hoping getting out in clean air would have helped us. Jason (Johnson) and Logan (Schuchart) had great cars."
Blaney held onto the top spot for a couple of laps after the restart before fading to a fourth-place result.
"Under the circumstances we were under my guys were awesome," he said. "We were trying to win one for our guy and we came up a little short."
The team returned to the track on Saturday for the finale. Blaney advanced from seventh to fifth place in a heat race to lock into the 20th starting position for the main event.
"We had nothing to lose," he said. "The track got a little wider and slicker. We were pretty good early. We got up to 18th to 16th to 14th to 12th. It seemed like every restart we'd gain two. The last restart I got pinned in the middle and I was the guy who was getting taken advantage of and I fell to 17th. I felt like I had a good chance to run 10th if that hadn't happened."
Blaney ended with a 17th-place result.