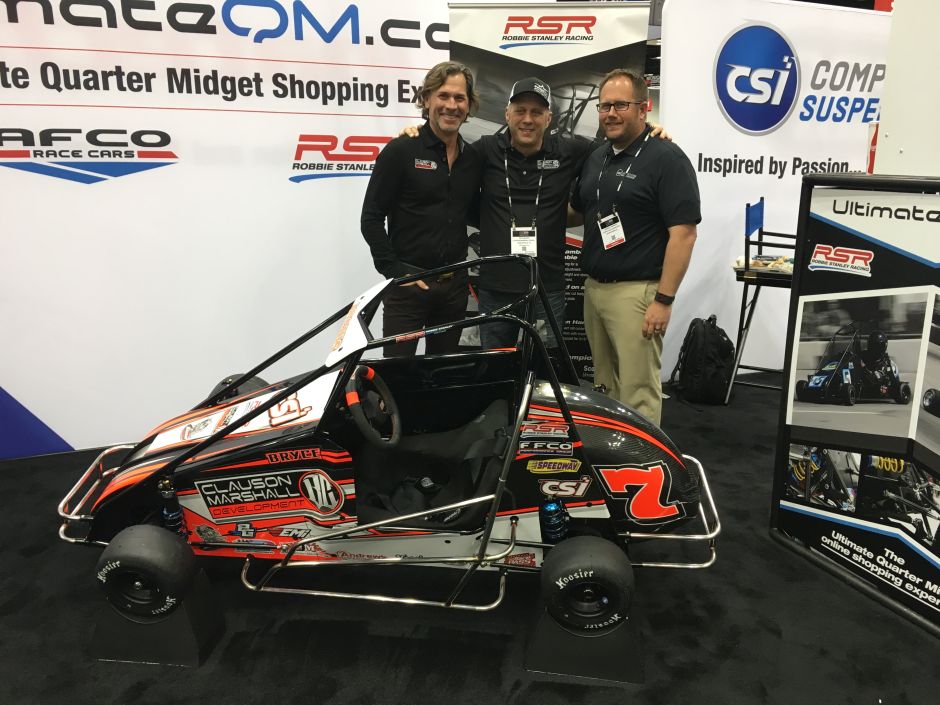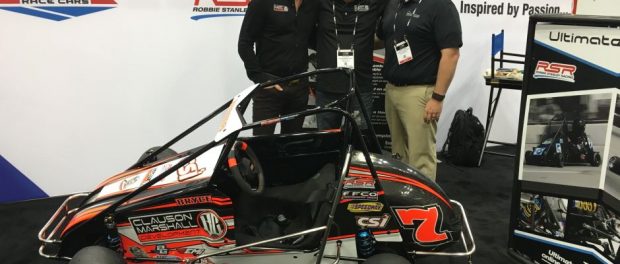 From Lonnie Wheatley
NOBLESVILLE, Ind. (December 8, 2016) – While the Clauson-Marshall Racing team will showcase some of the sport's elite on the biggest of stages, it is also a goal of the team to groom young racers in the grassroots stages of the sport.
With that comes the announcement of the Clauson-Marshall Quarter Midget Racing Development program in partnership with Garrett Andrews and his CSI Factory team.
Quarter Midget racing has always been special to the Clauson family, as it is the venue where young racers begin to cultivate their love for racing. Bryan's love for the sport and the kids and families participating in it was apparent by his frequent visits to events all over the country when his schedule allowed.
"Bryan and I had discussed trying to figure out a way to incorporate a Quarter Midget program in our development program in the past, with Bryan even sponsoring a car for a family over the last two years, but we never found the right fit to bring it in as part of our program," Tim Clauson explains.
Enter Garrett Andrews, who has been a part of the Clauson team for several years with CSI Shocks.
"When he started his Quarter Midget team, Bryan and Garrett started to talk about how he could be involved from a mentor perspective to share his love of the sport with not only Garrett's drivers, but the community as a whole," Tim Clauson says.
That fit right in with the Clauson-Marshall Racing mission.
"When we started CMR, our long term plan was to have a presence in the Quarter Midget community and getting to partner with Garrett and CSI accelerated that time frame," Clauson explains.
"We are looking at this as an opportunity to share our experience with drivers and families who are looking for guidance as they race their way up the motorsports ladder and also as a way to identify drivers for our soon to be announced 600 and National Midget programs," Clauson says. "Creating an environment within our teams where a driver can learn, love and respect the sport all the while spending time with their family is what we are trying to build and having Garrett and his team as the foundation for that is a perfect fit."
Richard Marshall shares in the enthusiasm for the Racing Development program.
"Tim and I formed Clauson-Marshall Racing with Bryan's goals in the forefront," Marshall comments. "Since then, the Clauson-Marshall Development Program concept has grown via Tim's relentless hard work."
Marshall goes on to say that, "His ability to see talent in the seat is like none other I have seen. Can we find and develop another Bryan Clauson, Ricky Stenhouse, Jr., Jeff Gordon or Tony Stewart? That is the challenge that Tim and I embrace and want to tackle with our shared passion for this sport."
Marshall wraps up, saying that, "Time will tell, but this is how we keep our passion and this sport alive and well, developing for the next generation."
Garrett Andrews sees a strong future for the Clauson-Marshall Racing Development program as well.
"We're extremely excited to partner with CMR, we know the resources and knowledge they bring will help us prepare our junior drivers for the next level," Andrews says.
"The Clausons have been close family friends for a long time and have always had a behind-the-scenes role with our Quarter Midget program," Andrews explains. "This new opportunity is going to allow our young drivers first-hand access to a professional race team that they can someday be a part of."
Andrews is familiar with the challenges of Quarter Midget racing and moving on to the next levels.
"Moving on after Quarter Midgets is an intimidating step," Andrews explains. "It is our goal to help bridge the gap and make sure drivers and family are ready for what lies ahead."
Additional information regarding the Clauson-Marshall Racing team and Racing Development programs will be available in the coming weeks.