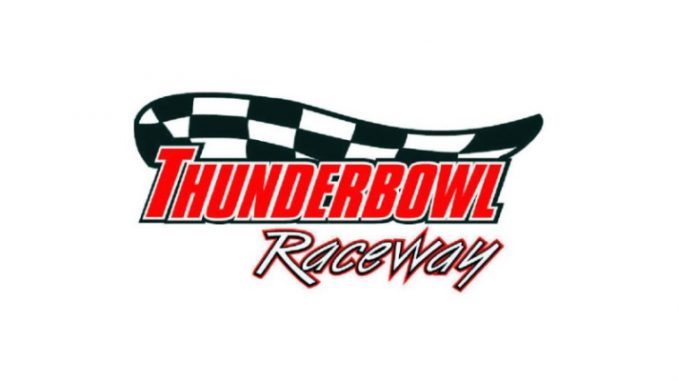 From Gary Thomas
TULARE, Calif. (December 27, 2016) — The Merle Stone Chevrolet Thunderbowl Raceway in Tulare has released its 2017 schedule of events, as always putting a focus on special shows throughout the campaign.
Fifteen nights of action will be featured at the Tulare County Fairgrounds based one-third mile clay oval this coming season. Highlights include the traditional double header weekend on Friday & Saturday March 17 & 18 showcasing the national traveling World of Outlaws Craftsman Sprint Car Series. The USAC West Coast 360 Sprint Car Series will be on hand both nights in March, while the Sport Mods will also compete during the Saturday finale.
Other notable Sprint Car events on the schedule include a return of the USAC/CRA Wingless 410's on April 8, the fourth annual Peter Murphy Classic on April 21 & 22, the annual Chris & Brian Faria Memorial on Saturday May 20, a visit by the Civil War 360 Sprint Car Series presented by Flowmaster on Saturday July 22 and the season ending 24th annual Southwest Contractors Trophy Cup on Thursday, Friday & Saturday October 19, 20 & 21.
The Peter Murphy Classic has also grown to be a big part of the Thunderbowl Raceway season and moves to an earlier date this season, rather than the traditional July one. This year's format for the first time will showcase Winged 360 Sprint Cars as the top billing on Friday night, while the King of the West 410 Sprint Car Series & the USAC West Coast 360's highlight the card during the finale.
In addition to the Peter Murphy Classic the traveling King of the West 410 Sprints will also be on hand for the Chris & Brian Faria Memorial, as well as an event on Saturday June 10. Gaining in popularity each year the Western RaceSaver Sprint Cars will compete in a total of five shows this season at the track, with those dates April 8, April 21, May 20, June 10 & July 22.
The season will get underway with the two-night Spring Nationals on Friday & Saturday February 24 & 25 featuring the IMCA Modifieds, IMCA Stocks, IMCA Sport Mods, Hobby Stocks & Mini Stocks. It will be a nice prelude to the late-season Dirt Nationals, which will be contested for the second straight year at the Thunderbowl. All the same divisions will return for the prestigious showcase on Friday & Saturday October 6 & 7.
Special thanks to all of our marketing partners for making everything possible at the Thunderbowl including Merle Stone Chevrolet, Budweiser, Tachi Palace Hotel & Casino, Roth Motorsports, KRC Safety, Western Metal, Southwest Contractors, Double "D" Towing and JD Heiskel & Company.
The Merle Stone Chevrolet Thunderbowl Raceway is located at the Tulare County Fairgrounds on the corner of Bardsley and K Streets in Tulare, California. From the junction of SR 99 and SR 137, go west on SR 137. At South K go south one-half mile to the Fairgrounds. More information can be found at our website www.thunderbowlraceway.com
————————-
Merle Stone Chevrolet Thunderbowl Raceway 2017 Schedule
February 24: Spring Nationals- IMCA Modifieds, IMCA Stocks, IMCA Sport Mods, Hobby Stocks & Mini Stocks
February 25: Spring Nationals- IMCA Modifieds, IMCA Stocks, IMCA Sport Mods, Hobby Stocks & Mini Stocks
March 17: World of Outlaws Craftsman Sprint Car Series & USAC West Coast 360 Sprints
March 18: World of Outlaws Craftsman Sprint Car Series, USAC West Coast 360 Sprints & IMCA Sport Mods
April 8: USAC/ CRA Wingless 410 Sprint Car Series, USAC Western Midgets, Western RaceSaver Sprints & IMCA Stocks
April 21: Fourth annual Peter Murphy Classic- Winged 360 Sprint Cars, Western RaceSaver Sprints & IMCA Modifieds
April 22: Fourth annual Peter Murphy Classic – King of the West 410 Sprint Car Series, USAC West Coast 360 Sprint Cars & IMCA Sport Mods
May 20: Chris & Brian Faria Memorial – King of the West 410 Sprint Car Series, USAC West Coast 360 Sprints & Western RaceSaver Sprints
June 10: King of the West 410 Sprint Car Series, Western RaceSaver Sprints, IMCA Sport Mods & Hobby Stocks
July 22: Civil War 360 Sprint Car Series presented by Flowmaster, Western RaceSaver Sprints & IMCA Modifieds
October 6: Dirt Nationals- IMCA Modifieds, IMCA Stocks, IMCA Sport Mods, Hobby Stocks & Mini Stocks
October 7: Dirt Nationals- IMCA Modifieds, IMCA Stocks, IMCA Sport Mods, Hobby Stocks & Mini Stocks
October 19: 24th annual Southwest Contractors Trophy Cup – Winged 360 Sprint Cars
October 20: 24th annual Southwest Contractors Trophy Cup – Winged 360 Sprint Cars
October 21: 24th annual Southwest Contractors Trophy Cup – Winged 360 Sprint Cars