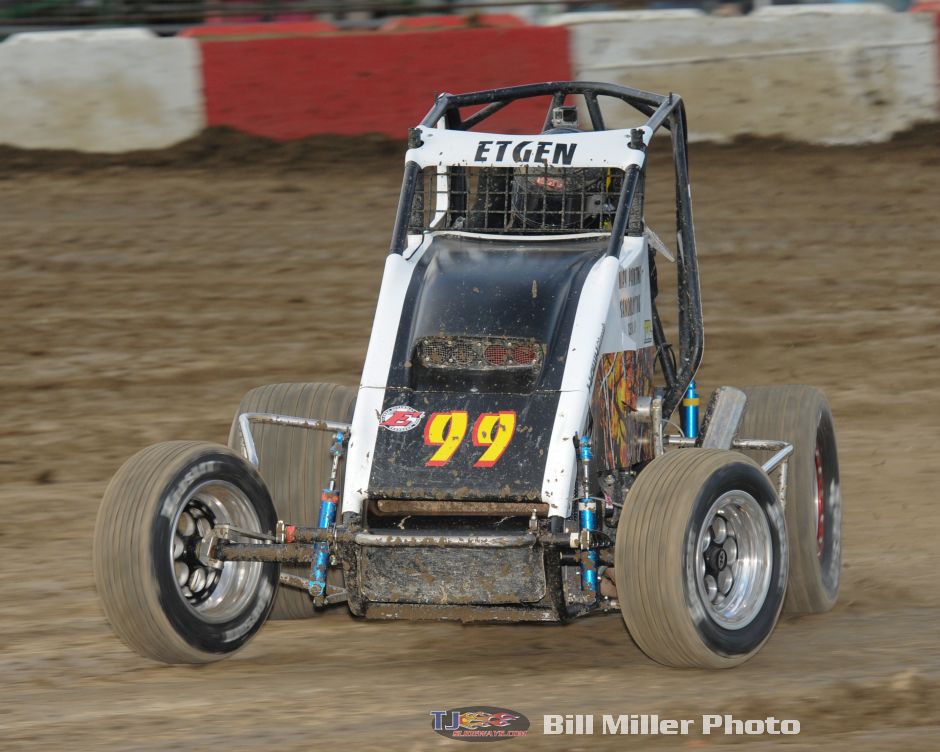 From USAC
INDIANPOLIS (March 13, 2017) — The second season for the USAC Speed2 Midwest Thunder Midget Championship gets underway this Saturday, February 18 indoors at the Southern Illinois Center in Du Quoin, launching a calendar of events that includes 20 races on the 2017 docket.
Six venues in four states will host the Midwest Thunder Midgets this season including Indiana's Montpelier Motor Speedway in which the series will visit on 12 occasions: April 1 & 15, May 13 & 27, June 24, July 15 & 22, August 12 & 19 and September 2, 16 & 30.
MTM makes the trek to Ohio's Waynesfield Raceway Park four times in 2017 with each being designated as "Special Events" which will not award points counted toward the season championship on May 6 & 20, July 29 and August 5.
The remaining four events are also considered non-points, "Special Events" and will be held in conjunction with the USAC Speed2 IMRA Midget Championship. The aforementioned season-opener in Du Quoin on February kicks off the season. A weekend swing brings the Midwest Thunder Midgets Spoon River Speedway in Canton, Illinois on June 10 and 34 Raceway in Burlington, Iowa on June 11. On July 3, the series makes its debut at the Illinois State Fairgrounds Multi-Purpose Arena in Springfield.
2017 USAC SPEED2 MIDWEST THUNDER MIDGET SCHEDULE
Feb 18: (SE-I) Southern Illinois Center (Du Quoin, IL)
Apr 1: Montpelier Motor Speedway (Montpelier, IN)
Apr 15: Montpelier Motor Speedway (Montpelier, IN)
May 6: (SE) Waynesfield Raceway Park (Waynesfield, OH)
May 13: Montpelier Motor Speedway (Montpelier, IN)
May 20: (SE) Waynesfield Raceway Park (Waynesfield, OH)
May 27: Montpelier Motor Speedway (Montpelier, IN)
Jun 10: (SE-I) Spoon River Speedway (Canton, IL)
Jun 11: (SE-I) 34 Raceway (Burlington, IA)
Jun 24: Montpelier Motor Speedway (Montpelier, IN)
Jul 3: (SE-I) Illinois State Fairgrounds Multi-Purpose Arena (Springfield, IL)
Jul 15: Montpelier Motor Speedway (Montpelier, IN)
Jul 22: Montpelier Motor Speedway (Montpelier, IN)
Jul 29: (SE) Waynesfield Raceway Park (Waynesfield, OH)
Aug 5: (SE) Waynesfield Raceway Park (Waynesfield, OH)
Aug 12: Montpelier Motor Speedway (Montpelier, IN)
Aug 19: Montpelier Motor Speedway (Montpelier, IN)
Sep 2: Montpelier Motor Speedway (Montpelier, IN)
Sep 16: Montpelier Motor Speedway (Montpelier, IN)
Sep 30: Montpelier Motor Speedway (Montpelier, IN)
**(SE) represents a non-points, special event
**(I) represents a race with the USAC IMRA Midget Championship