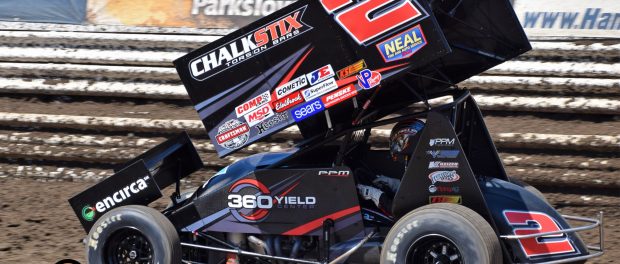 From Petersen Media
Following the World of Outlaws during the western swing, Parker Price-Miller had a nice night in Kilgore, TX that saw him end up with a 13th place finish.
"We are definitely making some improvements, and had a much better car than our result shows, but the driver made an error early in the race and backed us up early," Price-Miller said.
Checking in at LoneStar Speedway in Kilgore, TX, Price-Miller timed the 360 Yield/DuPont/FlyingAG backed No. 2 machine in 11th fastest in qualifying time trials. Lining up fourth in his heat race, the Kokomo, IN driver would grab the third spot, and find himself in the fourth row for the 35-lap feature event.
At the start of the race, Price-Miller would get out of shape and his machine would slide up the track and get into the retaining wall. Able to keep it under power, Price-Miller would gather himself back up though would be mired back in the 19th spot.
Though deep in the field, Price-Miller showed he had a strong car as he began working his way forward. Taking advantage of a couple of late race restarts, 'The Law Firm' would get his entry up to the 13th spot when the checkered flag flew.
"We had the speed to finish up where we started, but I made a mistake on the start of the race," Price-Miller said. "We are making improvements nightly, and I am excited for what's to come at some more new tracks."
Price-Miller and his team would like to thank 360 Yield, Pioneer, DuPont, FlyingAG, Agee Farms, Encirca, Chalk Stix, and PPM Titanium for their support in 2017.