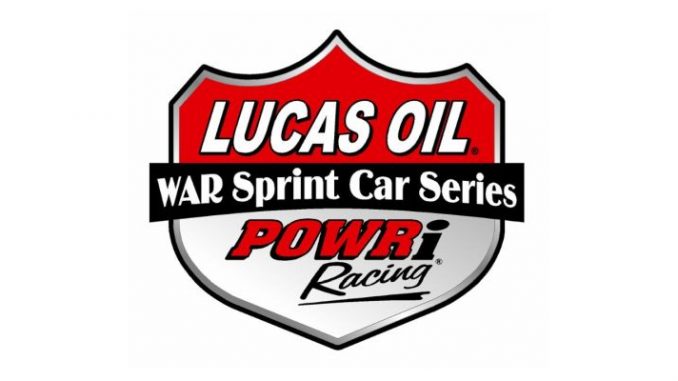 From POWRi
Indianapolis, IN –Saturday, April 15th the POWRi Lucas Oil WAR Sprint Cars will return to the familiar surface of I-35 Speedway in Winston, Missouri for the first time in 2017.
The POWRi Lucas Oil WAR Sprints competed at I-35 Speedway six times last year. October 8 was the 2016 WAR season finale where Korey Weyant took home the trophy, but Clinton Boyles took home the championship. Terry Babb, Chris Parkinson, Boyles, and Weyant all visited the I-35 victory lane last season.
Boyles currently leads the point standings followed by Weyant, Wyatt Burks, Slater Helt, and Quinton Benson rounds out the top five. A fierce point battle is inevitable this season as Boyles defends his 2016 WAR Championship, Weyant is on a mission to lay claim to his first WAR Championship, and many other newcomers have stepped up to the plate.
Pit Gates: 4:30 PM
Pill Draw: 5 PM
Drivers Meeting: 6:00 PM
Hot Laps: 6:30 PM
Reminder to all WAR competitors: Tethers are mandatory in 2017 at WAR events. They are highly recommended at WAR East events and will be mandatory in 2018 for both WAR & WAR East. The POWRi WAR trailer will have a limited amount of various sizes available throughout the season for sale or rent. Teams are welcome to contact League Director, Casey Shuman, to request sizes in advance.
2017 POWRi WAR Online Registration is still open at POWRi.com. Drivers have until May 1 to register.
For further information, Like/Follow POWRi WAR Sprints on Facebook, Twitter, Instagram, and Snapchat.
www.Facebook.com/WARSprints
www.Twitter.com/WARSprints
www.Instagram.com/WARSprints