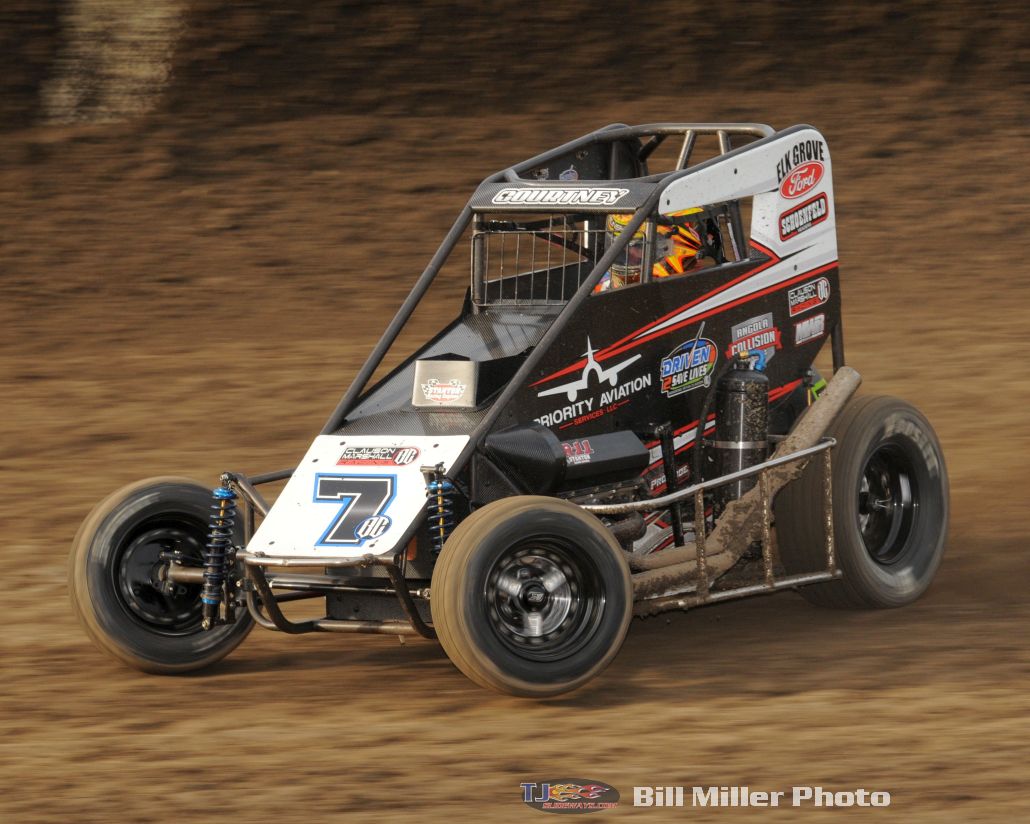 From POWRi
WHEATLAND, Mo. (May 6, 2017) — When the dust settled and the cars cleared, it was Indianapolis, Indiana's own Tyler "Sunshine" Courtney claiming his first-career POWRi Lucas Oil National Midget League victory in the POWRi Lucas Oil West Midget League co-sanctioned Open Wheel Showdown at the "Diamond of Dirt Tracks" Lucas Oil Speedway for night two of the Missouri Mid-State Midget Nationals.
In an action-packed feature event, Courtney started 11th and set off charging to the front at the drop of the green flag. With a pair of POWRi Lucas Oil National Midget League Rookie candidates Zeb Wise and Jodie Robinson leading the field to green, Blake Hahn immediately jumped from the fourth position to the lead, gambling on the high-side entering turn one. With one lap down, the racing action slowed for Terry Babb spun on the front stretch. Resuming racing, Hahn's victory chances escaped his grasp as he looped it exiting turn four.
Inheriting the lead with one lap in the books, Tyler Thomas showed the way for Spencer Bayston, Ryan Robinson, Zeb Wise, and Justin Grant. Grant took to the rim of the banked Lucas Oil Speedway and worked his way to second, on the tail of Tyler Thomas. On lap 11, Grant captured the lead as Thomas faded to third, falling right into the crosshairs of Tyler Courtney and Zach Daum.
With 19 laps down, the action slowed for Austin Brown in turn one. Lining up under caution, Grant led Ryan Robinson, Courtney, Daum, and Steven Shebester. However, Robinson's car had a flat left front and the driver took to the work area, relinquishing the second position to change the tire and return to racing at the tail end of the field. Coming back to green, Courtney charged to the high-side of turn one, getting a solid run down the back stretch and sliding Grant for the lead entering turn three. Coming off turn four Courtney officially held the position, leading the final ten laps to victory. Defending league champion Zach Daum took home second, while Jonathan Beason charged from the 18th position to round out the podium.
"I feel like it's been a long time coming," commented Tyler Courtney. "I've had a couple of chances to win races and just never could follow through on my part. Last night I flipped on the first lap and salvaged a third. I felt like we had the car to win there, but these guys did a heck of a job putting this thing back together, it turns out we tore up more than we thought. We're heading to Kokomo after we leave here and I just can't say enough on these guys. I can't thank Tim, Richard, Jennifer enough for the opportunity to run for these guys and carry on Bryan's legacy here."
"We learned a little bit here," Zach Daum said. "We've been working on freeing our racecar up and now we almost need to tighten it up. We're still learning, but it seems like when we beat one super team, another shows up and they're pretty good. We're just always working on this thing and trying to make it better. The end of the year championship starts in March. This is how you win championships: your seconds and your thirds. Everybody remembers who wins for a couple of weeks, and it's great, but you've got to put food on the table during the winter and the championship helps."
"Once I showed everybody where the line was, I think they wore it out because I didn't have much there the last five laps," Jonathan Beason stated. "But, it feels great. I haven't ran a car in a month and a half and to come out here and get a podium feels great."
Midgets
Speedway Motors Heat Race Winners: Heat 1: 39bc – Justin Grant, Heat 2: 37x – Terry Babb, Heat 3: 7bc – Tyler Courtney, Heat 4: 97 – Spencer Bayston, Heat 5: 71 – Ryan Robinson, Heat 6: 39 – Zeb Wise
Semi Feature Winners: 8 – Alex Sewell, 8j – Jonathan Beason
Great Clips Feature Winner: 7bc – Tyler Courtney
Powri Lucas Oil National / West Midget League Feature Results (30 Laps): 1. 7bc – Tyler Courtney 2. 5d – Zach Daum 3. 8j – Jonathan Beason 4. 52h – Blake Hahn 5. 82m – Steven Shebester 6. 4a – Logan Seavey 7. 39 – Zeb Wise 8. 67k – Holly Shelton 9. 71k – Tanner Carrick 10. 71w – Jodie Robinson 11. 91t – Tyler Thomas 12. 97 – Spencer Bayston 13. 71 – Ryan Robinson 14. 37 – Andrew Felker 15. 3n – Jake Neuman 16. 28 – Ace Mccarthy 17. 99 – Korey Weyant 18. 00 – Grady Chandler 19. 27 – Tucker Klaasmeyer 20. 9 – Matt Moore 21. 39bc – Justin Grant 22. 7 – Austin Brown 23. 8 – Alex Sewell 24. 37x – Terry Babb 25. 7u – Joe B Miller 26. 52 – Andrew Deal