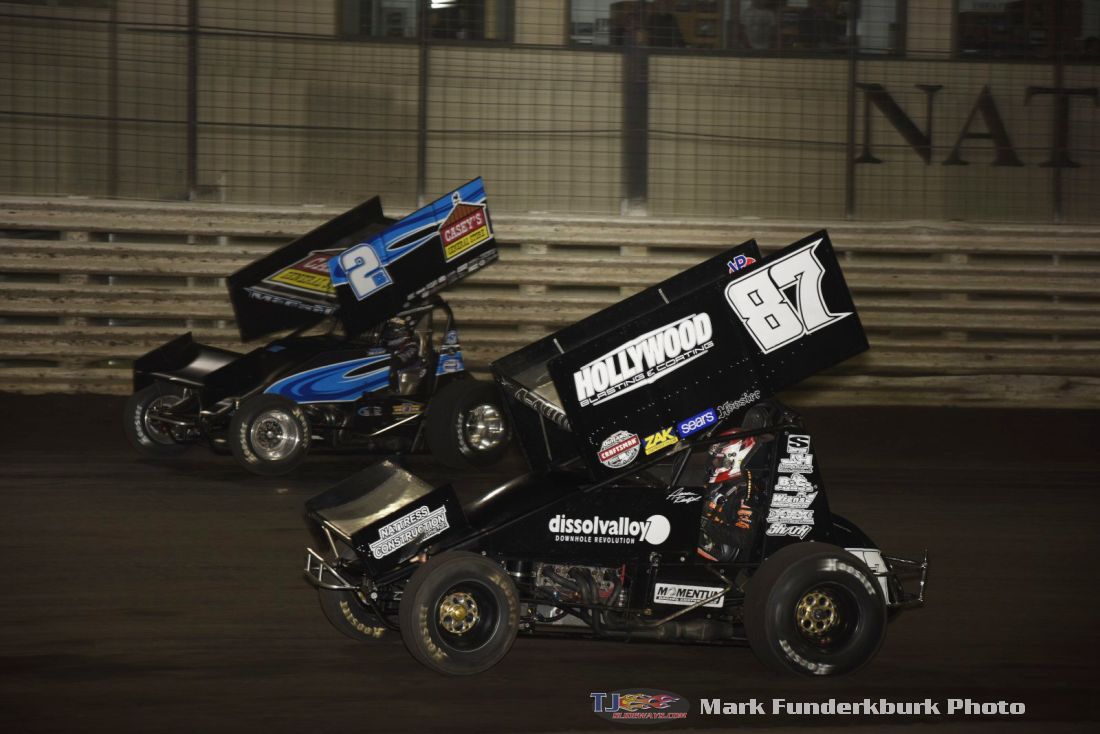 Lonnie Wheatley
CLUTE, Texas (May 18, 2017) – It was exactly the weekend that Aaron Reutzel and the Dissolvalloy Downhole Revolution/BC Fundz No. 87 Triple-X Sprint Car team were looking for.
Reutzel landed his first win of the 2017 season on Thursday night in Lucas Oil ASCS National Tour action at Kansas City's Lakeside Speedway and then followed that up with a runner-up finish in the Jackson Motorplex Spring Nationals on Friday and then a fourth-place run at the Badlands Motor Speedway $100,000 Silver Shootout on Saturday.
"It was a really good weekend, it was one we were needing," Reutzel summed up.
Plans for this weekend call for some MSTS 360-ci competition at Rapid Speedway in Rock Rapids, IA, on Friday and then either more MSTS competition at Huron, SD, or Knoxville Raceway on Saturday, pending weather.
Last weekend's trio of events started off on a positive note at Lakeside Speedway.
"We had a good draw, got the front row of our heat race and won that," Reutzel says.
The redraw worked to the fortune of Reutzel and the Wren Motorsports/Momentum Racing Suspensions team as well with a front row outside starting position for the main event.
The 2015 Lucas Oil ASCS National champion took full advantage, jumping out front right away.
"We were just rolling along there, it was pretty heavy," Reutzel recalls.  "I was just taking it easy, rolling around the top."
Sam Hafertepe, Jr., jumped into the scene to make it interesting for at least a little bit.
"I didn't really expect him, but I got back up on the wheel and got right back by," Reutzel says.  "We were really quick all night."
With his first triumph of the year in the books, Reutzel and the Nattress Construction/Wings Unlimited team made the journey to Jackson, Minnesota for Friday's Spring Nationals at Jackson Motorplex.
It started with a strong qualifying effort of fourth aboard the Wright Way Logistics/Walker Performance Filtration entry.
"In the heats it was all around the bottom, I tried to rip the top at the start and it cost me," Reutzel said of a sixth-place heat race finish.
Reutzel had still accumulated enough points to make the redraw, where he pulled an eight to start fourth row outside in the feature.
"We got to second really quick and ran down Kerry (Madsen)," Reutzel says.  "I got right behind him and then a caution came out."
The caution hurt Reutzel's chance at making the race-winning move.
"I couldn't run him down in clean air, we needed to be in traffic," Reutzel comments.
With a first and second already in the books for the weekend, Reutzel and crew traveled west to Brandon, SD, for Saturday's $100,000 Silver Shootout at the Badlands Motor Speedway.
"We missed it in qualifying, but that put us on the pole of the heat and we won that," Reutzel says.
It was good enough to put Reutzel in the redraw again, pulling the seven this time to start inside the fourth row.
It was a virtual repeat of the previous night in Minnesota.
"We got to second pretty quick, got to (Mark) Dobmeier and then a caution came out," Reutzel relates.
Reutzel had been working the bottom to his advantage, and Dobmeier had taken notice.
"Dobmeier went to the bottom, then Tim Kaeding went by both of us up top," Reutzel says.
With the upper groove coming in as the race progressed, Reutzel had to abandon the low side that worked so well in the early going.
"I just had to move up and get in line," Reutzel says of what ultimately proved to be a fourth-place finish that wrapped up a strong weekend for the No. 87 team.
"We had good speed all week, so that's always good," Reutzel wraps up.
It's speed that Reutzel hopes to carry into this weekend's action, wherever weather allows it to happen.
2017 Quick Stats:  29 races, 1 win, 6 top-fives, 11 top-tens.
Up Next: MSTS 360 Sprint Cars at Rapid Speedway in Rock Rapids, IA on Friday and either MSTS 360's at Huron's Dakota State Fair Speedway or Iowa's Knoxville Raceway on Saturday.
Keep Track:  Keep track of Aaron Reutzel's on-track action including schedule and results at http://www.aaronreutzelracing.com/, on Facebook at https://www.facebook.com/pages/Aaron-Reutzel-Racing/117666254913127 or on Twitter at @AaronReutzel.  You can also e-mail Aaron at aaronreutzel@yahoo.com.
If you would like Aaron Reutzel Racing press releases e-mailed directly to you, send your e-mail address to Lonnie Wheatley at lonniewheatley@gmail.com.
Penning the recurring series of "The Wheatley Chronicles" articles on www.sprintcarmania.com, Lonnie Wheatley provides media, public relations and more for select tracks, drivers and events.  For more information, Wheatley may be contacted at lonniewheatley@gmail.com.