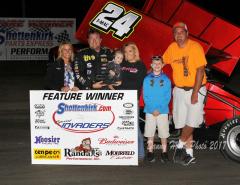 By Bill W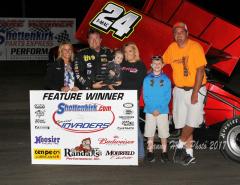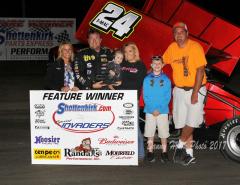 Donnellson, IA, May 26, 2017 – A three-way battle for the lead ended with Terry McCarl notching his eleventh career win Friday night with the Shottenkirk.com Sprint Invaders. The win was also his fourth with the series at Lee County Speedway in Donnellson, Iowa. The Altoona, Iowa driver, who will be inducted into the National Sprint Car Hall of Fame in Knoxville, Iowa on June 3, earned $1,500 for his win.
The 25-lap feature began with Jamie Ball getting the jump on the field from outside row one. Chris Martin trailed, followed by pole-sitter, Nate Van Haaften and sixth starting McCarl. McCarl, who drew the sixth starting spot after winning the Shake-up Dash, passed Van Haaften for third five laps in.
The only caution of the event came with eight laps in the books. B main winner, Donnie Steward, broke his front end after contact in turn two. The restart saw Ball leading Chris Martin, McCarl, Van Haaften and Josh Schneiderman. When the green flag flew, McCarl went to the low side to challenge Martin, while Randy Martin surged from sixth to fourth.
McCarl made a slide job attempt at Chris Martin for second, but fell short. Martin shot between McCarl and the turn two wall and ran down Ball. On lap 17, Martin shot to the lead out of turn two and led Ball down the backstretch. He would tag the turn three guardrail, however, and Ball would reclaim the lead.
A lap later, McCarl would pounce for second place as the leaders were again in heavy traffic. McCarl was finding traction on the low side of three and four, but used the cushion to reel in the leader. With three to go, Ball bobbled at the top of turn four, and McCarl snuck under him into the lead. The veteran would pull away from there, adding another feature win to a resume that already includes over 300 in his career. Ball held on for second, ahead of Chris Martin, Randy Martin and Jon Agan. Jarrod Schneiderman, Josh Schneiderman, Ryan Jamison, Ben Wagoner and Evan Martin rounded out the top ten. McCarl, Evan Martin and Van Haaften won heat races.
"It only pays to lead the last lap," said McCarl in Victory Lane. "(Doug) Wolfgang taught me that. Those kids were doing a great job. Chris fought off that slide job I put on him up above the stuff in two. That was pretty awesome. The track was great with a top and a bottom. Don Long is kind enough to loan us this Jaymie Moyle 360 motor, because we don't have one. Jamie was so fast on top, and I wanted to get him off of it. Running back in third and fourth, you can search around the track, and that's what we were able to do. When you're leading, you can't do that. We were able to use that to our advantage in traffic."
"We've been trying to win here for a long time," said Ball. "I thought the stars were going to align with a front row starting spot. We had a great car. Lapped traffic worked to our favor the whole race until the end, and that's when Terry got us. To get beat by Terry McCarl is nothing to hang our head about. I cheated the cushion a little bit, because it's so thick. I rolled off the gas on exit. The banking transitions to a little flatter angle off of four. That sucked me into the wall and we smacked it hard. That's when he got by. We've had a good weekend, fourth at Osky and second here. We hope we can carry that to Knoxville tomorrow."
"We had a fast car," said Chris Martin. "We were able to catch Jamie in lapped traffic. We briefly got the lead there, and I kind of screwed that up for myself. I had the lead on the backstretch and I drove it in a little too deep on the cushion. But I have to hand it to my guys. They gave me a great car. I have to thank Terry and Jamie for racing me clean and hard. Overall, it was a decent night for us and we'll move on to the rest of the weekend."
The Sprint Invaders conclude Memorial Day weekend Sunday at 34 Raceway in West Burlington, Iowa. For more information on the Shottenkirk.com Sprint Invaders, visit www.SprintInvaders.com or follow us on Facebook and Twitter!
Shottenkirk.com A main (started), 25 laps: 1. 24, Terry McCarl, Altoona, IA (6) 2. 5J, Jamie Ball, Knoxville, IA (2) 3. 44, Chris Martin, Ankeny, IA (4) 4. 14, Randy Martin, California, MO (7) 5. 4, Jon Agan, Knoxville, IA (8) 6. 3G, Jarrod Schneiderman, West Burlington, IA (11) 7. 49, Josh Schneiderman, West Burlington, IA (10) 8. 51J, Ryan Jamison, Mediapolis, IA (9) 9. 78, Ben Wagoner, Emden, IL (12) 10. 4m, Evan Martin, Lohman, MO (5) 11. 50P, Harold Pohren, Lowell, IA (3) 12. 69, Justin Buchholz, Davenport, IA (18) 13. 3, Nate Van Haaften, Otley, IA (1) 14. 55, McKenna Haase, Des Moines, IA (14) 15. 40c, Cody Wehrle, Burlington, IA (13) 16. 58, Andy Krieger, Burlington, IA (20) 17. 9, Daniel Bergquist, Burlington, IA (19) 18. 83, Dave Getchell, Sperry, IA (17) 19. 13, Brayden Gaylord, Wever, IA (16) 20. 16HD, Donnie Steward, West Burlington, IA (15) DNS – 99, John Schulz, West Burlington, IA. Lap Leaders: Ball 1-21, McCarl 22-25. KSE Hard-charger: Buchholz.
Randall's Performance Heat one (started), Top five to A main, Top two to Dash, 8 laps: 1. Terry McCarl (2) 2. Jamie Ball (1) 3. Randy Martin (6) 4. Josh Schneiderman (4) 5. Ben Wagoner (5) / 6. Donnie Steward (9) 7. Justin Buchholz (3) 8. 1, Damian Getchell, Sperry, IA (7) 9. 19, Rob Weuve, Oakland Acres, IA (8)
CenPeCo Lubricants Heat two (started), Top five to A main, Top two to Dash, 8 laps: 1. Evan Martin (1) 2. Chris Martin (3) 3. Jon Agan (4) 4. John Schulz (7) 5. Cody Wehrle (5) / 6. Brayden Gaylord (2) 7. Daniel Bergquist (9) 8. 1st, John Greenwood, Woodward, IA (8) 9. 17, Tyler Groenendyk, Oskaloosa, IA (6)
Mohrfeld Electric Heat three (started), Top four to A main, Top two to Dash, 8 laps: 1. Nate Van Haaften (2) 2. Harold Pohren (1) 3. Ryan Jamison (5) 4. Jarrod Schneiderman (8) 5. McKenna Haase (7) / 6. 9L, Hunter Lane, Milo, IA (3) 7. 81, Tanner Gebhart, Burlington, IA (6) 8. Dave Getchell (9) 9. Andy Krieger (4)
B main (started), Top six to A main, 12 laps: 1. Donnie Steward (1) 2. Brayden Gaylord (2) 3. Dave Getchell (9) 4. Justin Buchholz (4) 5. Daniel Bergquist (5) 6. Andy Krieger (11) / 7. Hunter Lane (3) 8. Tanner Gebhart (6) 9. Damian Getchell (7) 10. Rob Weuve (10) 11. John Greenwood (8)
Budweiser King of Beers – Golden Eagle Distributors Shake-up Dash (started), 6 laps: 1. Terry McCarl (2) 2. Nate Van Haaften (1) 3. Jamie Ball (6) 4. Harold Pohren (4) 5. Chris Martin (3) 6. Evan Martin (5)
Contingencies
Pyrotec – John Schulz
Saldana Racing Products – Harold Pohren
Kreitz Oval Track Products – John Greenwood