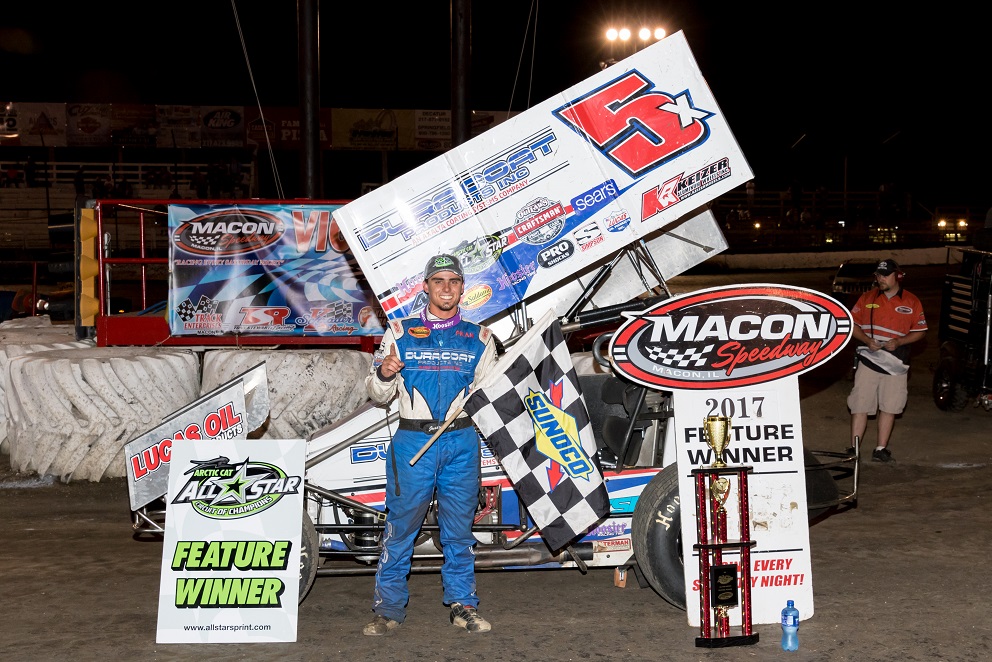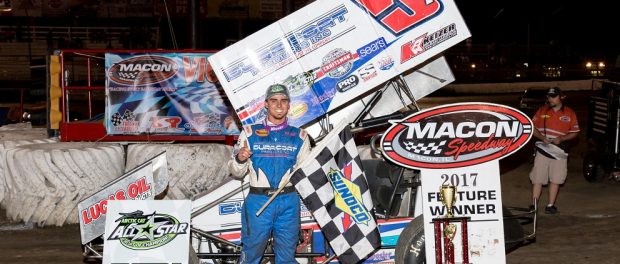 From Tyler Altmeyer
MACON, Ill. (June 10, 2017) – Becoming the eighth different driver to stand in Macon (IL) Speedway victory lane during Arctic Cat All Star Circuit of Champions competition, Justin Peck is now an Arctic Cat All Star winner, ultimately leading 37 of 40 laps to score a first-ever Series victory and the largest payday of his young career. The Monrovia, Indiana, native, who recently graduated from high school, started sixth on the feature grid and was within striking distance of the top spot by lap three. Impressively enough, Peck earned his way into the Arctic Cat All Star main event by winning his respective heat race – without a nose wing.
"Honestly, this is kind of a shock," Justin Peck said during his victory lane interview, driver of the Duracoat/Axalta Coatings/Pro Shocks/DRC/No. 5X. "I owe this all to my crew; everyone that is involved with this team. This is such an awesome feeling."
Paul Nienhiser and Chad Kemenah led the 24 feature starters to green on Saturday night at the "World's Fastest 1/5-Mile Clay Oval." Kemenah jumped to the early advantage, followed to the infield flagstand for the first time by Nienhiser and Justin Peck. Despite getting the early jump, Kemenah's tenure at the top of the running order was short-lived, soon tracked down by Peck. The 18-year-old worked his way into the runner-up position by lap three, eventually driving around Kemenah with a high side hustle move through turns one and two on the following circuit.
Peck maintained his position at the top of the running order for the remaining 36 laps, surviving a total of eight cautions, two of which resulting in red flag conditions, to claim his $5,000 share.
Nienhiser, who battled inside the top-three during much of the 40-lap program, eventually had the opportunity to use traffic as a pick, soon driving under Chad Kemenah at the entrance of turns three and four to take over the runner-up position on lap 24. It was a second consecutive Arctic Cat All Star runner-up finish for the for the Chapin, Illinois, native. Kemenah held on to finish third, followed by Friday night winner Carson Macedo and former NASCAR Cup Series champion Tony Stewart.
"You know, I thought we were really good there at the beginning," Peck explained. "But once the track started to take a little bit of rubber, that's when I started to get nervous. When you are out in front like that, you obviously can't tell what is going on behind you. Paul (Nienhiser) showed me his nose there toward the end, so I had to adjust my line a little bit and move down the track. All you can do is try to run in the rubber where you think it's the best. It all worked out tonight."
For the first time since 1998, the Arctic Cat All Star Circuit of Champions will invade 34 Raceway in Burlington, Iowa; the third and final Midwest event of the weekend for "America's Series," as well as the first and only visit to The Hawkeye State in 2017. Holmesville, Ohio's Kenny Jacobs scored the 34 Raceway victory during the Series' first visit in 1998, one of 98 total Arctic Cat All Star victories for the National Sprint Car Hall of Fame inductee.
34 Raceway will open pit gates at 2:00pm on Sunday, June 11. General admission gates will open to the public at 4:00pm, with racing scheduled to hit the speedway at 7:15pm, sharp. Those seeking additional information pertaining to ticket sales and reserved seating should contact 34 Raceway live on the Web at www.34raceway.com.
Contingency Awards/Results: Macon Speedway – Saturday, June 10, 2017:
EMi Driver's Meeting: 31 entries
State Water Heaters Warm-Ups: Brandon Spithaler – 10.251 seconds
Lincoln Electric Fast Qualifier: Chad Kemenah – 9.540 seconds
Ford Performance Heat #1: Parker Price-Miller
All Pro Aluminum Cylinder Heads Heat #2: Justin Peck
Hunt Brothers Pizza Heat #3: Max Stambaugh
JE Pistons Dash #1: Paul Nienhiser
Classic Ink USA B-Main: Jimmy Hurley
Daido Engine Bearings Main Event Winner: Paul Nienhiser (2nd)
MSD Performance Hard Charger Award: Ryan Smith (+9)
Outback Steakhouse A-Main 5th Place Finisher: Tony Stewart
Outback Steakhouse A-Main 10th Place Finisher: Brandon Spithaler
Outback Steakhouse A-Main 15th Place Finisher: John Garvin (16th)
(Lincoln Electric, Daido Engine Bearings, MSD Performance, Outback Steakhouse: Need decal to qualify for contingency award)
Qualifying
Group (A)
1. 10H-Chad Kemenah, 9.54; 2. 7C-Caleb Armstrong, 9.632; 3. 2-Parker Price-Miller, 9.843; 4. 8M-TJ Michael, 9.869; 5. 17-Caleb Helms, 9.883; 6. 13-Brandon Matus, 9.8934; 7. 1M-Jim Moughan, 9.973; 8. 88-Terry Babb, 10.054; 9. 95-Hunter Mackison, 10.058; 10. 9C-Roger Campbell, 10.386; 11. 9T-Dylan Tuxhorn, 10.727
Group (B)
1. 9X-Paul Nienhiser, 9.552; 2. 1080-Jordan Mackison, 9.773; 3. 14-Tony Stewart, 9.795; 4. 59-Ryan Smith, 9.906; 5. 5X-Justin Peck, 9.947; 6. 52F-Logan Faucon, 10.09; 7. 4K-Kody Kinser, 10.11; 8. 20N-Hunter Schuerenberg, 10.152; 9. 9-Ryan Linder, 10.267; 10. 51-John Garvin, 10.907
Group ( C )
1. 3G-Carson Macedo, 9.65; 2. 35-Tyler Esh, 9.893; 3. 47-Jimmy Hurley, 9.9064; 4. 33M-Max Stambaugh, 10.015; 5. 44-AJ Bruns, 10.037; 6. 77U-Chris Urish, 10.094; 7. 22-Brandon Spithaler, 10.162; 8. 12-Daniel Harding, 10.236; 9. 33-Brent Matus, 11.745; 10. 1T-Tyler Shoemaker, 12.071
Heat #1 – Group (A) (10 Laps) – Top 6 Transfer
1. 2-Parker Price-Miller [2]; 2. 8M-TJ Michael [1]; 3. 7C-Caleb Armstrong [3]; 4. 1M-Jim Moughan [7]; 5. 10H-Chad Kemenah [4]; 6. 17-Caleb Helms [5]; 7. 95-Hunter Mackison [9]; 8. 9C-Roger Campbell [10]; 9. 13-Brandon Matus [6]; 10. 9T-Dylan Tuxhorn [11]; 11. 88-Terry Babb [8]
Heat #2 – Group (B) (10 Laps) – Top 6 Transfer
1. 5X-Justin Peck [5]; 2. 14-Tony Stewart [2]; 3. 20N-Hunter Schuerenberg [8]; 4. 9X-Paul Nienhiser [4]; 5. 51-John Garvin [10]; 6. 52F-Logan Faucon [6]; 7. 1080-Jordan Mackison [3]; 8. 59-Ryan Smith [1]; 9. 9-Ryan Linder [9]; 10. 4K-Kody Kinser [7]
Heat #3 – Group ( C ) (10 Laps) – Top 6 Transfer
1. 33M-Max Stambaugh [1]; 2. 3G-Carson Macedo [4]; 3. 77U-Chris Urish [6]; 4. 35-Tyler Esh [3]; 5. 22-Brandon Spithaler [7]; 6. 12-Daniel Harding [8]; 7. 44-AJ Bruns [5]; 8. 33-Brent Matus [9]; 9. 1T-Tyler Shoemaker [10]; 10. 47-Jimmy Hurley [2]
Dash #1 (6 Laps)
1. 9X-Paul Nienhiser [3]; 2. 10H-Chad Kemenah [2]; 3. 2-Parker Price-Miller [4]; 4. 5X-Justin Peck [5]; 5. 14-Tony Stewart [8]; 6. 3G-Carson Macedo [6]; 7. 8M-TJ Michael [1]; 8. 33M-Max Stambaugh [7]
B-Main (12 Laps) – Top 6 Transfer
1. 47-Jimmy Hurley [4]; 2. 59-Ryan Smith [3]; 3. 88-Terry Babb [6]; 4. 44-AJ Bruns [5]; 5. 4K-Kody Kinser [8]; 6. 13-Brandon Matus [2]; 7. 1080-Jordan Mackison [1]; 8. 95-Hunter Mackison [7]; 9. 33-Brent Matus [12]; 10. 1T-Tyler Shoemaker [13]; 11. 9T-Dylan Tuxhorn [11]; 12. 9C-Roger Campbell [10]; 13. 9-Ryan Linder [9]
A-Main (40 Laps)
1. 5X-Justin Peck [4]; 2. 9X-Paul Nienhiser [1]; 3. 10H-Chad Kemenah [2]; 4. 3G-Carson Macedo [6]; 5. 14-Tony Stewart [5]; 6. 7C-Caleb Armstrong [9]; 7. 20N-Hunter Schuerenberg [11]; 8. 8M-TJ Michael [7]; 9. 33M-Max Stambaugh [8]; 10. 22-Brandon Spithaler [14]; 11. 59-Ryan Smith [20]; 12. 47-Jimmy Hurley [19]; 13. 2-Parker Price-Miller [3]; 14. 12-Daniel Harding [18]; 15. 44-AJ Bruns [22]; 16. 51-John Garvin [15]; 17. 17-Caleb Helms [16]; 18. 1M-Jim Moughan [13]; 19. 4K-Kody Kinser [23]; 20. 52F-Logan Faucon [17]; 21. 35-Tyler Esh [12]; 22. 13-Brandon Matus [24]; 23. 77U-Chris Urish [10]; 24. 88-Terry Babb [21]Lap Leaders: Chad Kemenah [1-3]; Justin Peck [4-40]
Current Arctic Cat All Star Circuit of Champions Standings (June 10, 2017):
1. Chad Kemenah -2152
2. Caleb Armstrong – 1998
3. Caleb Helms – 1958
4. Ryan Smith – 1958
5. Max Stambaugh – 1780
6. T.J. Michael – 1698
7. Brandon Matus – 1574
8. Brandon Spithaler – 1565
9. Tim Shaffer – 1538
10. John Garvin – 1512