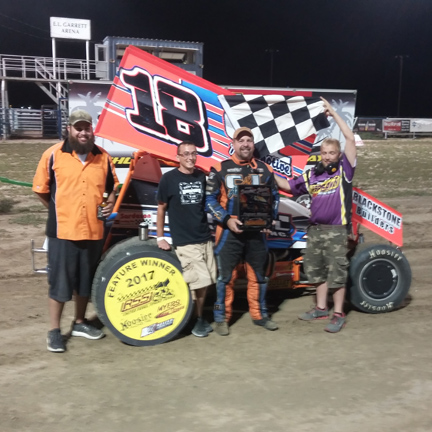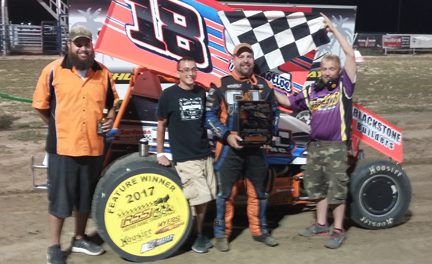 From URSS
COLBY, Ks. (July 8, 2017) — Nebraska's Terry Richards put in a dominating performance with a field of 31 cars as he led every lap of night 2 of the Summer Sizzler Week for the United Rebel Sprint Series at the Thomas County Speedway in Colby, KS.
Richards and Colorado's Scott Rhoades brought the field to the green with Richards jumping out to the early lead followed by Rhoades, Mark Walinder, Darren Berry and Todd Plemons rounding out the top 5 after lap one. Oklahoma's Jake Martens would wrestle his way past Plemons from his 7th starting poaition to move into the top 5 on lap 3 and then drove around Berry on lap 4 to take over 4th.
Quinter's Zach Blurton, starting 9th, moved into the top 5 on lap 7 as Martens passed past Walinder for 3rd and continue his charge to the front, as Richards had built up a straightaway lead over 2nd running Rhoades.
Martens would continue his charge to the front as he moved past Rhoades for 2nd at the halfway mark and began to chase down Richards but fell short of reaching his back bumper as Richards would claim his first URSS feature victory in the 25 lap caution free event. Blurton would make a late race charge to claim 3rd, followed by Rhoades and Walinder to complete the top five.
Heat races were won by Nick Haygood,Ty Williams and Nate Berry. Wichita's JD Johnson earned the Keizer Aluminum Wheels hard Charger award as he finished 6th from his 14th starting position.
The Rebels will now head north for Saturday nights round 3 of the Summer Sizzler at the Lincoln Co. Raceway in North Platte NE, for the 2nd Annual Ron Williams/Dick (Snoose) Myers Memorial with $1700 going to the feature winner.
Results
A Feature
1 Terry Richards
2 Jake Martens
3 Zach Blurton
4 Scott Rhoades
5 Mark Walinder
6 JD Johnson
7 Patrick Bourke
8 Nick Haygood
9 Darren Berry
10 Ty Williams
11 Steven Richardson
12 Todd Plemons
13 Nate Berry
14 Shane Sundquist
15 Scott Cochran
16 Buddy Tubbs
17 Jed Werner
18 Bob Schaeffer
19 Coby Pearce
20 Tracy Hill
B1
1 Steven Richardson
2 Scott Cochran
3 Tracy Hill
4 Bob Schaeffer
5 Brian Herbert
6 Cody Lampe
7 Howard Van Dyke
8 Aaron Ploussard
9 John Webster
10 Tom Belsky
B2
1 JD Johnson
2 Buddy Tubbs
3 Shane Sundquist
4 Coby Pearce
5 Nick Nichols
6 Kaden Taylor
7 Austin McLean
8 Craig Jecha
9 Mike Taylor