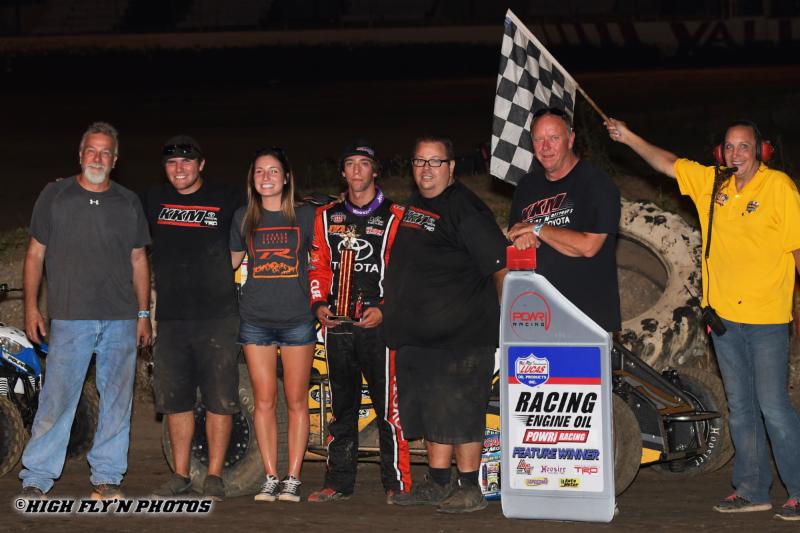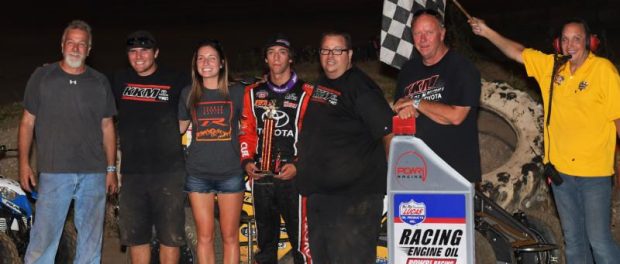 From POWRi
GRAIN VALLEY, Mo. (July 14, 2017) — Tanner Thorson of Minden, Nevada charged from a seventh place starting position, battling Andrew Felker and Zach Daum for the win, to claim his 15th career victory with the POWRi Lucas Oil National Midget League in the opening night of the Inaugural Thunder in the Valley. The Thunder in the Valley featured both the POWRi Lucas Oil West Midget League and the POWRi Lucas Oil Allstar Midget League, alongside the POWRi Lucas Oil National Midget League. Thorson's Thunder in the Valley win is his third of 2017.
Starting on the front row, Zach Daum and Grady Chandler led the field to green after misfortune struck the original pole sitter, Ace McCarthy, forcing an early ending to his night before it had even begun. Ryan Robinson was set to start outside the front row, but gremlins sent him to the work area during the parade lap and he started at the tail of the field. At the drop of the green flag, Grady Chandler took the early advantage over Zach Daum. However, on lap three off turn four, Zach Daum overtook Chandler for the lead with Andrew Felker in tow.
By lap nine, Valley Speedway saw a new leader with Felker in charge as he ripped past Daum in the middle off turn four. The action slowed for a caution on lap 11 for Terry Babb and Holly Shelton off turn two, allowing the field to bunch back up. Lined back up, Felker led Daum, Thorson, and Bayston to green.
By lap 16, Thorson had moved into the second position past Daum and looked to set his sights on Felker for the lead. With 21 laps in the books, Thorson over took Felker, rolling the bottom off turn four and sneaking into the lead. As the lap wound down, Thorson led Daum and Felker to the line. Spencer Bayston took fourth, while Tucker Klaasmeyer rounded out the top five.
"There's something about this track that I really take to and a lot of it probably comes from go-karts and being patient on the bottom," stated Tanner Thorson. "These guys gave me a brand new car. I was getting worried that I couldn't really win anything and these guys busted out a new car for me and it definitely worked. Big Al puts a super tune up on the thing every time I'm out there and I'm really happy to be here."
"With about three to go there, I was fourth," commented Zach Daum. "I got stuck on the bottom and the bottom went away. I was just too tight the whole race. We'll work on it and free it up for tomorrow. I got beat there and I just thought it was going to slick off there and tightened it up a little bit too much and I should have just left it alone and not second guess myself too much. Second's not terrible, but it's not great either. We'll work on it and get it ready for tomorrow."
"Third sucks after getting to the lead," said Andrew Felker. "I knew we were really good in one and two and probably need to tighten it up in three and four, but we were good enough in one and two to not make any changes and it bit us. Tanner kind of slowed rolled us down in three and four. But it's good to be back on the front stretch. I can't thank AJ enough after we junked a couple of cars and struggled a bit. His engines are putting out some power. Everybody keeps talking that you have to have a Toyota, but AJ's building some power with both the Fontana and the Esslinger. I've got to thank BOSS Chassis for still believing in me. We've got a good combination going."
Speedway Motors Heat Race Winners: Heat 1: 98 – Clinton Boyles, Heat 2: 67 – Tanner Thorson, Heat 3: 28 -Ace Mccarthy, Heat 4: 37 – Andrew Felker, Heat 5: 00 – Grady Chandler
Toyota Semi Feature Winner: 37x – Terry Babb, 27 – Tucker Klaasmeyer
Mesilla Valley Transportation Feature Winner: 67 – Tanner Thorson
POWRI Lucas Oil National Midget League Feature Results (30 Laps): 1. 67 – Tanner Thorson 2. 5d – Zach Daum 3. 37 – Andrew Felker 4. 97 – Spencer Bayston 5. 27 – Tucker Klaasmeyer 6. 44 – Wesley Smith 7. 71 – Ryan Robinson 8. 22 – Andy Malpocker 9. 3n – Jake Neuman 10. 9 – Matt Moore 11. 97k – Jodie Robinson 12. 4a – Logan Seavey 13. 71k – Tanner Carrick 14. 67k – Holly Shelton 15. 27z – Zane Hendricks 16. 28k – Kory Schudy 17. 77w – Joey Wirth 18. 321 – Chad Winfrey 19. 3 – Dustin Gilbert 20. 00 – Grady Chandler 21. 7jr – Jd Black 22. 98 – Clinton Boyles 23. 37x – Terry Babb 24. 28 -Ace Mccarthy 25. 08 – Cannon Micintosh