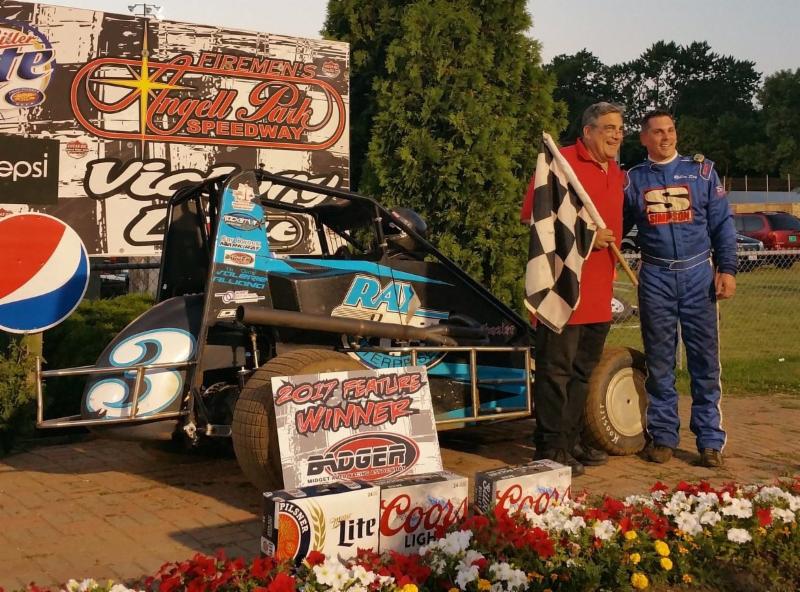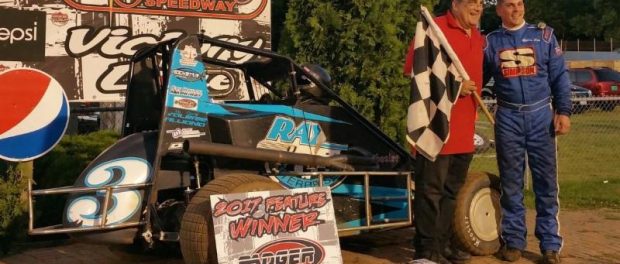 From Bryan Gapinski
SUN PRAIRIE,Wi. (July 16, 2017) — Points leader Robbie Ray won the 3rd annual "Norm Nelson Classic" 20-lap Mid-State Equipment/Zimbrick Chevrolet of Sun Prairie Badger Midget Racing Series feature, Sunday Night at Angell Park Speedway.
Polesitter Kevin Olson took the lead at the start of the event. By the completion of the fifth lap Olson held a 1.5 second lead over Scott Hatton. Hatton passed Olson for the lead at the start/finish line to complete Lap 9.
Exiting Turn 2 Olson's car suddenly lost power due to an engine failure and was hit by third place running Ray. Ray managed to continue without stopping. On the restart Ray passed Hatton for the lead entering Turn 1.Ray increased his lead over each of the continuing laps.
Ray began lapping the tail of the field, with five laps remaining. Hatton closed the margin to two-car lengths at the finish. For Ray driving the Mark Ray owned DRC/Honda No.3 it was his fourth career midget feature victory at the track.
"We finally had everything come together tonight getting us here to victory lane, somehow the car wasn't damaged after my contact with Olson when he slowed on the backstretch" commented Ray.
Brad Greenup, Aaron Schuck, and Zach Boden completed the top five. Schuck, and seventh place finishing Mike Stroik each won Howard Law Cash Draws, a $200 bonus for a randomly selected feature finishing position.
The next Badger event will be Saturday Night July 22 at the Sycamore (Ill.) Speedway. Angell Park Speedway racing continues on Sunday July 30 with a four division show featuring: the Badger Midget Series, Badger 600 Micro Series, Midwest Sprintcar Association and Wisconsin Dirt Racing Legends Series.
Badger Midget Auto Racing Association
Angell Park Speedway
Sun Prairie, WI
Sunday July 16, 2017
20-lap Feature: 1. Robbie Ray; 2. Scott Hatton; 3. Brad Greenup; 4. Aaron Schuck; 5. Zach Boden; 6. Kyle Koch; 7. Mike Stroik; 8. Randy Reed; 9. Don Bigelow; 10. Laura Smith; 11. Tim Vargo; 12. Buddy Luebke; 13. Kevin Olson; 14. Jake Goeglein; 15. Caitlin Krieske; 16. Jim Fuerst; 17. Kurt Mayhew; 18. Bryce Dunn.
8-lap Heat Race Winners: Hatton, Ray.
Cars Present: 18 Feature Lap Leaders: Olson 1-8, Hatton 9, Ray 10-20.