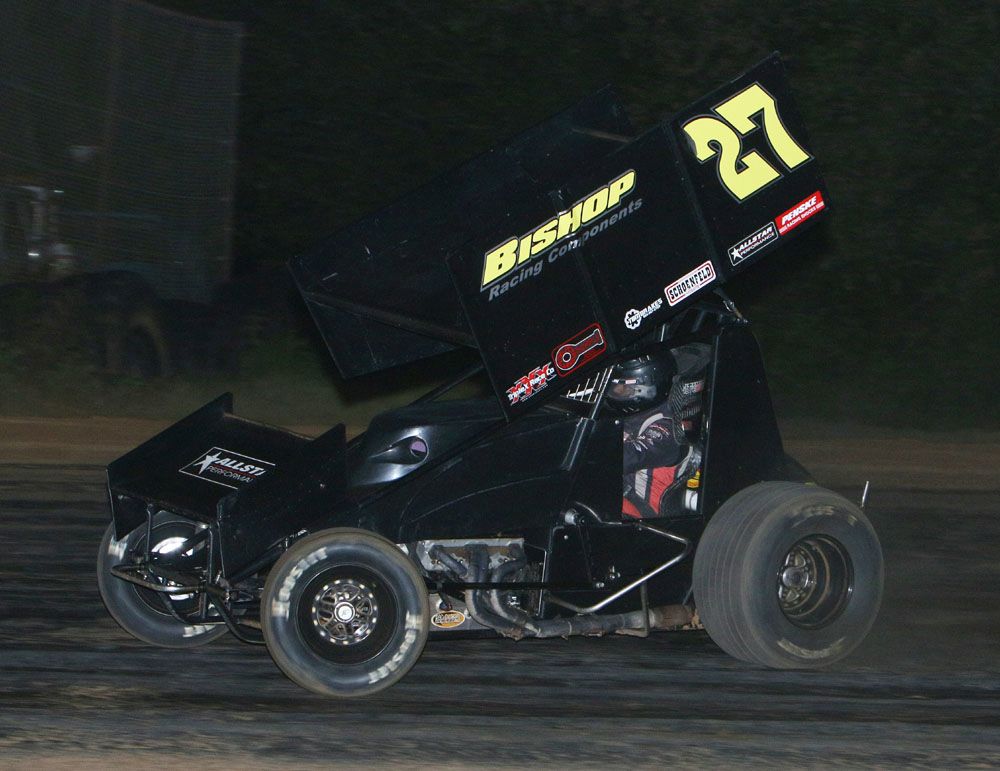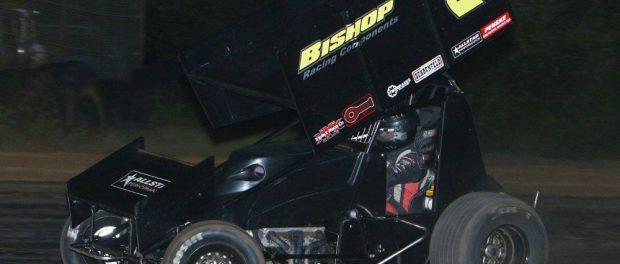 From David Smith Jr.
ADA, Ok. (August 5, 2017) — Defending series champion Andy Shouse took advantage of a mid-race restart to claim his fourth Sprint Series of Oklahoma IMCA RaceSaver Sprint Car Series presented by Smiley's Racing Products feature of the season as the tour made their final appearance of the year at Oklahoma Sports Park in Ada on Saturday night.
Chris Kelly and Shouse started on the front row for the twenty-lap-feature with Kelly taking the lead as the green flag fell. Kelly would open a quick five car length lead after the first lap over Shouse while Loyd Clevenger, Shayla Waddell and Mike Scott.
Kelly kept the distance until the first of two cautions fell on lap five when Stan Constant came to a stop at the top of turn two. While under yellow, Clevenger would give up his third-place position and exit to the pit area with mechanical problems.
The restart again saw Kelly jump to a six-car length lead over Shouse while eleventh-starting Joe Wood, Jr. worked his way up to third with Waddell and seventh starting Gary Owens the top five.
Just past the midway point, on lap thirteen, the night's final caution flag would wave when Waddell got a little loose coming out of turn two. Owens, looking to pass for the fourth position, made slight contact with Waddells rear bumper causing her to spin to a stop on the backstretch.
The final restart saw race-long leader slow to start coming down the front stretch and as the green flag fell, Shouse passed Kelly to take the lead entering turns one and two.
From then on there was no stopping Shouse as the defending IMCA Sprint Car National champion would go on to claim the half-stretch victory. Kelly would settle for second while Wood came home third. Brandon Anderson came from his ninth starting position to finish a career-best fourth while Owens rounded out the top five. Current SSO point leader Jake Martens worked his way up from his tenth starting position to come home sixth.
The three, eight lap heat races for the seventeen-car field were won by Owens, Shouse and Kelly.
Next up for the Sprint Series of Oklahoma IMCA RaceSaver Sprint Car Series presented by Smiley's Racing Products will be next Saturday night, August 12, at Enid Speedway in Enid, Oklahoma in their inaugural appearance at the Garfield County Fairgrounds in an event that will pay $1000 to win.
Sprint Series of Oklahoma
Oklahoma Sports Park/Ada, Oklahoma
August 5, 2017
17 Cars
Saldana Racing Products 1st Heat (8 Laps): 1) Gary Owens, 2) Loyd Clevenger, Sr., 3) Shayla Waddell, 4) Blake Scott, 5) Justin Mowry, 6) Justin Fisk
C.S.I. 2nd Heat (8 Laps): 1) Andy Shouse, 2) Josh Toho, 3) Mike Scott, 4) Jake Martens, 5) Jerry Jumper, 6) Cody Whitworth
Keizer Wheels 3rd heat (8 Laps): 1) Chris Kelly, 2) Dillon Laden, 3) Brandon Anderson, 4) Joe Wood, Jr., 5) Stan Constant
A Feature (20 Laps) 1) Andy Shouse, 2) Chris Kelly, 3) Joe Wood, Jr., 4) Brandon Anderson, 5) Gary Owens, 6) Jake Martens, 7) Josh Toho, 8) Mike Scott, 9) Blake Scott, 10) Cody Whitworth, 11) Justin Mowry, 12) Shayla Waddell, 13) Jerry Jumper, 14) Justin Fisk, 15) Dillon Laden, 16) Loyd Clevenger, Sr., 17) Stan Constant
Lap leaders: Kelly 1-13; Shouse 14-20