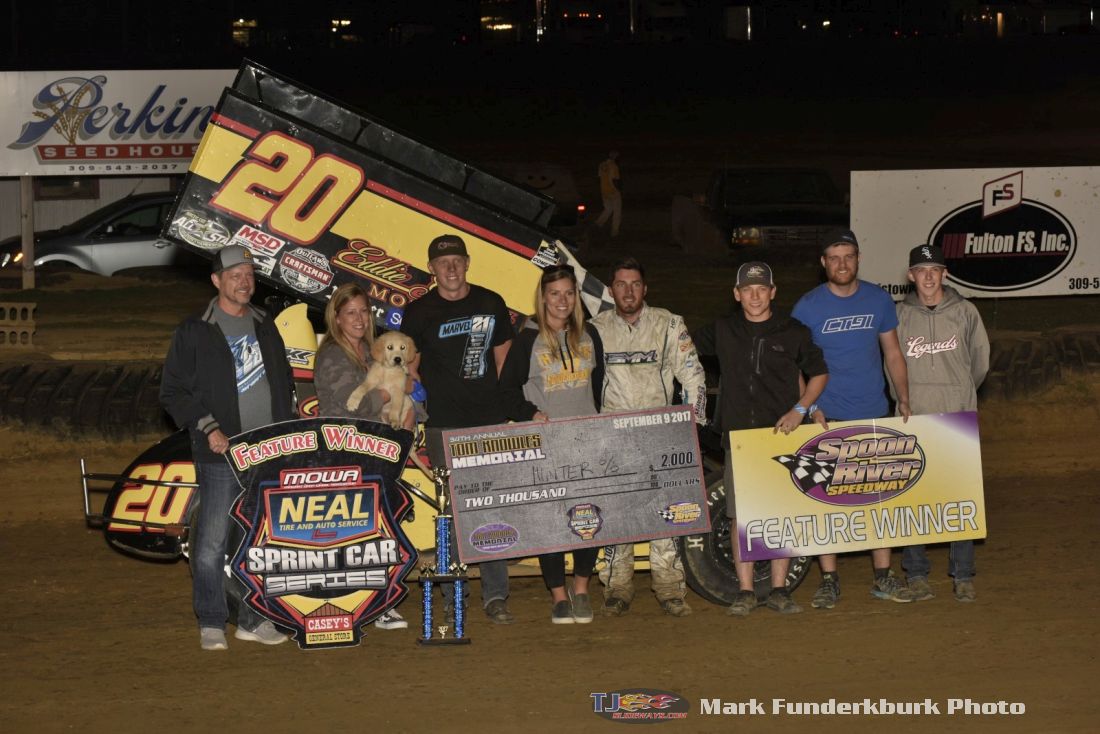 From Bill W
If the Tom Knowles Memorial isn't on your bucket list, it should be! Spoon River is a mini-Eldora that sees sprint cars three-wide and midgets four and five-wide when the track is right. There was great racing again Saturday and that can be expected. The high speeds and close calls at said speeds keep you on the edge of your seat. The midgets don't see these kinds of speeds this side of Belleville, so it is a must for any open wheel fan. The only slowdown of the night was for track prep, which was needed, but with different equipment. A sheeps-foot is not a tiller. It packs the track harder, which was not needed when the track is bending screwdrivers. A tiller is desperately needed for the open wheel cars at the Spoon, but I don't know that there is one on the property. No matter, we had some great racing anyway.
MOWA
Spencer Bayston (27th car out to time) set quick time on the 3/8-mile high banks at 11.896 seconds. Bret Tripplett (4th car out) was second quick, followed by Jstin Peck (7th), Jimmy Hurley (23rd), Paul Nienhiser (14th), Brad Loyet (5th), George Crawford (31st), Hunter Schuerenberg (32nd), Bob Weuve (21st) and CJ Leary (6th). Bayston blew through the turn four cushion on his second lap and reeled across the grass towards the fence. Luckily, he saved it and brought it back for his heat. Parker Price-Miller had issues in hot laps and just took one lap at the end of qualifying. The same was true for John Schulz, as he and owner Jimmy Davies were trying to get their 360 tuned.
Heat one (started): 1. Bayston 39 (6) 2. Nienhiser 9 (5) 3. Mike Terry Jr. 85 (2) 4. Jeremy Standridge 10s (1) 5. Jacob Patton 79J (3) / 6. Logan Faucon 52F (7) 7. Bob Weuve 19 (4) 8. Trey Datweiler 23D (8) DNS – John Schulz 99
10 lap heats took the top five to the A. The top six qualifiers making the top four in the heats would constitute the first three rows of the A. Standridge led early, but Bayston was back screaming on the cushion up to third by the time the first lap was completed. Nienhiser followed into fourth on lap two. Bayston took second from Terry on lap three, and the lead from Standridge two circuits late. Nienhiser would also rocket around the top to take second on lap six. Terry worked by Standridge for third with two to go.
Heat two (started): 1. Jordan Goldesberry 65 (1) 2. Jake Blackhurst 25 (3) 3. Jim Moughan Jr. 1m (7) 4. Brad Loyet o5 (5) 5. Tripplett 22 (6) / 6. Tasker Phillips 7w (2) 7. Leary 30 (4) 8. Andy Baugh 6B (8)
Goldesberry led Phillips and Blackhurst early. The first caution of the night flew for Tripplett, who stopped in three on the third lap. Blackhurst used the restart to advance into second and Moughan took fourth from Loyet. Moughan then worked by Phillips for third. Phillips had a rough finish, ending up sixth behind Tripplett, who grabbed the last transfer after restarting at the tail.
Heat three (started): 1. Brinton Marvel 21 (4) 2. Danny Smith 4 (2) 3. Chris Urish 77u (3) 4. Ryan Bunton 6R (1) 5. Dustin Adams 3 (8) / 6. Crawford 57 (5) 7. Justin Standridge 01 (7) 8. Peck 5x (6)
Smith led Bunton and Peck early on. Crawford would spin with three laps in. That negated a Peck pass of Bunton for second. Peck would get it done on the restart, while Marvel took third from Bunton. It would end for Peck when he contacted the turn four wall five laps in, ending his night. Marvel, the fifteen-year-old son of Justin, would work around Smith, and Smith would reciprocate. Marvel moved into the lead in the last corner after a great race.
Heat four (started): 1. Schuerenberg 20 (5) 2. Joey Moughan 29 (3) 3. Parker Price-Miller 2 (2) 4. Josh Schneiderman 49 (1) 5. Blake Nimee 79 (4) / 6. Hurley 47 (6) 7. Aaron Andruskevitch 83 (7) 8. Dylan Tuxhorn 9T (8)
Moughan went around the first row to lead Price-Miller and Schneiderman early. Schuerenberg hugged the bottom picking off the top three until taking the lead on lap five. Price-Miller breathed down Moughan's neck in the closing stages, but settled for third.
B main (started): 1. Leary (5) 2. Hurley (2) 3. Faucon (5) 4. Baugh (9) / 5. Phillips (6) 6. Datweiler (10) 7. Tuxhorn (11) 8. Weuve (4) 9. Crawford (1) 10. Ju. Standridge (8) 11. Andruskevitch (7) DNS – Peck, Schulz
The 12-lap B took the top four to the A. Hurley led at the outset over Faucon, Crawford and Leary. Leary, in his third night with a wing, caught his groove, grabbing third on lap three. Baugh moved by Crawford as well, and settled into the final transfer spot. Crawford would spin after contact with two laps down. Andruskevitch would stop and exit at the same time. Ju. Standridge was moving up, but stopped and exited on the tow rig on the restart. The second restart saw a spin by Weuve. Leary used the high side to continue his run, grabbing second from Faucon before a second Weuve spin. Leary would run down a low-riding Hurley and pass him coming off turn four on lap seven.
A main (started): 1. Schuerenberg (1) 2. Nienhiser (3) 3. Loyet (2) 4. Bayston (4) 5. Blackhurst (6) 6. Jo. Moughan (13) 7. Marvel (5) 8. Urish (10) 9. Tripplett (7) 10. Nimee (8) 11. Leary (12) 12. Price-Miller (16) 13. Hurley (11) 14. Patton (9) 15. Ji. Moughan (22) 16. Smith (15) 17. Bunton (19) 18. Terry Jr. (14) 19. Adams (24) 20. Schneiderman (20) 21. Faucon (21) 22. Baugh (23) 23. Je. Standridge (17) 24. Goldesberry (18)
Schuerenberg led Loyet and Bayston early in the 25-lapper. Smith did a 360 spin five laps in bringing the only caution. Schuerenberg led Loyet, Bayston, Nienhiser and Blackhurst back to green. The leaders entered lapped traffic on lap 11, and that's when Nienhiser eased by Baytston for third. Rubber was starting lay hard on the surface. Schuerenberg found it, while Nienhiser snuck around Loyet on the high side for second on lap 16. Schuerenberg was able to add his name to the prestigious list of Tom Knowles Memorial winners for the first time.
POWRi
Heat one (started): 1. Spencer Bayston 97 (2) 2. Tanner Carrick 71K (1) 3. Tanner Thorson 67 (5) 4. Aidan Roosevans 6A (6) 5. Jake Neuman 3N (7) 6. Cody Weisensel 20 (3) 7. AJ Hill D33 (4)
Carrick led his Keith Kunz teammates Bayston and Thorson ealry in the 8-lapper. Bayston used the high side to run down Carrick and pass him for the lead on the sixth circuit. Meanwhile, there was great racing back in the pack between Roosevans and Neuman for fourth.
Heat two (started): 1. Tucker Klaasmeyer 27 (2) 2. Tyler Thomas 91T (6) 3. Holly Shelton 67K (3) 4. Logan Seavey 4A (5) 5. Brayton Lynch 1K (4) 6. Kyle Schuett 9K (7) 7. Jonathan Miller 56 (1)
Klaasmeyer led the distance. Thomas, who was hauling the mail on top, threw a slider on Shelton on lap six to take second.
Heat three (started): 1. Zeb Wise 39 (4) 2. Zach Daum 5D (5) 3. Gage Walker 57 (1) 4. Shelby Bosie 3B (6) 5. Robby McQuinn 09 (3) 6. Broc Hunnell F5 (7) 7. Chris Windom 5 (2)
Walker led Windom and Wise early. On lap two, it was a four-wide battle for the lead coming out of turn four, and the fourteen-year-old Wise emerged with the point. His smooth driving style is very impressive when midget fields are often plush with young carefree drivers. Keep your eyes on this one. Daum would check into second, getting by Windom on lap three. Disaster struck for Windom on the last lap, when he spun in turn four. It relegated him to the back of the feature.
A main (started): 1. Bayston (4) 2. Wise (1) 3. Thorson (6) 4. Seavey (11) 5. Windom (20) 6. Roosevans (8) 7. Thomas (2) 8. Carrick (7) 9. Shelton (10) 10. Klaasmeyer (5) 11. Walker (12) 12. Lynch (14) 13. Weisensel (18) 14. Bosie (9) 15. Daum (3) 16. Miller (19) 17. Hill (17) 18. McQuinn (16) 19. Neuman (13) 20. Hunnell (15) DNS – Schuett
Friday's Jacksonville Herb Barlow Memorial winner Thomas led the 30-lapper early over Bayston and Wise. Thorson would move by Wise and into the top three on lap two. Bayston and Thorson would battle, with Bayston eventually running down Thomas and taking the lead on lap seven. Thorson would tangle with Thomas. That allowed Wise to shoot by them both into second. With twelve laps in, Neuman would launch over turn three and crash hard. He was o.k. The restart saw Bayston leading Wise, Thorson, Thomas and Seavey. Windom had come from the tail to tenth. Daum was cruising on the low side and slowly moving forward. He was fourth by the time Klaasmeyer suffered a flat left rear and stopped on lap 18. He took third from Thorson on the restart, and by lap 20, had moved under Wise for second. Three laps later, he had also disposed of Bayston in similar fashion. Bayston stayed close and with six laps to go, entered turn three through the middle. He came down on Daum, sending the #5D into a wild series of flips and briefly flames. After emerging, Daum walked to Bayston's car presumably visiting about the cost of owning his own team and how much it costs when you destroy one. Bayston would lead the rest of the way, while a great race was going on for second. Thorson got by Wise with three to go, but the youngster battled back in some clean racing by both to take the runner-up spot on the last lap. Windom was the hard-charger, going from 20th to fifth. In Victory Lane, I counted tell if the crowd was booing Bayston resoundingly, or chanting "Kuuuuuuuuuuuuuuuunz"! It was another entertaining Tom Knowles Memorial for sure! Be there in 2018!