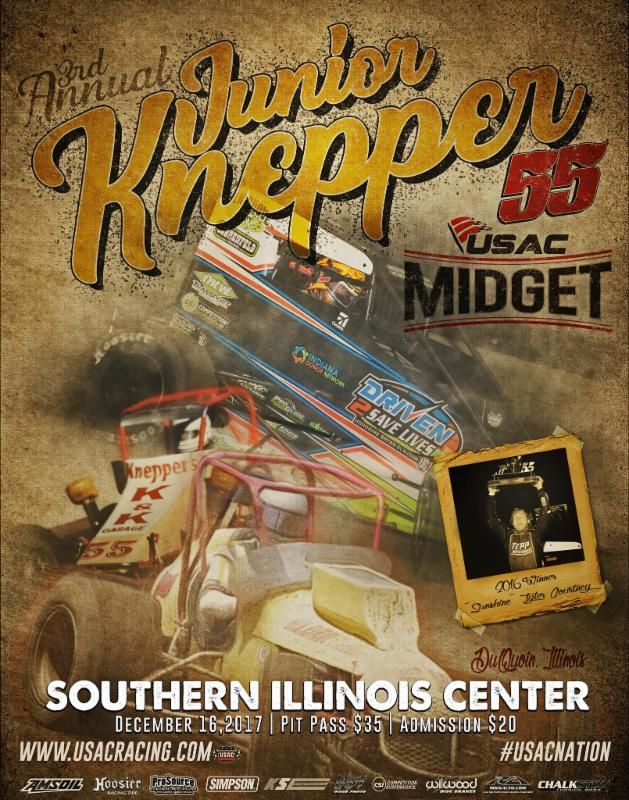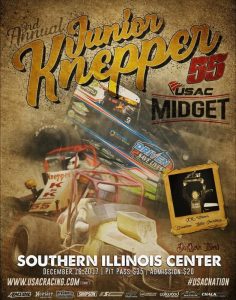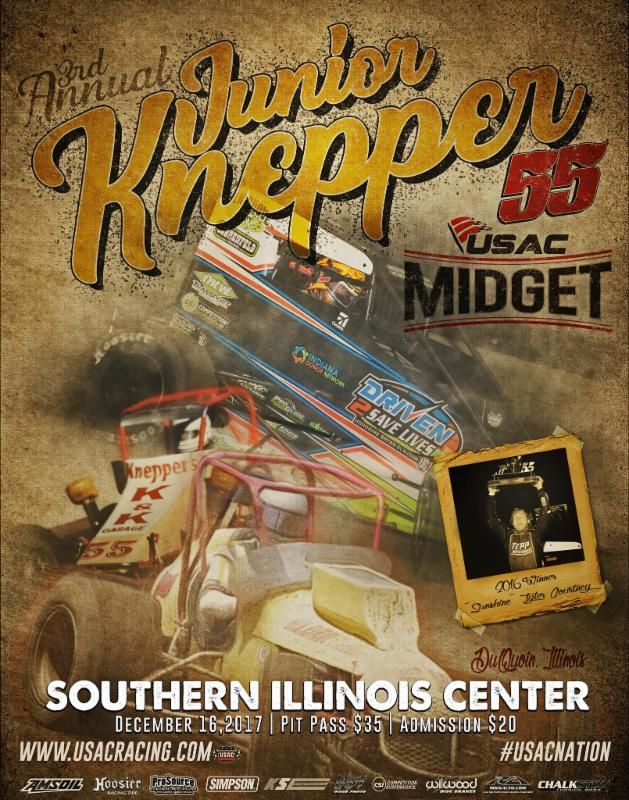 From USAC
DU QUOIN, Ill. (October 24, 2017) — Tickets are now on sale for the final USAC event of the 2017 season when the Midgets invade the Southern Illinois Center for the third annual "Junior Knepper 55" on Saturday December 16.
Tickets for the race on the indoor dirt oval are on sale now at http://www.usactickets.com/. Adult general admission tickets are available for just $18 – two dollars off the price at the gate on race day.
In addition, you may order your "Junior Knepper 55" event t-shirt now for just $25. Sizes small through 4XL are available, but make sure to get yours soon while supplies last.
The special event carries no points toward the USAC National Midget season championship, but has quickly become one of the most coveted races to win on the series calendar, annually boasting a large car count and a star-studded field to boot.
In the inaugural running in 2015, Ricky Stenhouse, Jr. electrified the crowd in the 55-lap feature, coming from the back of the pack to score the victory in the final laps. In 2016, Tyler Courtney earned his first career USAC-sanctioned Midget feature victory in his first start for the Clauson/Marshall Racing team.
The 55-lap event honors the memory of one of USAC's most accomplished car owners – Walter "Junior" Knepper of Belleville, Illinois – whose famed yellow number 55 midgets and sprint cars raced to 58 career USAC feature victories, including 34 in Sprints and 24 in Midgets, with drivers Bob Wente, Tom Bigelow, Mel Kenyon, George Snider, Dana Carter, Rich Vogler and his son Steve Knepper.
Nick Knepper, grandson of Junior and son of 13-time USAC National Midget winner Steve Knepper, will promote the event along with Derek LeMaster.
Cars are scheduled to hit the track at 4pm (Central). A format utilizing passing points will be used to seed the feature lineups.