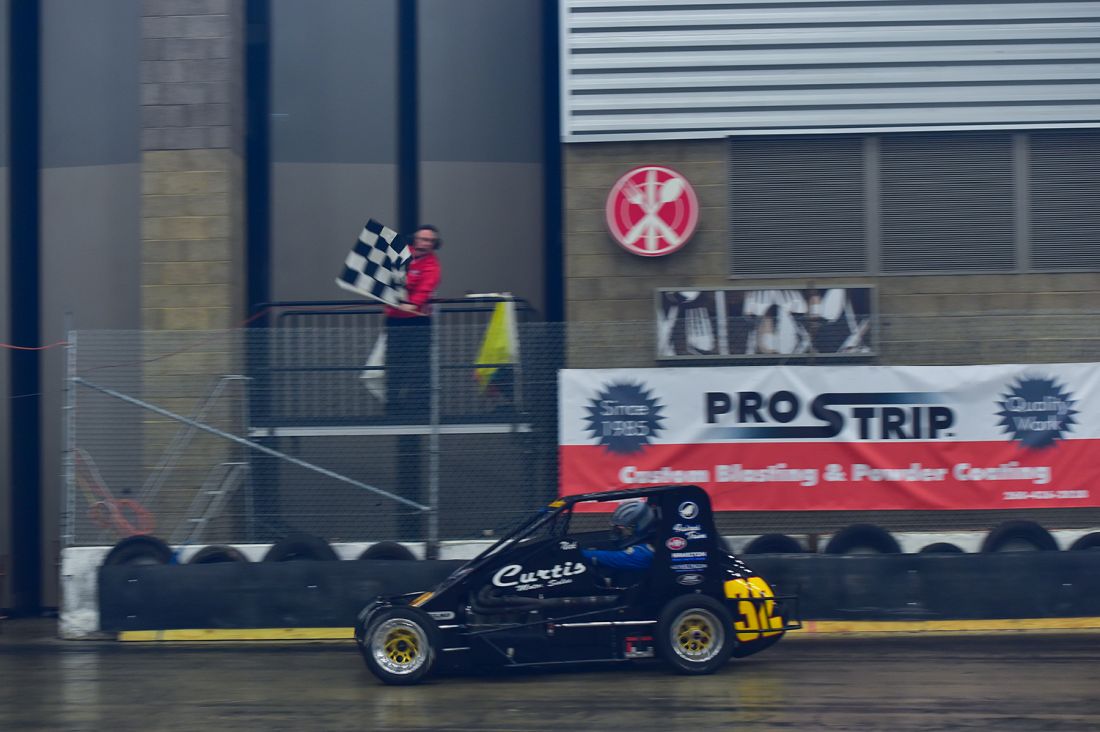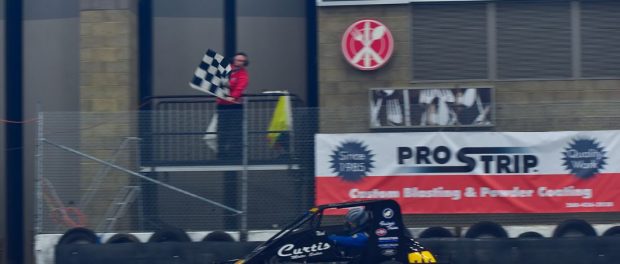 From Jacob Seelman
FORT WAYNE, Ind. (December 30, 2017) – As a kid, Nick Hamilton played with toy Hot Wheels cars and pretended he was racing – and winning – at the Allen County Memorial Expo Center.
Saturday night during the finale to the 20th annual Rumble in Fort Wayne, Hamilton's dreams came true at long last.
The 20-year-old from nearby Danville, Indiana came out on top of a first half duel with Travis Welpott and then survived a two-lap dash and final gasp effort by Bryan Nuckles to win the headlining 50-lap national midget feature, banking $2,000 and the biggest win of his young career.
His win comes one year to the weekend after his older brother Kyle won the finale to the 2016 Rumble in Fort Wayne for legendary car owners Mel and Don Kenyon.
This time, however, it was the younger brother's turn to shine – taking a family-owned car to the emotional win.
"I was raised watching races at Fort Wayne and this has been a lifelong dream of mine," Hamilton said. "It's definitely a surreal feeling to know that it actually happened tonight. … I didn't care if I won or my brother won; I just wanted one of us to get the trophy tonight and I'm so blessed that I could get the job done."
"A lot of guys on these bigger teams … have resources that we don't. We do this as a family deal – me, my mom and dad and my brother – and it makes it that much more special when you can beat the big guys that dominate this deal time and time again. I don't know how I held them all off at the end; I knew Nuckles was beating my door down, but thankfully I was able to hold on."
Welpott started from the pole of the main event and jumped out to lead the first two laps before Hamilton got a run to the inside off turn four and edged ahead to lead lap three at the start-finish line.
But Welpott wasn't done, charging back in turn three the very next time around to retake the lead and set up a torrid battle for control of the main event.
The first caution of the event flew with 10 circuits down, when Joe Liguori bicycled his car into turns one and two and stacked up the entire field, somehow keeping his car rolling as the yellow lights flicked on.
Once full race pace resumed, it was nine more laps before the leaders found themselves in traffic, allowing Hamilton to close onto Welpott's bumper and begin applying heavy pressure for the top spot.
The winning move came on lap 23, when Hamilton stuck his nose to Welpott's inside and got the run he needed to both lead at the start-finish line and be clear by the time he got to turn one, icing Welpott behind him and never looking back.
From there, Hamilton opened up a straightaway over the field, but a spinning Cap Henry drew another caution with 22 laps to go and restacked the field onto his back bumper.
The young Hoosier wasn't fazed by the caution, though. Hamilton pulled away on the restart as the rest of the top five scrapped for positions behind him, with 2014 Rumble points champion Bryan Nuckles finally working clear into second on lap 37 and giving chase to the No. 32 Curtis Motor Sales Spike-Esslinger.
That pursuit looked to be futile before a red flag with four laps to go, originally brought out as a caution for the spinning Mike Fedorcak in turn two but converted into a stoppage shortly after to clear fumes from the Expo Center.
Nuckles lined up on Hamilton's tail tank but couldn't make anything happen on the green flag, instead having to wait for his chance until a slowing Chance Rice set up a green-white-checkered finish.
Though Nuckles tried to dip his nose underneath Hamilton to move him up the track in turn three after the final restart, the contact instead sent Nuckles himself nearly out of control and dropped him back two positions as Hamilton pulled away into the distance.
Kyle O'Gara took advantage of the late chaos to slip through into second, saying afterwards that he felt like he had a shot to win if he could have gotten one final restart to work with.
"Our car was on a rail this weekend; it was by far the best piece I've ever had here in Fort Wayne," said O'Gara. "We came into the day with a different game-plan than usual and I think it paid off for us. We turned some heads … came from eighth to second, and I feel like I had something for Nick if there had been one more restart. There's a lot of positives, though, so we'll come back next year and try to win then!"
Rumble rookie and three-time USAC Silver Crown champion Kody Swanson completed the podium, followed by Nuckles and Welpott, who faded back to fifth at the checkered flag after leading 21 laps.
After starting 10th on the 16-car field, three-time NASCAR Cup Series champion Tony Stewart struggled to make passes on the one-seventh mile oval all night long and could only get to sixth at the finish.
Kyle Hamilton finished eighth as he watched his brother take the checkered flag, marveling in the special year the Hamilton family has had after he won the Little 500 at Anderson (Ind.) Speedway in May.
"What a year we've had," said Kyle Hamilton. "I couldn't be happier for my little brother. It's an amazing moment for him and one he'll never forget, just like I cherish my first win last year. It's special for all of us."
John Ivy swept the companion winged and non-winged 600cc mini sprint features, pushing his career victory total at the Rumble to 16 across all classes.
The 21st annual Rumble in Fort Wayne will be held Dec. 28-29, 2018, back inside the Allen County Memorial Expo Center.
RESULTS: 20th annual Rumble in Fort Wayne; Allen County Memorial Expo Center; Dec. 30, 2017
National Midget A-Main (50 laps): 1. Nick Hamilton (#32-Hamilton), 2. Kyle O'Gara, 3. Kody Swanson, 4. Bryan Nuckles, 5. Travis Welpott, 6. Tony Stewart, 7. Billy Wease, 8. Kyle Hamilton, 9. Matt Westfall, 10. Jim Anderson, 11. Cap Henry, 12. Mike Fedorcak, 13. Chance Rice, 14. Austin Nemire, 15. Joe Liguori, 16. Geoff Kaiser.
Lap Leaders: Welpott 1-2, N. Hamilton 3, Welpott 4-22, N. Hamilton 23-50.
National Midget Heat #1 (10 laps, top three transfer): 1. Chance Rice, 2. Nick Hamilton, 3. Jim Anderson / 4. Mike Fedorcak, 5. Billy Wease, 6. Brad Kraus, 7. Chris Jagger Jr., 8. Tyler Roahrig (DNS).
National Midget Heat #2 (10 laps, top three transfer): 1. Kody Swanson, 2. Matt Westfall, 3. Joe Liguori / 4. Trey Osborne, 5. Chris Jagger, 6. Stratton Briggs, 7. Cory Setser, 8. RJ Corson (DNS).
National Midget Heat #3 (10 laps, top three transfer): 1. Kyle O'Gara, 2. Tony Stewart, 3. Kyle Hamilton / 4. Geoff Kaiser, 5. Thomas Briggs, 6. Russ Gamester, 7. Cory Guingrich.
National Midget Heat #4 (10 laps, top three transfer): 1. Cap Henry, 2. Travis Welpott, 3. Bryan Nuckles / 4. Tyler Fitzpatrick, 5. Sean Murphy, 6. Austin Nemire, 7. Basil Hicks.
National Midget B-Main #1 (10 laps, top two transfer): 1. Mike Fedorcak, 2. Geoff Kaiser / 3. Brad Kraus, 4. Cory Guingrich, 5. Trey Osborne, 6. Thomas Briggs, 7. Shawn Bonar (#24-Setser), 8. Chris Jagger Jr., 9. Tyler Roahrig (DNS).
National Midget B-Main #2 (10 laps, top two transfer): 1. Billy Wease, 2. Austin Nemire / 3. Sean