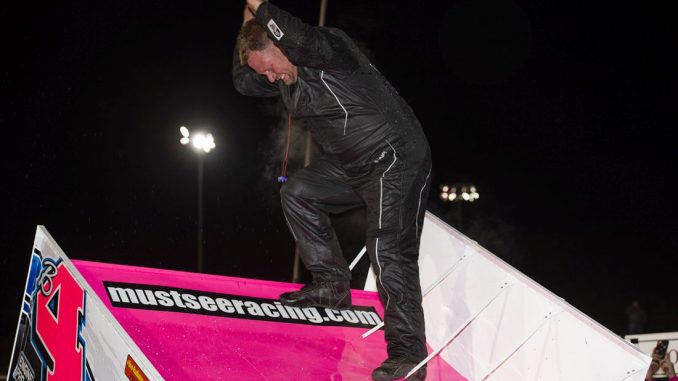 From Jacob Seelman
HICKORY, N.C. (April 21, 2018) — After an invert of 10 placed him on the pole for Saturday night's Southern Shootout finale at Hickory Motor Speedway, Bronzie Lawson IV joked that he "might need a miracle" in order to keep the lead down the stretch.
At the end of 50 laps, Lawson used a stunning display of driving to not only get his miracle, but collect his first Must See Racing Sprint Car Series victory.
Lawson started from the pole and led all 50 laps Friday night, holding outside polesitter Jerry Caryer at bay early on and then fending off three fierce challenges from Aaron Pierce in the final 10 laps to take home a $2,000 payday.
Saturday night's triumph by Lawson made him the first North Carolina native to win a Southern Shootout main event since Hickory became part of the season-opening weekend in 2015.
The win made for an emotional victory lane celebration during which Lawson climbed on top of the wing, holding his head in disbelief at the outcome.
"This is my second race as a full-time driver … we only committed to Must See about a month and a half ago. This isn't supposed to happen," said Lawson. "I can't even believe it."
Lawson had to survive restarts on lap nine and 26 after two caution flags slowed the pace during the 50-lap feature.
The first yellow came out for a stalled Johnny Bridges in turn two, while the second and final slowdown was for a spinning Tom Jewell in turn one, leading to a hectic turn of events that saw Lawson challenged at every corner.
Under the lap 26 caution, second-running Jerry Caryer pulled off the track with overheating issues, leaving Aaron Pierce directly behind Lawson for the final restart of the night with 24 to go.
Pierce had already found the top lane on the previous restart, jumping up to fourth, and Lawson knew he was going to have his hands full.
"Man, when I heard the 75C (Caryer) pulled off I said to myself, 'This is gonna get crazy,'" admitted Lawson. "I knew I had to get everything right for there to even be a chance, because if I made any mistakes he was going to be around me that quick."
Lawson got what he called the restart of his life, however, when the green flag waved and he gapped Pierce by six car lengths before the No. 26 Sam Pierce Chevrolet mount began to close back in.
With 15 to go, Pierce was knocking on Lawson's back nerf bar for the race lead and at 10 to go, he poked his nose to the inside in an attempt to make the pass.
But the defining moment for Lawson came with eight laps left as, entering turn one, Pierce had a look to the inside and Lawson chopped down on entry to the corner, cutting off the run and leaving Pierce scrambling to try and rebound.
"If I chopped him, I'm sorry, but at that point I knew how close we were to the race win and I was doing everything I could to hold on," Lawson said. "When you're out in front of one of these races, you do what you have to do and I wasn't going to give up on it that easily."
Pierce fell back six car lengths at that point and only just got back to Lawson's bumper over the final seven circuits, coming up .168 of a second short at the checkered flag.
After the race, there was nothing but smiles from both Lawson and Pierce at the fierce battle they enjoyed.
"I'm out of breath, I'm not in shape for this, but I don't care right now!" Lawson grinned. "This is unreal. I can't believe I just won a 410 pavement race. That was so much fun at the end. Aaron raced me hard but it was all clean … and I can't believe it worked out for us."
"Getting up off of four … Bronzie was loose up off the corner and he was dragging a little bit, so I knew he moved his wing back some and was trying to hang on," said Pierce. "I got up under him and was footing it just a bit off the exit of four, and he was just hammer down. He chopped me there into one with eight to go, but it was clean. We never touched each other and I really appreciate that. I wanted to throw him the chrome horn on the last lap, but I'd already torn up one wing this weekend and I wasn't going to tear up a second one. Congratulations to Bronzie, man. He really earned that one."
Pierce was the night's hard charger as well, coming from ninth on the grid to finish second.
"We had a good run tonight. Coming from that far back … I found the outside really fast and that's where you had to go if you wanted to pass everybody," said Pierce. "Clean air is everything. If you're the leader, you've got to make the guy behind you pass you and we couldn't quite get where we needed to. We'll regroup though, and come back stronger next time."
Florida's Shane Butler scored his second-straight podium finish to open the season, coming in third behind Lawson and Pierce and having a front-row seat to their battle in the final laps.
"Man, I was hoping they'd get to racing and it would slow them up enough to where I might have a chance, but this is a great weekend for us," said Butler. "We weren't sure how we were going to stack up against these guys coming into this Southern Shootout, but second and third are two strong results for us and I couldn't be happier."
Three-time defending series champion Jimmy McCune, who had won the last three Must See Racing features at Hickory entering Saturday night's event, struggled all race long and finished fourth.
Fast qualifier Jacob Wilson completed the top five and former supermodified ace Charlie Schultz was sixth, the final car on the lead lap in a race of attrition where only seven cars made it to the finish.
The Must See Racing Sprint Car Series kicks off the northern portion of its 2018 season on May 11 at Michigan's Birch Run Speedway and Event Center.
FULL RESULTS: Must See Racing Sprint Car Series; Hickory Motor Speedway; April 21, 2018
Hamilton Trucking Time Trials (best of two laps): 1. #07 – Jacob Wilson, 12.229; 2. #26 – Aaron Pierce, 12.278; 3. #29 – Johnny Bridges, 12.292; 4. #88 – Jimmy McCune, 12.508; 5. #9S – Charlie Schultz, 12.527; 6. #59 – Johnny Petrozelle, 12.567; 7. #55 – Shane Butler, 12.658; 8. #8 – Anthony McCune, 12.708; 9. #75C – Jerry Caryer, 12.740; 10. #B4 – Bronzie Lawson IV, 12.789; 11. #26B – Jeff Bloom, 13.088; 12. #4X – Bronzie Lawson III, 14.019; 13. #4L – Anthony Linkenhoker, 15.501; 14. #7 – Tom Jewell, NT; 15. #8A – Adam Biltz, NT.
Abe's Auto Parts Heat #1 (10 laps, all transfer): 1. Jeff Bloom (1); 2. Bronzie Lawson IV (2); 3. Anthony McCune (4); 4. Jerry Caryer (3); 5. Bronzie Lawson III (5); 6. Anthony Linkenhoker (6); 7. Tom Jewell (7, DNS); 8. Adam Biltz (8, DNS).
Abe's Auto Parts Heat #2 (10 laps, all transfer): 1. Charlie Schultz (2); 2. Johnny Petrozelle (1); 3. Johnny Bridges (4); 4. Jimmy McCune (3); 5. Jacob Wilson (6); 6. Aaron Pierce (5); 7. Shane Butler (7).
Sam Pierce Chevrolet A-Feature (50 laps): 1. #B4 – Bronzie Lawson IV (1); 2. #26 – Aaron Pierce (9); 3. #55 – Shane Butler (4); 4. #88 – Jimmy McCune (7); 5. #07 – Jacob Wilson (10); 6. #9S – Charlie Schultz (6); 7. #4X – Bronzie Lawson III (12); 8. #75C – Jerry Caryer (2); 9. #8 – Anthony McCune (3); 10. #26B – Jeff Bloom (11); 11. #7 – Tom Jewell (14); 12. #29 – Johnny Bridges (8); 13. #59 – Johnny Petrozelle (5); 14. #4L – Anthony Linkenhoker (13); 15. #8A – Adam Biltz (15).
Lap Leader(s): Bronzie Lawson IV (1-50).
Hard Charger: #26-Aaron Pierce (+7)