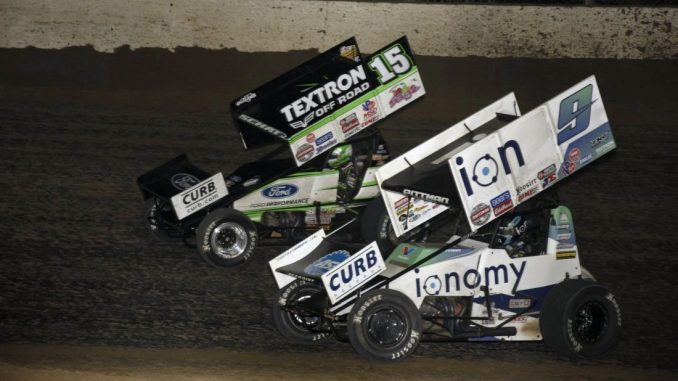 By T.J. Buffenbarger
It didn't snow…
The weather was largely cooperative other than in some of Texas and Oklahoma Saturday and Haubstadt on Sunday. After a spring that was so brutal I actually wondered if I should put my snow blower towards the back of the garage on April 22nd. It was nice to have a full weekend of racing to discuss rather than a non-stop string of weather postponements and cancellations.
Brooms galore!
Sweeps were the theme of the weekend when it came to feature races. From the highest level of sprint car racing with Daryn Pittman scoring two consecutive wins with the World of Outlaws Craftsman Sprint Car Series to Jessica Bean winning both USAC Speed2 Eastern midget features were just two of the drivers picking up multiple feature wins this weekend.
Bud Kaeding's sweep of two features in a single night at Tulare Thunderbowl with the King of the West Sprint Car Series and Civil War Series was done in spectacular style. Tucker Klaasmeyer's pair of POWRi wins were impressive with a stacked field of midgets both nights at Jacksonville Speedway and Federated Auto Parts Raceway at I-55.
All Stars Provide Great Racing All Weekend
The Arctic Cat All Star Circuit of Champions presented by Mobil1 provided Ohio fans awesome racing all weekend. Friday night's race for the lead between Jac Haudenschild and Carson Macedo was one of the best I've seen all season. At one point it appeared a five car race for the lead could be in play until a caution gave the leaders open track. Macedo suffered heartbreak again, losing an engine one year ago while leading, this time suffering a flat right rear while up front.
Saturday at Wayne County Speedway Tim Shaffer came from deep in the field to win the main event. With a strong cast of characters signed up for the entire tour this year the All Star Series is one of our top storylines to follow in 2018.
Glad to have Gas City open again
Gas City I-69 Speedway having a full menu of racing for 2018 is some of the best news going into the season. The 2018 opening event went off smoothly and offered a hammer down racing surface that Shane Cottle took full advantage of on his way to victory. We're glad things went well on opening night for Gas City promoter Jerry Gappens and his crew. Look for a feature on Gappen's and Gas City's revitalization later in the week.
Hafertepe Breaks Tim Allison's 360 Track Record in Route to Eldora Sweep
Sam Hafertepe's sweep of the K&L Ready Mix National Racing Alliance program Saturday afternoon at Eldora Speedway was far from a surprise. The one aspect of Hafertepe's victory that was a surprise was demolishing the 360 track record at Eldora set by Tim Allison set on April 13, 2002 by over half a second.
Granted the racing line has changed a bit, progressing lower on the track earlier in the evening than it was in 2002. The night Allison set the record was the same night Craig Dollansky's blistering lap of 12.707 seconds was set. Hafertepe's 360 qualifying lap has me wondering if a new winged 410 sprint car track record is possible at Eldora this year.
Jason Barney Pads his Victory Total with Empire Super Sprints
After a rough off season that included a snowmobile accident that broke his collar bone Jason Barney bounced back to win the season opening feature for the Empire Super Sprints on Saturday. Our friends at DirtTrackDigest have a great story about Barney's recovery this winter along with the unique tools that assisted him to that win.
Lawson's Upset Victory at Hickory
Occasionally sprint car racing on pavement offers up a surprise winner that makes for a nice story. Being lucky enough to cover a few of this Bronzie Lawson IV's win Saturday at Hickory Motor Speedway falls under this classification. Lawson took advantage of the 10 car inversion and held off some stout competition in a field that included Jimmy McCune and Aaron Pierce for the victory. Hopefully Lawson's win is a sign of more great stories to come from the pavement side of the sport.